NIGHT of the JUMPs Mannheim
Story and pics by Oliver Franke
For the last contest of the FIM Freestyle MX World Champion before the IFMXF summer break the FMX athletes came to Mannheim for the NIGHT of the JUMPs. The packed SAP arena was the playground for the last fight of World Championship points on German soil this year. In an amazing final Remi Bizouard took the win and extended his lead in the World Championship ranking. Brody Wilson landed on 2nd position ahead of Jose Miralles.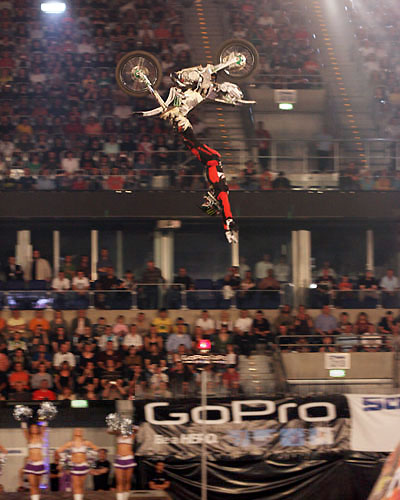 Remi Bizouard did it again... nice extension
Local heroes Hannes Ackermann and Freddy Peters opened the qualification round. Both did their best runs in 2009. Peters even pulled a Cliffhanger Flip in the Double-Up. Even with a broken rip Gilles Dejong started in Mannheim. He did a solid run, ending up on 10th place. Fredrik Johansson and Fabian Bauersachs showed massive tricks and hard flips. But his day it was not enough for the final. After his absence in Graz and Basel Australia's Steve Mini was back on the track. Doing an Airwalk Flip in the Double-up he presented an IFMXF premier and equalized to Massimo Bianconcini with 235 points. But Massimo made it in the final because his total amount including the STREICHRESULTATE was higher. Next to him Brice Izzo, Libor Podmol, Jose Miralles, Remi Bizouard and Brody Wilson reached the next round.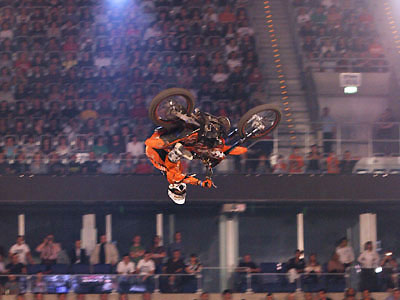 Jose Miralles whippin'
The "Race and Style" contest and Highest Air went to Gilles Dejong. But the focus was on Bianconcini, who crashed hard in his Race and Style attempt and had to be brought into hospital.e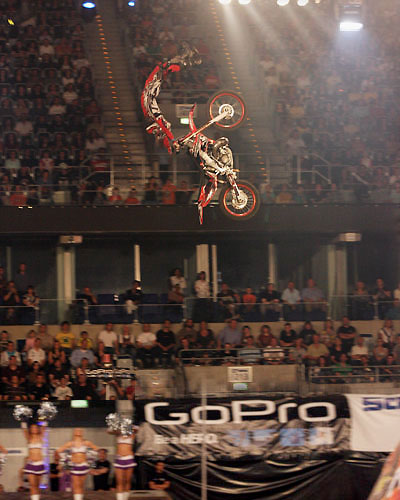 Brody Wilson with a sweet Ruler
Due to the crash of Bianconcini only five riders started in the final. Brice Izzo was first. With Superman Seatgrap and Shaolin flip he came on 4th position. Libor Podmol was highly motivated to reduce the gap to Bizouard. But after his Nac Underflip he crashed against the wall, broke his Superflip lever and had to end his run. Jose Miralles presented one of his well-known crazy runs ending with a Tsunami Flip in the Double-up. He hit the podium on 3rd position. As Brody Wilson won the qualification round, Remi was up now. The French rider did all of his hard tricks and massive flip combos and took the win ahead of Brody, who also put the Tsunami Flip on his trick book.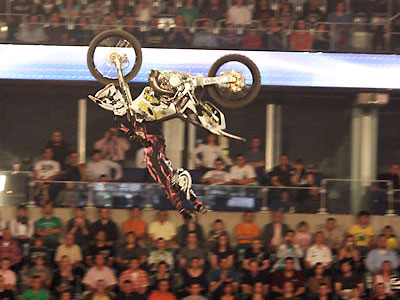 Brice Izzo with a Lazyboy Flip
In the overall ranking of the NIGHT of the JUMPs / FIM Freestyle MX World Chamionship Remi Bizourd still leads. Jose Miralles climbed on 2nd position with two points ahead of 3rd Brody Wilson. Due to his crash Libor Podmol fall down to the 4th place. In the manufacturers ranking Yamaha is on top with a 26 points lead to Suzuki.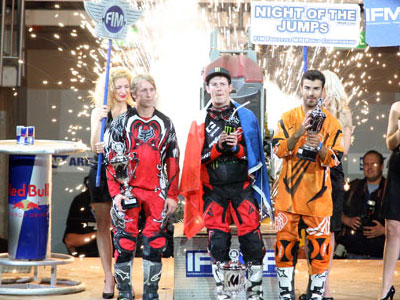 The Top 3 - Wilson, Bizouard and Miralles
Now the IFMXF takes a summer break. The next rounds of the NIGHT of the JUMPs / FIM Freestyle MX World Championships take place in Riga on October 10th and 11th.
FACTS NIGHT of the JUMPs Mannheim | 09.05.2009

Final
1 Remi Bizouard FRA 318.0
2 Brody Wilson USA 310.0
3 Jose Miralles ESP 302.0
4 Brice Izzo FRA 284.0
5 Libor Podmol CZE 58.0
6 Massimo Bianconcini ITA 0.0
Highest Air
1 Gilles Dejong BEL 6.8 m
2 Jose Miralles ESP 6.5 m
3 Libor Podmol CZE 6.0 m
Qualification
1 Brody Wilson USA 272.0
2 Remi Bizouard FRA 268.0
3 Jose Miralles ESP 263.0
4 Libor Podmol CZE 262.0
5 Brice Izzo FRA 260.0
6 Massimo Bianconcini ITA 235.0
7 Steve Mini AUS 235.0
8 Fabian Bauersachs GER 234.0
9 Fredrik Johansson SWE 227.0
10 Gilles Dejong BEL 202.0
11 Frederik Peters GER 195.0
12 Hannes Ackermann GER 174.0