"Masters of Dirt" invades Malta!
Malta's dramatic history of invasions and sieges continued this past weekend. In medieval times, the Knights Templar on their holy crusades occupied the little Mediterranean island. A few centuries later, 200 000 Turks invaded Malta. The German Luftwaffe held the island under siege for three years with an aerial bombardment of fire-power, in the 2nd World War.
Last weekend there were fireworks once more! Amidst a firestorm of chaos, Masters of Dirt violated Maltese airspace - this time, the aggressors were on dirt bikes and the locals welcomed them with standing ovations and frantic screams of delight.
Twelve of the World's best Dirt Bike warriors made the trip to the Mediterranean, taking the popular M.O.D. show format and chucking it down for the crowd at the MFCC arena in Ta'qali.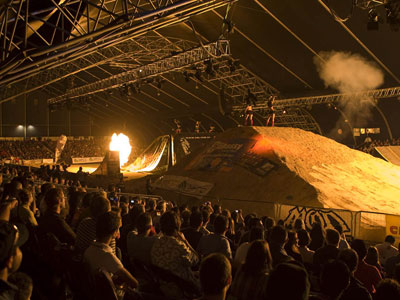 The M.O.D. Fire Girls from Ireland joined the riders in turning the heat up. In the Whip contest, judged by the crowd, Ronnie Renner and Edgar Torronterras had an explosive battle with Remi Bizouard and Alastair Sayer.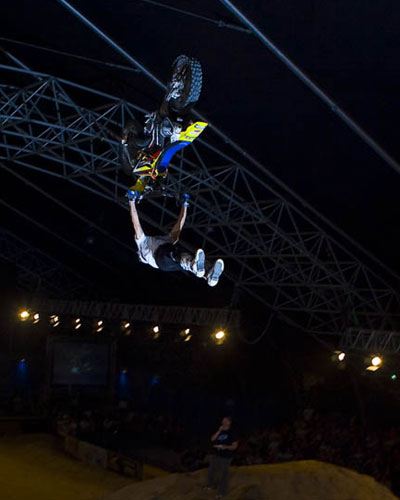 Charles Pages
Step-up ended up being a two rider dog-fight between World Record holder Renner and African Wildman Sayer - Renner winning Saturday and Sayer winning Sunday.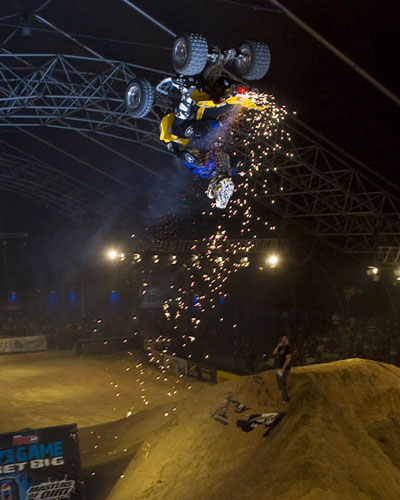 Jon Guetter
American Jon Guetter once again flipped his massive Quad bike to roars of disbelief. The Czech minibike crew unleashed their own brand of madness with Super 'flips, Stripper 'flips and spectacular crashes on their pint sized bikes.
BMX legend, Vincent "The Machine" Massardier, matched his record distance jump of 12m with gigantic Front 'flips in each night's show over the FMX ramp.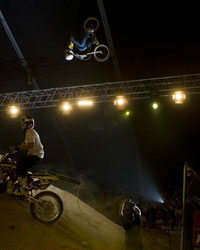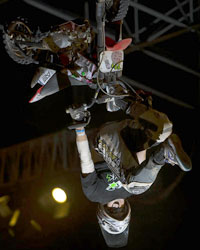 Vincent "The Machine" Massardier and
The Synchro show and 'flip progression segments were spine chilling and had the 8 FMX riders wheel to wheel and bar to bar exploding through the arena. Charles Pages, Brice Izzo, Jim McNeil and Justin Hoyer completing the FMX line-up.



Jim McNeil
US showman, McNeil had a small crash as his bike stalled on the final night, but seems to have escaped with a minor wrist injury.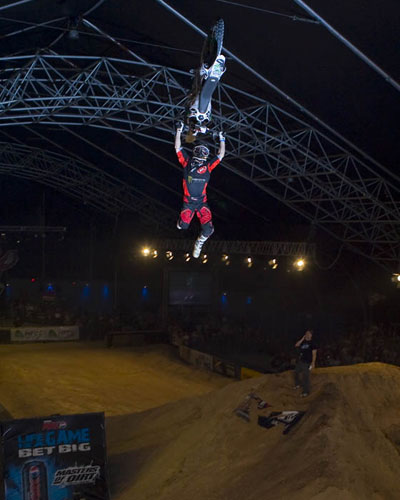 Remi Bizouard
The parties in Malta were mad, as always.
So, the first M.O.D trip to the Mediterranean gets the thumbs up from all around and we are pretty stoked for our next event in Cyprus on ?? June.

For awesome pics & videos or to book tickets to your next M.O.D. event, log on to www.mastersofdirt.com