IFMXF NOTJ Nuremburg | GERMANY
text & pix by Tobias Hannig
The NOTJ celebrated its premiere in Nuremburg last Saturday. The sold out Arena was packed with 6000 spectators which were in a really enthusiastic mood. The track was well prepared, so the 15 riders could show their skills in perfection.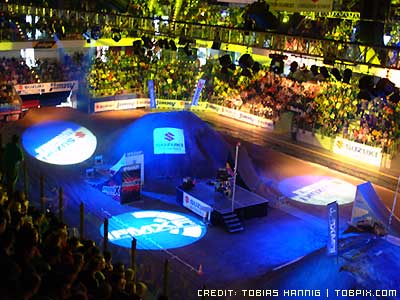 Pre-Qualification
Qualified for the Saturday night event were Fred Berggren (S), Remi Bizouard (F) and Alvaro dal Farra (I). They didn't need to ride a Pre-Qualifier, because the two Germans Tobi Immler and Freddy Peters decided to not attend.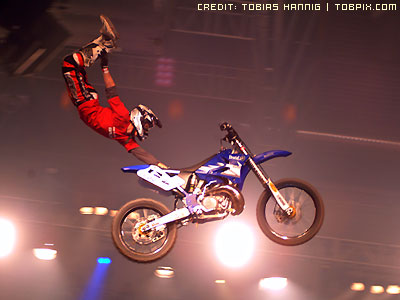 Remi Bizouard doing a sweet Oxecutioner
The Main-Event
The skill level of the riders was extremely high. It was really difficult to qualify for the final. The Local riders Fab Bauersachs and the German FMX Champion Lukas Weis showed a good performance, but did not qualify for the final. Fab made an breathtaking Flintstone to Saran Wrap. Luki styled with his killer Whips.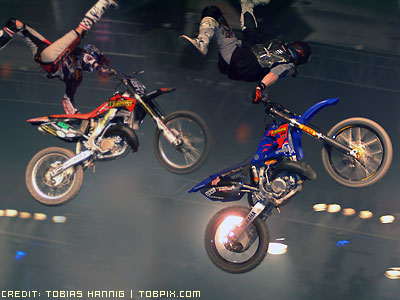 The Locals Lukas Weis and Fab Bauersachs

Remi Bizouard, Alvaro Dal Farra, Derek Burlew and Jimmy Verburgh did not qualify for the final either, but their run was creative and smooth. Oystein Kjorstadt, Nick de Wit and Fred Berggren showed long distance Backflips and sick tricks in their run, but they also didn't qualify for the final 6.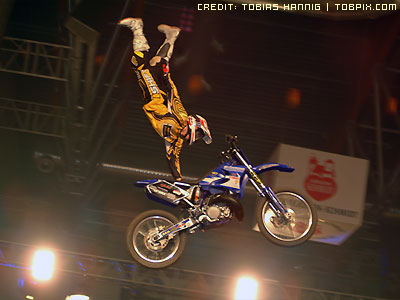 US-Boy Derek Burlew with a Onehand Hart Attack
Step Up
The Highest Air contest wasn't easy to ride, because the dirt of the take-off was soft and sandy. It was a tie between englands Kris Brock and Gary Taylor. Mat Rebeaud (SUI), Jimmy Verburgh (BEL) and Derek Burlew (USA) did eliminate early.
Whip Contest
The British duo narrowly lost out to the German team of Wolter and Luki Weis in the Team Whip contest. Third was the pairing of Verburgh and Burlew.
Final
The only German in the Final was Busty Wolter. His run was constant, but the tricks were not the big killer ones. His highlight was the Backflip over the Superkicker. Finally Busty placed 6th.



In his Quali-Run Busty Wolter surprisingly made a onehanded Backflip.
Gary Taylor from England did not flip, but rode clean with huge Tricks. His CrackNac, Tsunami and Double Hart Attack looked awesome.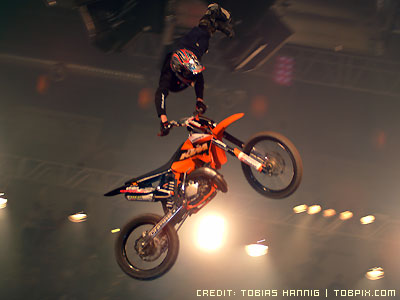 Gary Taylor with 9 o'clock Nac
Swedens Fred Johansson pushed the crowd with a really smooth style. Fred was busting out some killer Cracknacs and a lot of Backflip variations. He ended up in fourth place.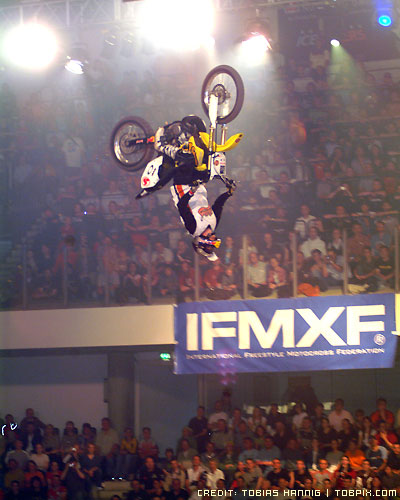 Fred Johansson with a nice Comeback after his injury.
Kris Brock from England did the Backflip over the Superkicker. His run was clean and creative. Highlights were the Shoebox and Doublehanded Hart Attack.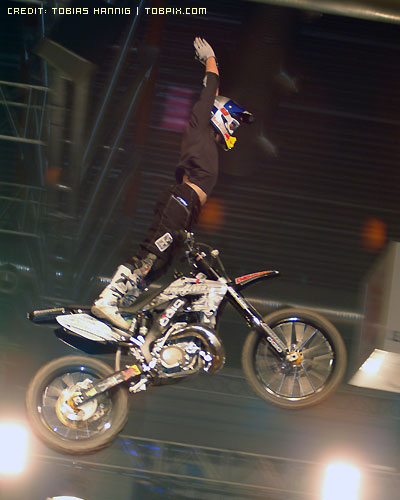 Kris Brock doing the Shoebox
Nick Franklin is getting stronger and stronger. Nick looked confident during his tricks. His highlight was the Backflips over the long distance. His other tricks were high leveled and clean - rank two for Nick.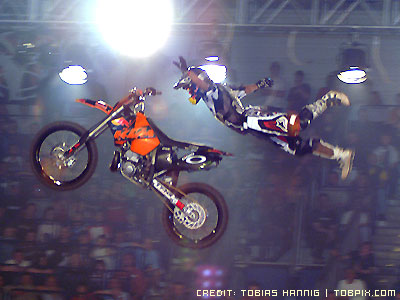 Nick Franklin during a Holyman to Rock Solid
Mat Rebeaud is the guy from the other planet. He looked so smooth. Mat did his Backflip variations like CanCan Flip, Onehand Flip, NacNac Flip so easy like other riders did their standard tricks. Mat earned a lot of props from the spectators and standing ovations for his first place in Nuremburg.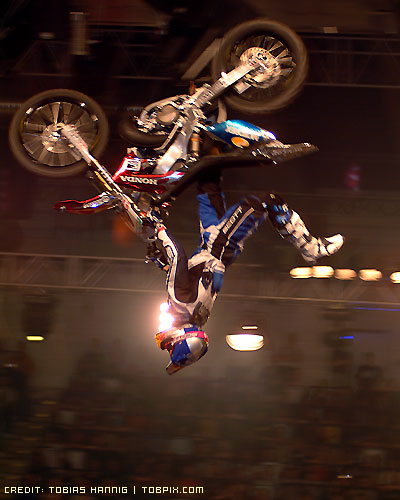 Mat Rebeaud playin' around with his bike ...

The last words
Happily nobody crashed this night and the Tricklevel was awesome high. Some riders are doing too many CatNac/CrackNac variations. We counted four during a run of one rider ... we want to see more creativity and we need more over the bar tricks dudes ;-)

The Event was well organized and the IFMXF made a good job. We hope to see the Nuremburg Event in the IFMXF schedule again.




NIGHT of the JUMPs Nuremburg 21.05.2005

Results Qualifikation
1. Mat Rebeaud SUI 252 Points
2. Fredrik Johansson SWE 203 Points
3. Sebastian Wolter GER 203 Points
4. Nick Franklin NZL 203 Points
5. Kris Brock GBR 199 Points
6. Gary Taylor GBR 194 Points
7. Oystein Kjorstad NOR 192 Points
8. Derek Burlew USA 191 Points
9. Fredik Berggren SWE 189 Points
10. Fabian Bauersachs GER 180 Points
11. Remi Bizouard FRA 177 Points
12. Nick de Wit RSA 177 Points
13. Jimmy Verburgh BEL 171 Points
14. Alvaro dal Farra ITA 166 Points
15. Lukas Weis GER 157 Points



Results Whip Contest


1. Team 3 (Wolter, Weis)
2. Team 2 (Taylor, Brock)
3. Team 1 (Verburgh, Burlew)


Results Step up Contest
1. Gary Taylor 7,00 Meter (1st)
1. Kris Brock 7,00 Meter (1st)
3. Jimmy Verburgh 6,50 Meter (1st)
4. Mat Rebeaud 6,00 Meter (1st)
5. Derek Burlew 5,50 Meter (1st)

Results Final
1. Mat Rebeaud SUI 300 Points
2. Nick Franklin NZL 262 Points
3. Kris Brock GBR 226 Points
4. Fredrik Johansson SWE 220 Points
5. Gary Taylor GBR 214 Points
6. Busty Wolter GER 207 Points


Support us: Like and Share it!

Video of the month

Facebook /FORTY8Mag

Partner