Yee–Ha! Cowboys cheer for Aussie Maddison
Story by Red Bull / Global-Newsroom.com
Red Bull X-Fighters World Tour 2009 Calgary
A sell-out crowd of 21,000 fans in Stampede Park in Calgary (Alberta, Canada) celebrated the victory of Australia's Robbie Maddison on Saturday night at the second stop of the Red Bull X-Fighters World Tour 2009. The cowboy city was abuzzing. American Nate Adams pulled off a 360 in the quarter-final.
CALGARY (CAN). Maddison was able to stay in front of the competition and stay cool in the frenzied atmosphere of the cowboy rodeo. The 28-year-old had to go to the limits on his 100-kg (220-pound) bike in the Stampede Park be earn the honor of celebrating the victory on the dirt. Japan's Eigo Sato was beaten in the final. Mat Rebeaud (SUI) took third place.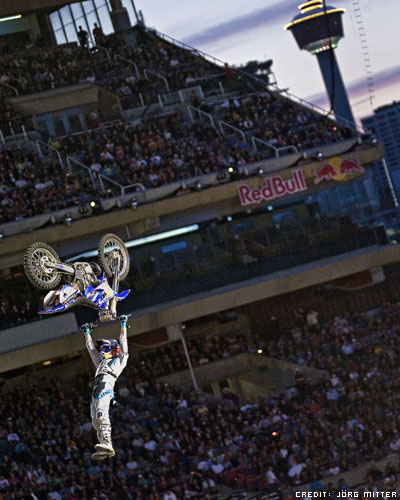 Robbie Maddison
"I can't believe it. It's a dream come true. The hard work paid off. The whole day was totally insane. I had a feeling from the start that I had a chance to win today and after winning the quarter-final against Nate Adams I knew I could go all the way," said the beaming Australian. Adams put all his eggs in one basket and was hoping to snatch the win with a 360 – a complete turn in midair. But Maddison prevailed with a superior all-round performance.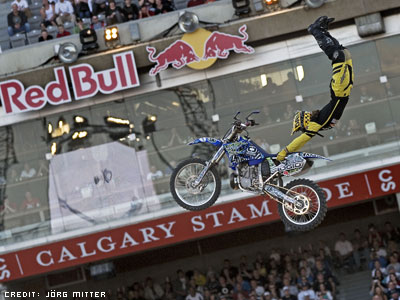 Jeff Fehr
Local hero Jeff Fehr ended up in 9th place. The crowd favorite arrived in the arena wearing a Calgary Flames jersey. NHL superstar Dion Phaneuf, who was serving as a show judge, personally presented Fehr with a team jersey. "That was an incredible adrenaline rush. I did everything I could in front of the home crowd. The field was incredibly strong and I'm really pleased with the result."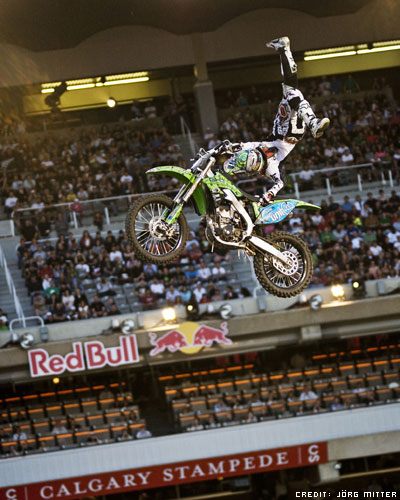 Levi Sherwood

Levi Sherwood, also known as "rubber kid", had a disappointing performance in only his second outing on the international FMX stage. Just 17 years old, the winner of Mexico City had to settle for 7th place. The four-stroke bike of the promising youngster was at a distinct disadvantage on the tight course against to the more lively two-strokes of the other riders. In the overall standings, Eigo Sato (JPA/160 points) is in first place in front of Sherwood (NZL/130 points) in second and Mat Rebeaud (SUI/130).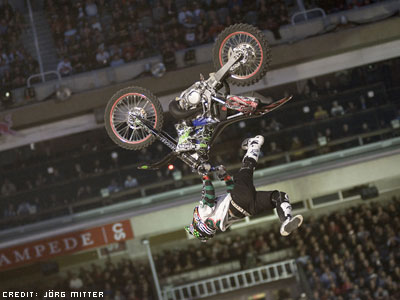 Eigo Sato

Since the start of the World Tour in 2007 the pulsating sports event has caused a sensation with the dazzling array of back flips and other dangerous tricks in bullfighting arenas from places between Mexico City (MEX) and Madrid (ESP) or in the Sambadrom in Rio de Janeiro.
Final Result Red Bull X-Fighters World Tour
Calgary 2009
1. Robbie Maddison — Australia
2. Eigo Sato — Japan
3. Mat Rebeaud — Switzerland
4. Jeremy Stenberg — USA
5. Nate Adams — USA
6. Thomas Pages — France
7. Levi Sherwood — New Zealand
8. Taka Higashino — Japan
9. Jeff Fehr — Canada
10. Ben Milot — Canada
Credit for pics: Joerg Mitter for Global-Newsroom.com