IFMXF NOTJ Cologne | GERMANY
REBEAUD PUTS SOLID CAP ON 2005 SEASON
The final round of the 2005 IFMXF Night of the Jumps season in Cologne, saw a dominant performance from Swiss Matt Rebeaud.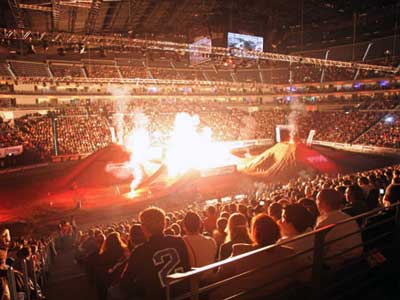 The opening with the pyro show
Matt rode to victory in the qualifying round, as well as the Final, Whip team contest with team mate Kris Brock (ENG) and the Highest Air. Matt had already sealed the points race up in the 2005 Night of the Jumps championship at the penultimate round in Nurenburg two weeks earlier from Ailo Gaup (Nor).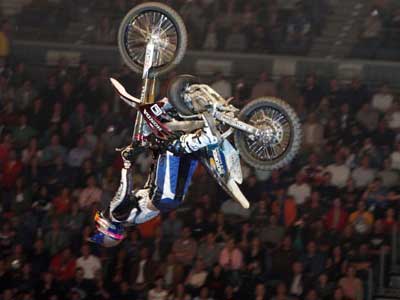 The winner of the Night of the Jumps Tour 2005 - Mat Rebeaud (SUI)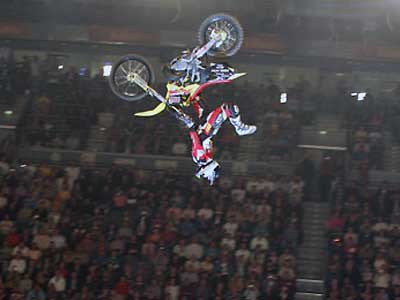 Second in the final was Oystein Kjorstad (NOR) | NacNac Flip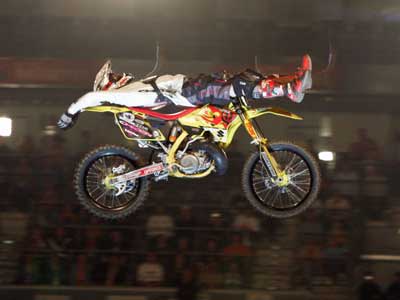 Third was Busty Wolter (GER) doing a nice Lazyboy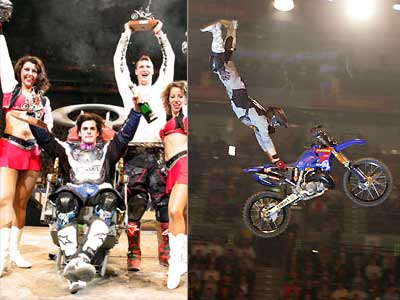 Winner Mat Rebeaud and 4th was Fabian Bauersachs (GER)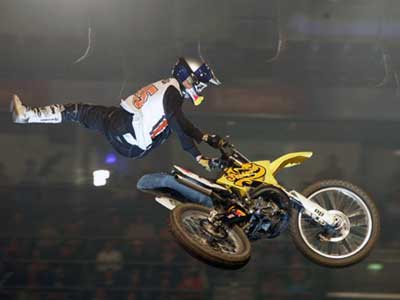 Fifth was Fred Johansson (SWE) and sixth was Kris Brock.

Second to Matt and Kris in the Team Whip contest was the German duo of Busty Wolter and Lucas Weis. Second and third in the Highest Air were Kris Brock and Jimmy Verburgh (Bel).

The evening was riddled with spectacular crashes, possibly due to rider fatigue this late in the season. The IFMXF season takes a break over the summer, with the World Cup season commencing later in the year. Several of the top IFMXF riders will now head to the US to contest the upcoming series there. Check out www.ifmxf.com for the latest IFMXF rankings, pics, video clips and other info.



NIGHT of the JUMPs Cologne 04.06.2005

Results Qualifikation
1. Mat Rebeaud SUI 247 Points
2. Kris Brock GBR 231 Points
3. Oystein Kjorstad NOR 225 Points
4. Fredrik Johansson SWE 218 Points
5. Fabian Bauersachs GER 218 Points
6. Sebastian Wolter GER 217 Points
7. Nick Franklin NZL 207 Points
8. Martin Koren CZE 188 Points
9. Libor Podmol CZE 187 Points
10. Fredrik Berggren SWE 183 Points
11. Lukas Weis GER 173 Points
12. Jimmy Verburgh BEL 146 Points
13. Hannes Ackermann GER 93 Points
14. Nick de Wit RSA 18 Points



Results Whip Contest


1. Team 1 (Kris Brock, Mat Rebeaud)
2. Team 2 (Lukas Weis, Busty Wolter


Results Step up Contest
1. Mat Rebeaud 6,50 Meter (1st)
2. Kris Brock 6,30 Meter (1st)
3. Jimmy Verburgh DNS

Results Final
1. Mat Rebeaud SUI 321 Points
2. Oystein Kjorstad NOR 277 Points
3. Busty Wolter GER 252 Points
4. Fabian Bauersachs GER 212 Points
5. Fredrik Johansson SWE 39 Points (DNF)
6. Kris Brok GBR 19 Points (DNF)