Brazil Freestyle Motocross Circuit
After the opening round get canceled for two weekends in a row due to a strong rain , the second stop of Brazilian Freestyle Motocross Circuit took place in San Bernando do Campo, an industrial city close to San Paulo. The championship was the main attraction of Jump Festival, as its own name describes, a festival devoted to action sports, like Skateboard and BMX. The FMX winner was Marcelo Simões, followed by Fred Kyrillos and Jefferson Campacci.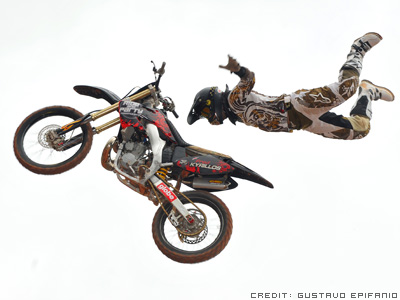 Simões, who got the title on the last two seasons, showed a massive routine in the final. He landed awesome tricks, such as a huge nine o-clock nac and a fully extended tsunami. Another great moment at Simões winner run was a mase twist. Perhaps, we should call that "simon twist", because the Brazilian rider performs that on his own style. Case we compare it to the original one created by Mike Mason is possible to realize a few differences. For example, Simões starts the trick with some sort of turndown indy, and keep pushing it until the tsunami. According to the rider, that was the manner that he found to complete the maneuver.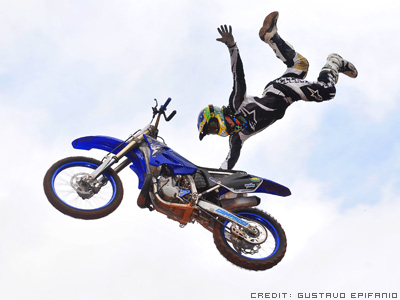 Even with great tricks like these, the victory was not an easy task for Simões. His main opponent, Fred Kyrillos, rode hard as well. Kyrillos had a good course usage, and kept the high execution quality in almost all the tricks. By the way, big tricks, like sideshow and tsunami. In third place came Jefferosn Campacci, aka Jeff Mills. The 20 years old boy flew free in his holygrab, and also has proven he got some technical stuff in his arsenal, like a mcmetz to no hander lander. Even finishing in third, he was stoked. "I had to face my nervousness to ride against my idols. Fortunately, I got a good a score and took the third place home" said the young gun.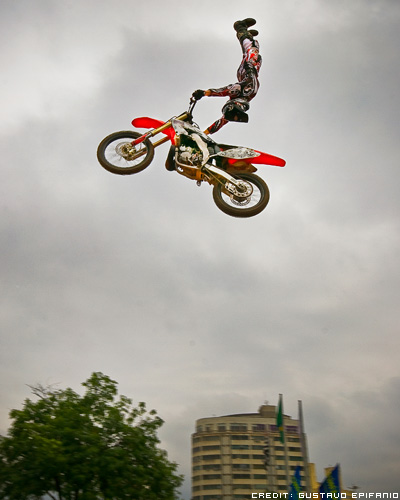 The Brazilian FMX level is getting higher and the battles tougher. Hence, there is no time to waste. "I'm eager for the next round, right now I'm focused on enhancing my practices in order to show a routine still better" revealed Simões. Thought shared by Jeff Campacci, who plans "throw new tricks and make a routine different from anyone else". So, see you on the next round.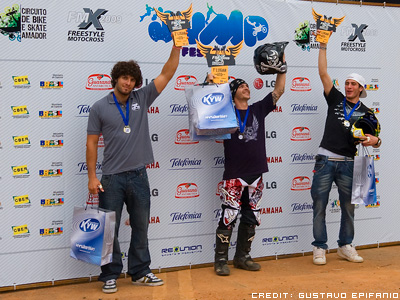 Final Result – Round 2 San Bernardo do Campo
1. Marcelo Simões 240 points
2. Fred Kyrillos 217 points
3. Jeff Campacci 202 ponto
4. Giancarlo Bergamini 173 points
5. Gianpaulo Bergamini 161 points
6. Diego Djam 133 points
Brazilian FMX Circuit
1. Marcelo Simões 20 points
2. Fred Kyrillos 18 points
3. Jeff Campacci 16 points
4. Giancarlo Bergamini 14 points
5. Gianpaulo Bergamini 12 points
6. Diego Djam 10 points