NIGHT of the JUMPs Cologne
Story and pics by Oliver Franke
Last Saturday the world' elite in Freestyle Motocross met at the NIGHT of the JUMPs Cologne. The FMX athletes fought for points of the IFMXF world ranking. In the top-class field of riders FMX World Champ Remi Bizouard took the victory ahead of Brody Wilson from the US and Spaniard Jose Miralles.
With Jack Rowe and Greg Hartman further US high-quality riders came to Cologne. 2 years ago Hartman won best trick gold at Dubai X Games. But both Americans could not make it into the final. The same applied to the German riders Hannes Ackermann and Fabian Bauersachs. Both did good runs, but today it was not enough. Alistar Sayer from Botswana showed spectacular tricks, after crashing in the trainings rounds. Finally he ended up on 9th position. But the African guy won the Step up contest.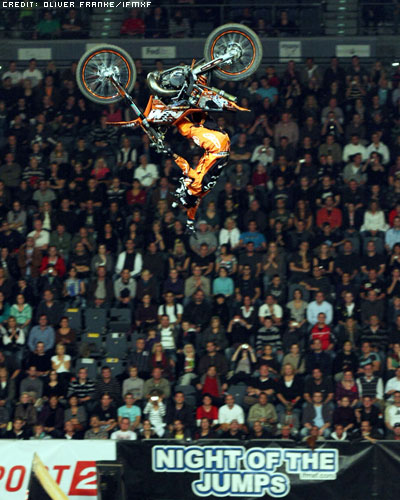 Australian rider Steve Mini had huge trick combos und missed the next round only by 2 points. So Remi Bizouard, Brice Izzo, Libor Podmol, Jose Miralles, Brody Wilson and Massimo Bianconcini made it into the final. After the qualification Jose Miralles won the Race-and-Style and the Whip contest.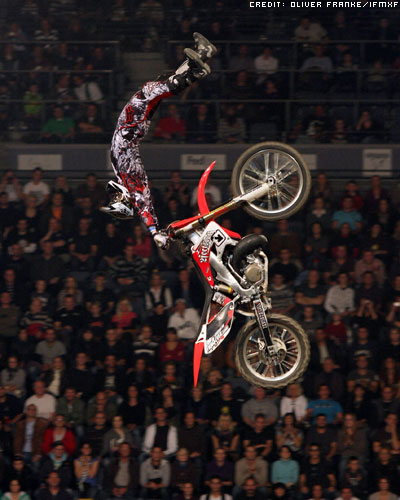 Then the spectators freaked out for this days main decision. Massimo Bianconcini opened the final. But cause of an injury in the step up contest he could take only one trick. So Jose Miralles was next, firing his tricks on Cologne dirt and jumped on 3rd podiums position. Libor Podmol and Brice Izzo tried to reach the podium by doing hardest trick combos as well, but they ended up behind Miralles. Brody Wilson showed perfect trick extensions and did a Tsunami flip in the double up. This put him on 2nd place.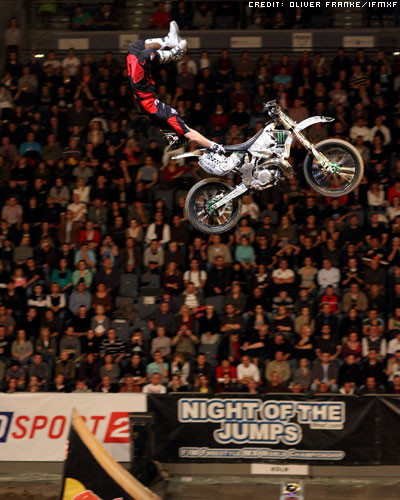 But again the victory felt to Remi Bizouard. The FMX world champ had to kiss the boards first, but then firing Switchblade Flip, Seatgrab Backflip, Cliffhanger Flip and Ruler Flip on Cologne dirt and won the contest.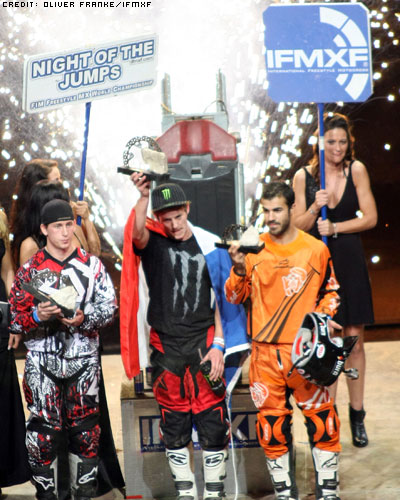 Next NIGHT of the JUMPs takes place November 6th and 7th in Ostrava/Czech Republic. Upcoming weekend the FMX athletes meet again in Nuremberg for IFMXF Ramp2Ramp show. Cologne will see the NIGHT of the JUMPs on October 17th 2010 with a FIM Freestyle MX World Championship round.
FACTS NIGHT of the JUMPs
FIM Freestyle MX World Championships
Cologne, 24th October 2009 – Round 9

Overall
1 Remi Bizouard FRA 12.0
2 Brody Wilson USA 10.0
3 Jose Miralles ESP 8.0
4 Brice Izzo FRA 7.0
5 Libor Podmol CZE 6.0
6 Massimo Bianconcini ITA 5.0
7 Steve Mini AUS 4.0
8 Fabian Bauersachs GER 4.0
9 Alister Sayer BOT 3.0
10 Greg Hartman USA 3.0
11 Jack Rowe USA 2.0
12 Hannes Ackermann GER 2.0
Final
1 Remi Bizouard FRA 301.0
2 Brody Wilson USA 292.0
3 Jose Miralles ESP 289.0
4 Brice Izzo FRA 285.0
5 Libor Podmol CZE 280.0
6 Massimo Bianconcini ITA 1.0
Highest Air
1 Alister Sayer BOT 8.1 m
2 Libor Podmol CZE 7.8 m
3 Massimo Bianconcini ITA 0.0 m
Whip Contest
1 Jose Miralles ESP
2 Brody Wilson USA
3 Alister Sayer BOT
4 Hannes Ackermann GER
4 Massimo Bianconcini ITA
4 Steve Mini AUS
Qualification
1 Remi Bizouard FRA 257.0
2 Brice Izzo FRA 253.0
3 Brody Wilson USA 251.0
4 Libor Podmol CZE 248.0
5 Jose Miralles ESP 242.0
6 Massimo Bianconcini ITA 231.0
7 Steve Mini AUS 229.0
8 Fabian Bauersachs GER 217.0
9 Alister Sayer BOT 216.0
10 Greg Hartman USA 209.0
11 Jack Rowe USA 206.0
12 Hannes Ackermann GER 185.0