NIGHT of the JUMPs Namibia
Story and pics by Oliver Franke
This was never seen in Namibia. On Saturday 12 FMX athletes of the IFMXF entered the African continent and jumped Windhoek for the NIGHT of the JUMPs into the ground. The air was burning on the FMX parkour at Tony Rust Race Track. Remi Bizouard gambled away in the qualifying and missed the finals. But in the end he could celebrate, as Podmol and Miralles only came up on fourth and fifth position. So the French rider has a lead of 23 points and defended his title.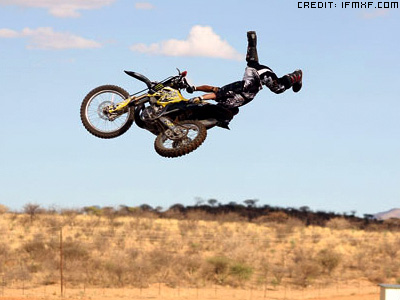 Windhoek saw a sensation already in the qualification. Local hero Alistar Sayer from Botswana debuted a never seen Whip 9-O-Clock Indy and reached the finals. Jose Miralles started with a 40 degrees fever handicap, but with a solid run he came under the best six. Brody Wilson won the qualification ahead of Down Under wonder boy Steve Mini. The Australian rider had no problems with the track or conditions and ruled with triple combos and several no hand landings. Libor Podmol and Brice Izzo did not pull every of their hard tricks in the qualifying, but made it into the finals. Current World Champ Remi Bizouard missed that. He wanted to do it the save way and found himself on 7th position.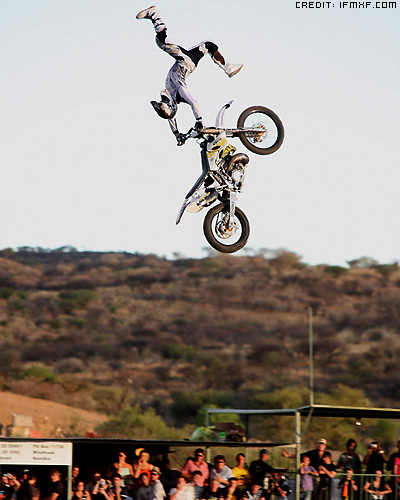 In the break Massimo Bianconcini won the Whip contest and Steve Mini the first ever Best Trick contest in NIGHT of the JUMPs history. Best trick came into the program instead of the Highest Air contest that had to fail due to the dry dirt.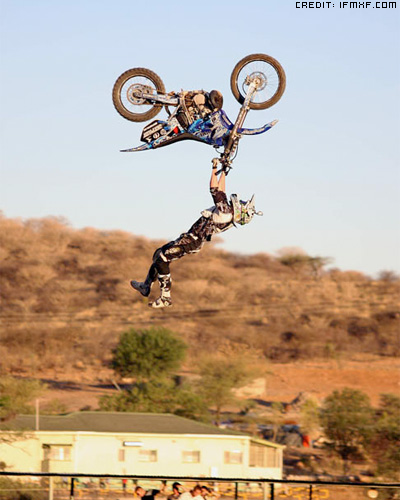 In the finals Libor Podmol and Alistar Sayer risked everything to reach the podium. But both crashed after a landing and missed it. Bad luck for Podmol because with a place on the podium he would have been hold his chance of winning the World Championship title. The handicapped Jose Miralles could not reach his normal performance and ended up on fifth position.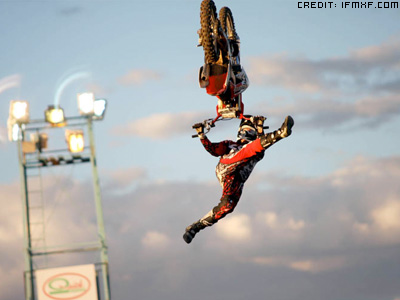 Brody Wilson pulled all his tricks with perfect extension, but had his problems at one of his flips. Brice Izzo gave everything in his final run including Shaolin and Cordova flip. But even that was not enough to beat Steve Mini on this day. The Australian rider pulled a Tsunami flip for the first time ever and won the NIGHT of the JUMPs Namibia.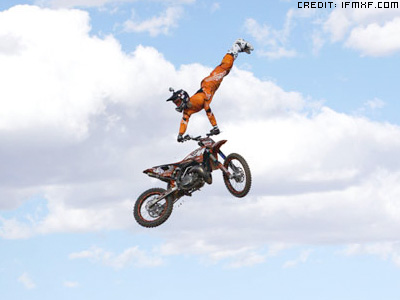 In the overall ranking of the FIM Freestyle MX World Championship Remi Bizouard could defend his title with a lead of 23 points prior to the last contest. Libor Podmol is now on 2nd position.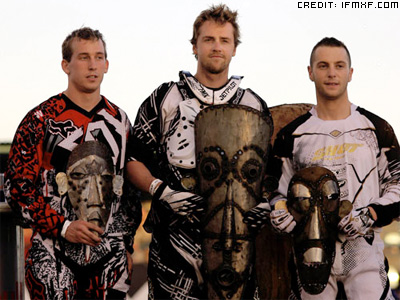 This years final round of the NIGHT of the JUMPs / FIM Freestyle MX World Championships will take place in Fortalesa/Brasil on December 5th and presents the fight for the Vize World Champion title. Libor Podmol, Jose Miralles, Brody Wilson and Brice Izzo still have chances to reach the podium in the overall ranking.
FACTS NIGHT of the JUMPs
FIM Freestyle MX World Championships
Namibia, 21st November 2009 – Round 9


Results NIGHT of the JUMPs – Final
1. Remi Bizouard FRA FFM Yamaha 317 Points
2. Brice Izzo FRA FFM Yamaha 299 Points
3. Jose Miralles ESP RFME KTM 288 Points
4. Brody Wilson USA AMA Honda 285 Points
5. Libor Podmol CZE ACCR Suzuki 281 Points
6. Massimo Bianconcini ITA ACCR KTM 215 Points
Whip Contest
1 Massimo Bianconcini ITA
2 Alistar Sayer BOT
Results Best Trick Contest
1 Steve Mini AUS
2 Alistar Sayer BOT
3 Libor Podmol CZE


FIM Freestyle MX World Championships
Riders Ranking (after 9th contest)
1 Remi Bizouard FRA Yamaha 192 Points
2 Libor Podmol CZE Suzuki 169 Points
3 Jose Miralles ESP KTM 168 Points
4 Brody Wilson USA Honda 164 Points
5 Brice Izzo FRA Yamaha 158 Points
6 Fabian Bauersachs GER KTM 98 Points
7 Massimo Bianconcini ITAL KTM 81 Points
8 Steve Mini AUS Yamaha 64 Points
9 Hannes Ackermann GER KTM 64 Points
10 Freddy Peters GER Suzuki 51 Points
11 Fredrik Johansson SWE Suzuki 50 Points
12 Gilles Dejong BEL KTM 24 Points
13 Wlliam v. d. Putte BEL Suzuki 23 Points
14 Petr Pilat CZE Suzuki 20 Points
15 Martin Schenk AUT Yamaha 12 Points
16 Vivian Gantner SUI Suzuki 11 Points
17 Tomas Lysacek CZE Kawasaki 11 Points
18 Alistar Sayer BOT Suzuki 10 Points
19 Andre Villa NOR Suzuki 8 Points
20 Alexey Koleshnikov RUS KTM 7 Points
21 Nick de Wit RSA KTM 6 Points
22 Colin Stanton RSA Honda 4 Points