NIGHT of the JUMPs Brazil
Story and pics by Oliver Franke
Brazil saw a grand final of this year's Freestyle Motocross season. At the NIGHT of the JUMPs Fortalesa three riders fought for the Vice World Champion title that grabbed Jose Miralles ahead of Libor Podmol and Brice Izzo. Podmol, who had a crash in the practice, was irritated due to the rain before his run and made a deadsailor. So Miralles had an easy game and saved the 2nd place in the overall ranking. Winner of the NIGHT of the JUMPs Fortalesa was Remi Bizouard, who had to make up for his 7th place in Namibia.


On Saturday 20.000 spectators stormed into the Estadio Casteloa to be part of the season closing of the FIM Freestyle MX World Championship. And the audience saw already in the qualification the best in Freestyle Motocross. Local heroes Octavio Mello, Fred Kyrillos and Giancarlo Bergamini appealed to the emotions, before Hannes Ackermann did the first flips of the day.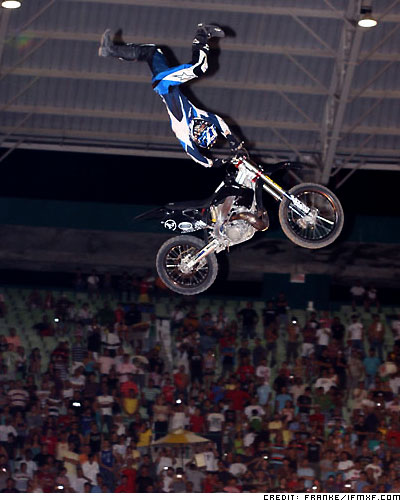 After him Marcelo Simoes showed a MaseTwist and Shoebox to No-Hand-Landing. Steve Mini was doing the same run as he did at his victory in Namibia. Due to problems at his No-Hand Can to No-Hand-Landing he shouldn't make it to the finals. Into this Gilmar Flores flipped himself next to Fabian Bauersachs, Brice Izzo, Libor Podmol, Jose Miralles und Remi Bizouard.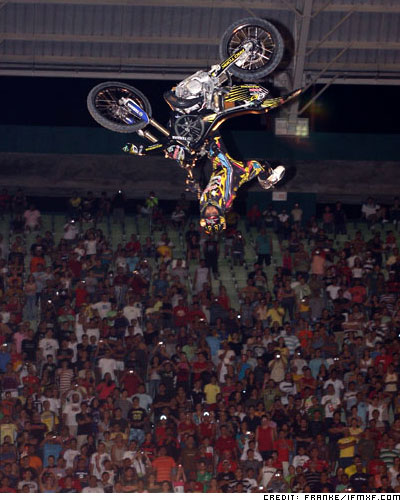 At the Race-and-Style contest Octavio Mello took the win against Hannes Ackermann, who crashed. Mello was close to win the Highest Air as well, but finally Massimo Bianconcini did it.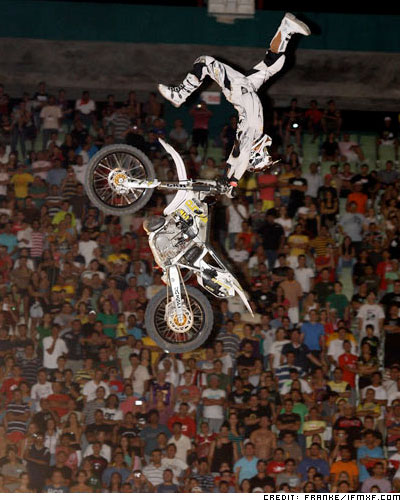 Next was a most packing final with Libor Podmol, who lost the fight for the Vice World Champion title.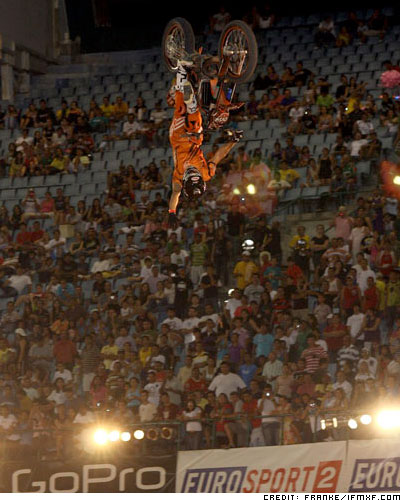 Flores did flips like Whipped Clickerflip and ended up on 5th position. Brice Izzo did huge combos, but Miralles took the 2nd place and saved the Vice World Championship. But next to Flores, Fabian Bauersachs was the biggest surprise of the day.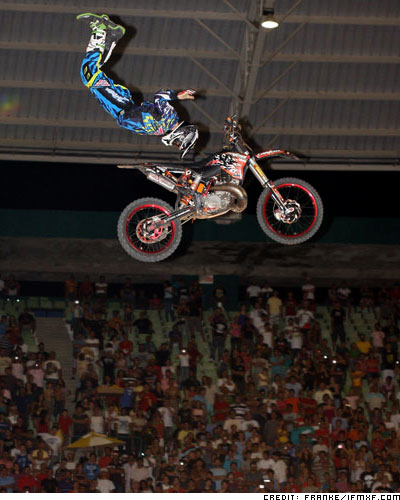 The German rider did a soild final run and put himself on the podium for the first time in 2009! But overall ruled Remi Bizouard. The World Championship did an amazing final run and took the last victory in this year.


The official NIGHT of the JUMPs FIM Freestyle MX World Champion 2009 Remi Bizouard won the last round of the Series on Brazil.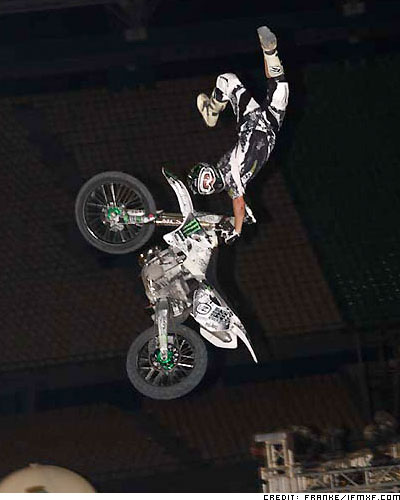 So this FMX season is over. Now the IFMXF takes a winter break and comes back on the February 13th and 14th with the NIGHT of the JUMPs / FIM Freestyle MX World Championship in Berlin.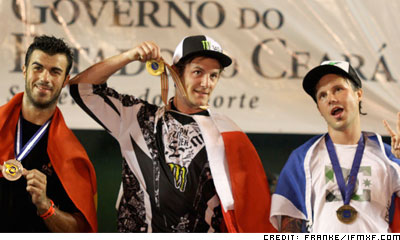 FACTS NIGHT of the JUMPs
FIM Freestyle MX World Championships
Fortalesa, 05th December 2009 – Round 12

Results NIGHT of the JUMPs – Final
1. Remi Bizouard FRA FFM Yamaha 288 Points
2. Jose Miralles ESP RFME KTM 271 Points
3. Fabian Bauersachs GER DMSB KTM 237 Points
4. Brice Izzo FRA FFM Yamaha 233 Points
5. Gilmar Flores BRA CBM Yamaha 222 Points
6. Libor Podmol CZE ACCR Suzuki 128 Points
Results Qualification
1. Remi Bizouard FRA FFM Yamaha 246 Points
2. Brice Izzo FRA FFM Yamaha 245 Points
3. Jose Miralles ESP RFME KTM 228 Points
4. Libor Podmol CZE ACCR Suzuki 225 Points
5. Gilmar Flores BRA CBM Yamaha 211 Points
6. Fabian Bauersachs GER DMSB KTM 204 Points
7. Massimo Biancocini ITA ACCR KTM 202 Points
8. Steve Mini AUS MA Yamaha 194 Points
9. Marcelo Simoes BRA CBM Honda 181 Points
10. Hannes Ackermann GER DMSB KTM 178 Points
11. Giancarlo Bergamini BRA CBM Yamaha 161 Points
12. Fred Kyrillos BRA CBM Honda 149 Points
13. Otavio Mello BRA CBM Yamaha 116 Points

Results Race and Style Contest
1. Otavio Mello BRA
2. Hannes Ackermann GER

Results Highest Air
1. Massimo Bianconcini ITA
2. Otavio Mello BRA

FIM Freestyle MX World Championships
Riders Ranking (after 12th and final contest)
1. Remi Bizouard FRA FFM Yamaha 212 Points
2. Jose Miralles ESP RFME KTM 186 Points
3. Libor Podmol CZE ACCR Suzuki 179 Points
4. Brice Izzo FRA FFM Yamaha 172 Points
5. Brody Wilson USA AMA Honda 164 Points
6. Fabian Bauersachs GER DMSB KTM 114 Points
7. Massimo Bianconcini ITA ACCR KTM 90 Points
8. Steve Mini AUS MA Yamaha 72 Points
9. Hannes Ackermann GER DMSB KTM 70 Points
10. Freddy Peters GER DMSB Suzuki 51 Points
11. Fredrik Johansson SWE SVEMO Suzuki 50 Points
12. Gilles Dejong BEL DMSB KTM 24 Points
13. Wlliam v. d. Putte BEL FMS Suzuki 23 Points
14. Petr Pilat CZE ACCR KTM 20 Points
15. Martin Schenk AUT OSK Yamaha 12 Points
16. Gilmar Flores BRA CBM Yamaha 12 Points
17. Vivian Gantner SUI FMS Suzuki 11 Points
18. Tomas Lysacek CZE ACCR Kawasaki 11 Points
19. Alistar Sayer BOT NMSF Suzuki 10 Points
20. Andre Villa NOR RFME Suzuki 8 Points
21. Marcelo Simoes BRA CBM Honda 7 Points
22. Alexey Koleshnikov RUS LaMSE KTM 7 Points
23. Nick de Wit RSA NMSF KTM 6 Points
23. Giancarlo Bergamini BRA CBM Yamaha 5 Points
25. Colin Stanton RSA NMSF Honda 4 Points
26. Fred Kyrillos BRA CBM Honda 4 Points
27. Otavio Mello BRA CBM Yamaha 3 Points