Carnival Tricks | Brasil FMX Cup 2010
Story by Jose Gaspar; Photos by Guilherme Leporace



In the fourth edition of Brazil FMX Cup Gilmar Flores keeps his supremacy and take another victory home



As long as we are talking about an event that just reached its fourth edition, "tradition" may sound an overwhelmed definition. However, regarding its relevance in the local context, the term justifies itself. This is the main FMX moment in Brazil, the great chance for the riders dealing sponsors or even profitable demos for the rest of the season. They can define the whole year according to their results at this contest. Why? The answer is a huge exposure on the media, including live broadcasting on the most popular TV channel. Besides, since the event occurred during the Brazilian carnival, the place could not be other, except the Wonderful City, Rio de Janeiro.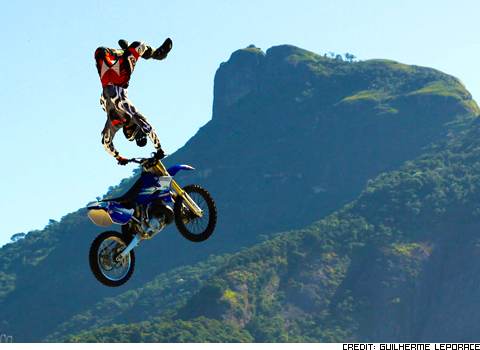 Apparently, the course built over the fancy Barra Beach sand was quite simple. Only two ramps and two mobile landings. But behind this simplicity there were a few challenges, like wind, which made the "windows" for practices too short. The sixteen riders should be ready to go all the time. So, the general feeling was, stay ever ready!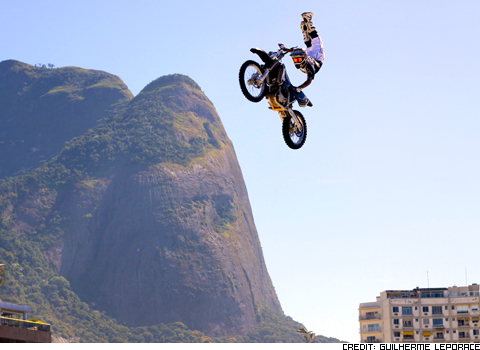 The contest last two days, the qualifying on Saturday and final on Sunday, each one holding two runs per rider. After the first day, six riders advanced to the final: Gilmar Flores, Marcelo Simões, Derek Burlew, Jefferson Campacci, Gianpaulo Bergamini and Giancarlo Bergamini. On Sunday Gilmar Flores, aka the "Lady Bug", showed why he conquered the first place in the early three editions of Brazil FMX Cup. He performed massive routines, hucking a large variety of tricks, from superflips to huge nine o-clock nacs. In the end of his best run, Flores reached 200 points, and took home his fourth victory in a row.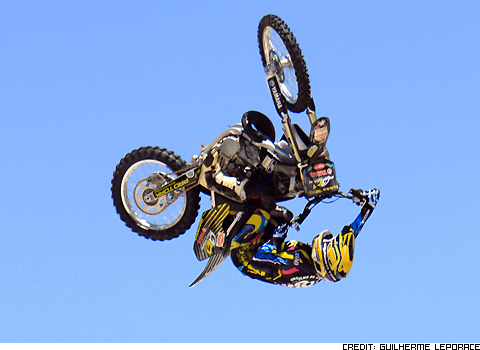 In Gilmar's opinion, the flips are still his main differential. "I'm the only one able to flip in contests, and I've been nailing some good ones lately". Nevertheless his triumph, he knows the evolution never stops, and the other riders are eager to destroy his supremacy. "I know just flips are not enough on the long run, because the other Brazilian riders also have been training their spins. It's just a matter of time until they land it in contests. Hence, I need to enhance my tricks every day, not only flips, but regular ones as well".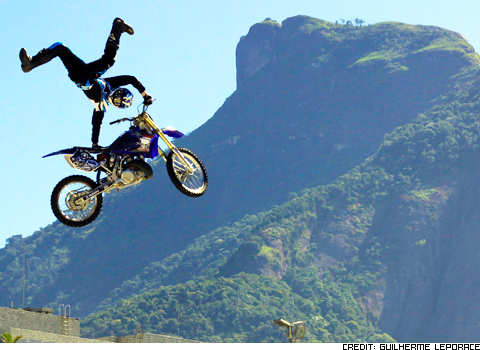 Marcelo Simões finished in the second place. And his mission was not easy. After all, he faced a tuff opponent, Derek Burlew. A fierce battle took place on the beach, both riders executed full extended tricks, just like complex combos, such as a cliffhanger to no hander, landed by Burlew. Surely, this was of the best moments of the contest. Even performing tricks close to perfection, Burlew was defeated by Simões for a tiny difference, only 2 points.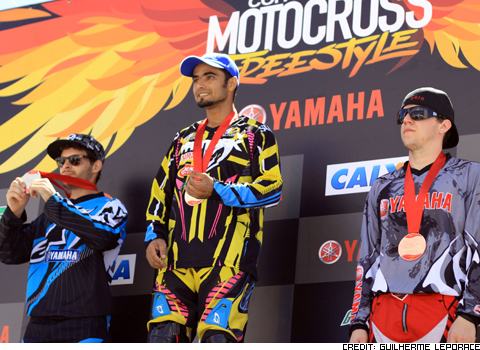 "Finish the competition ahead of Burlew was a great accomplishment! I mean, he is an amazing rider, with nice style, pretty smooth and so precise" said Marcelo, completely stoked.

Burlew struck back on the Best Whip. He gave no chance to his opponents, throwing really stylish whips! Marcelo Simões was the second, pulling a turndown whip, followed, closely, by Gilmar Flores.

Now, will Flores take five victories in a row? Or will the other Brazilians be able to beat him? These questions just raised after the event. The answers will come on the next year, when the flying bikes will change the scenario of Brazilian carnival again.



Brasil FMX Cup 2010 – Final Result


1. Gilmar Flores 200 points
2. Marcelo Simões 169 points
3. Derek Burlew 167 points
4. Jefferson Campacci 148 points
5. Giancarlo Bergamini 137 points
6. Gianpaulo Bergamini 119 points