Villa New FMX Hero as 42,000 Defy Rain
Red Bull X-Fighters World Tour 2010 / Mexico City / Plaza de Toros
Story by Red Bull / Global-Newsroom.com
Norway's Andre Villa pulled off a surprise win at the first stop of the Red Bull X-Fighters World Tour 2010 in Mexico City on Friday evening. With the main event forced to be abandoned due to extreme weather conditions, the Norwegian used his win in Qualifying to claim victory in the city's Plaza de Toros Monumental.
MEXICO CITY (MEX). A huge 42,000-strong crowd packed the arena to cheer on the twelve FMX toreros on their high-octane steeds as they flew through the largest bullfighting ring in the world. On kickers catapulting the athletes 15 metres into the air, the best riders on the planet - including Corinth Canal and Tower Bridge hero, Robbie Maddison (AUS) - showcased the very latest freestyle motocross tricks.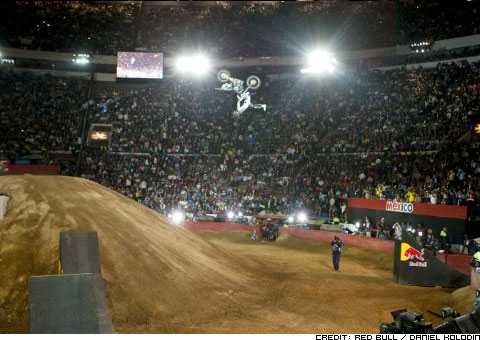 The first stop of the Red Bull X-Fighters 10th anniversary year saw a Norwegian rider win an event for the first time. Andre Villa benefitted from freak weather conditions including torrential rain and lightning to take the win after the competition had to be abandoned after the first round. "I have trained hard my whole life and made so many sacrifices for this," explained the delighted 27- year-old. The remaining spots on the podium went to reigning World Tour Champion Nate Adams (USA) and Robbie Maddison (AUS), with Spain's Dany Torres taking fourth place despite being forced to land his tricks with just one hand due to a fractured wrist.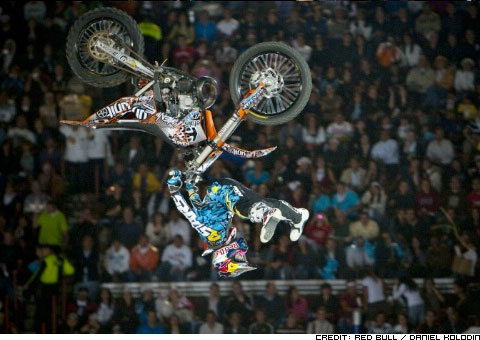 Nate Adams (USA) had warm words of congratulation for the victor: "Andre deserved to win here. When it comes to open-air sport, you have to live with the weather conditions. The heavy rain meant the landing hill was very slippery. I think the decision to abandon the competition was the right one."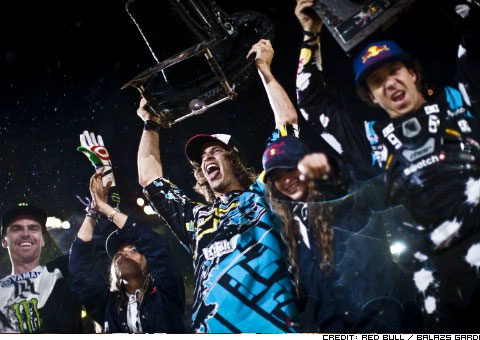 In just a few weeks time, on 14 May 2010, the Red Bull X-Fighters will get their chance for revenge at the second World Tour stop directly in front of the world-famous Sphinx in Giza, Egypt. Further stops in Moscow (RUS), Madrid (ESP), London (GBR) and Rome (ITA) complete the World Tour 2010.