X-Games 16 | MotoX Freestyle
ESPN Press Release / Micah Abrams
Travis Pastrana Wins His 16th Medal at X Games 16
Taking the Top Spot In Moto X Freestyle Final
Travis Pastrana earned his seventh Moto X Freestyle gold medal at the Los Angeles Coliseum Thursday night -- the same place he won his fourth in 2003. Despite persistent rumors that Pastrana would bring his double backflip, which he's only thrown in a Best Trick competition once (at X Games in 2006), to Thursday's Final, the trick wasn't necessary.


Pastrana took the lead on his first of three runs, which included relatively stock tricks like a nac nac backflip and an Indian air backflip, but it was his creative use of the course that really distinguished him. Pastrana threw backflips off the smallest features and used the wallride to spectacular effect, gaining easily eight or more feet than his competitors.



"That was for the fans," a giddy Pastrana said after his opening night victory.



Eighteen-year-old New Zealander Levi Sherwood was the only rider to challenge Pastrana, coming within two points on his second run, but his score wasn't enough. When no rider could best Pastrana on their third and final run, the champ was left to a victory lap. Unprompted and with no need to throw anything to secure victory, Pastrana nevertheless took to the course and tossed a flawless double backflip for the crowd, which responded with a roar.




Pastrana, then, surprised just about everyone in attendance with a double backflip, the trick that made him a star. "This wasn't the one I expected to win," Pastrana said.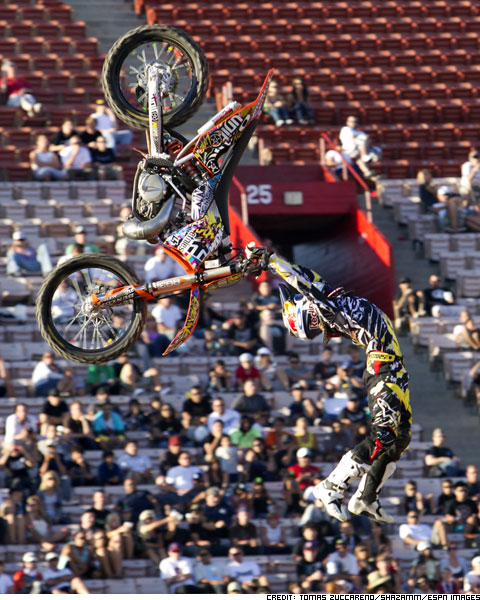 Pastrana came to X16 hoping to compete in a record five events, but chose to pull out of Friday's Moto X Best Trick due to complications landing his rodeo 720, the "TP Roll." Nevertheless, Thursday night's medal gives him an astonishing 16 total X Games medals in both Moto X and Rally Car Racing. Pastrana will also compete in Rally Car Racing and SuperRally on Saturday, as well as Moto X Speed and Style on Sunday.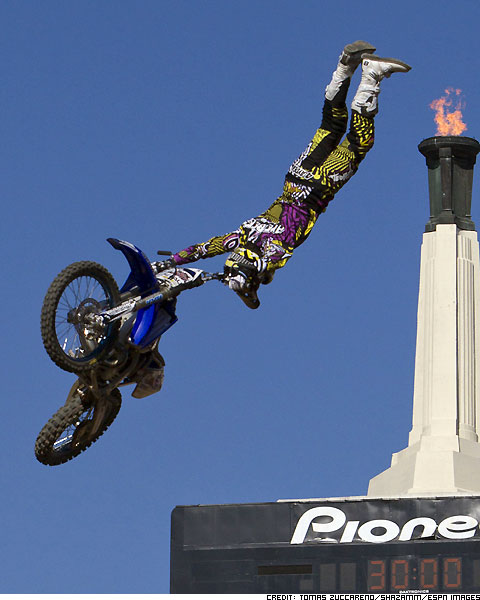 Rob Adelberg placing 5th in his first X-Games competition.
Final results from the Moto X Freestyle final competition held at the Los Angeles Memorial Coliseum in Los Angeles, Calif. on July 29, 2010.
1. Travis Pastrana 80.00
2. Levi Sherwood 79.00
3. Nate Adams 71.00
4. Mat Rebeaud 66.00
5. Rob Adelberg 62.00
6. Robbie Maddison 60.00
7. Adam Jones 55.00
8. Dany Torres 55.00