NIGHT of the JUMPs in Mannheim
Izzo wins and Wilson is UEM FMX European Champion

written by Marcus Anstett | Pictures by Tobias Hannig / tobpix.com
As we entered the SAP Arena in Mannheim our first thoughts were: This is a tight and difficult track. It will not forgive any mistakes – so we can expect a great event which will challenge the riders in front of 8.000 spectators. And we were right. During the qualifying small mistakes could cost your ticket to the finals.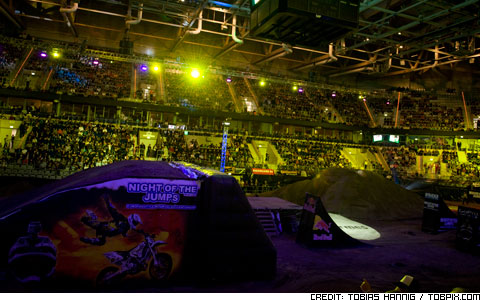 One special highlight of the show was the announcement of the youngster twelve year old, Luc Ackermann. After the reopening he showed his skills and what german FMX will bring in the future. But i will write about him after the qualification.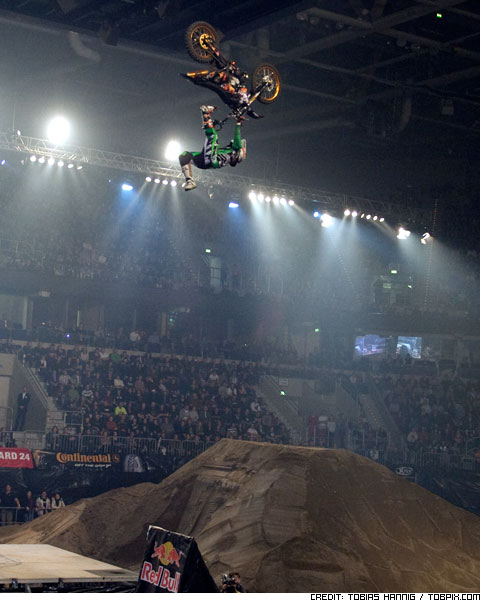 Hannes Ackermann opened the qualification with a solid run spiked with a big Indy to Indy Back Flip. Lukas Weis was the second of three germans in the competition. He whipped ass like no one else. Firing his four stroke up and making noise like hell. He also showed a big Underflip Onehander. Alastair Sayer started third and he showed what was to do to get in the finals. Big Cliffhanger and 9 o'clock made him the first one to be in the finals. David Rinaldo, Petr Pilat and Massimo Bianconcini had small problems during their run, but performed good tricks.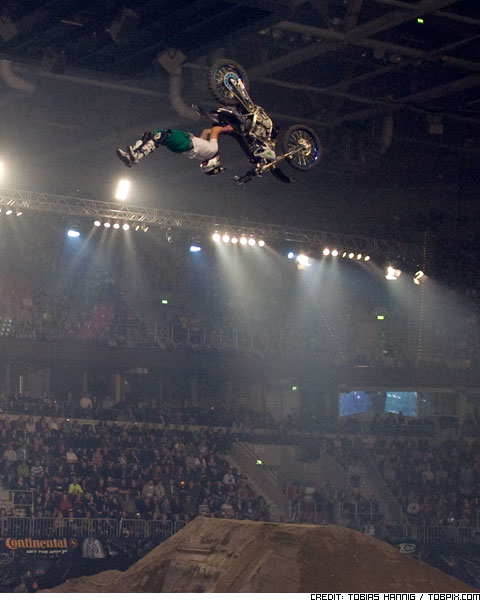 Especially Rinaldo made a Doublegrab Backflip in the Double Up. But the judges didn't give him full points, because the countdown time was over. But good was not good enough for the finals. Now it was Bauersachs time and the big german flowed through the park and entered the finals. Remi Bizouard had not much luck this weekened... his gear got lost on the airport and so he couldn't practice. He had to borrow some equipement from Izzo and did not have the optimal base to get prepared for the event. And so he was allowed to do 3 practice jumps during the show. Well, he whipped once, then twice and a nother time but did not start his run and left the track. What was going on? Maybe we will get som information about it later on.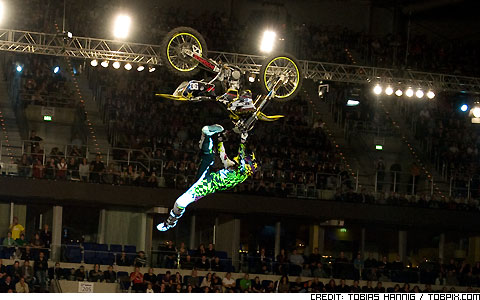 The last four riders took the event a step higher and all of them came into the finals. Libor Podmol landed a huge One handed Indian-Rocksolid and doubled up his points with an very big Underflip. Brice Izzo made his way with giant Back flip combos like Can Can Onehander, Tsunami and Stripper. But also he performed a massive Whip Flip and another blasting Big Ass Whip.

El Loco - Jose Miralles made the crowd get loud with a Back Flip Superman seatgrab to Indian and he was the first rider using the whole track – including a stoppie over the box. His run finished with an Superflip Indy and he doubled up with very stylish Super man seatgrab to Indian.


Brody Wilson showed up for the last quali run and interduced his run showing big flips and nice Combos like Flintstone to Side show, a Heelclicker Flip and a Cordoba Back Flip. His run was finalized with an onehanded Hart Attack to Indian Air underneath the sealing of the arena. Now the riders had deserved a short breake to get prepared for the finals.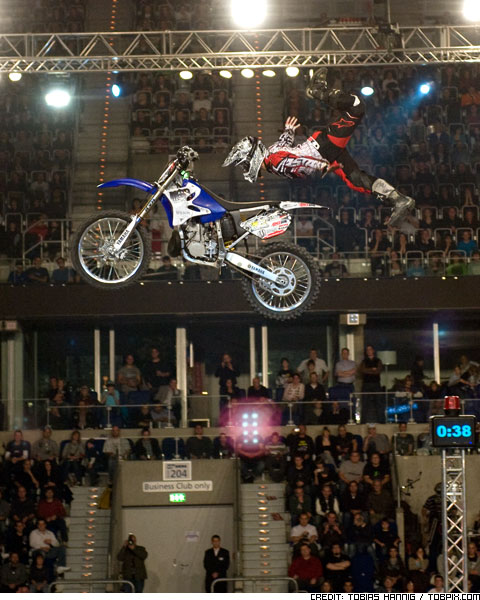 But one guy just got started up...
As I mentioned before: this kiddo is 12 years old an already has an awesome style and stack of tricks. Luc Ackermann, the younger brother of Hannes showed up and wanted to perform some jumps. After a couple of jumps like a well extended Tsumani a Superman seatgrab and a Heelklicker he asked the crowd: what do you want me to do – a flip? And the crowd pushed him to do it. And while he took speed to the ramp the crowd went wild to see him doing a smooth back flip.Well done Luc. We will keep an eye on you.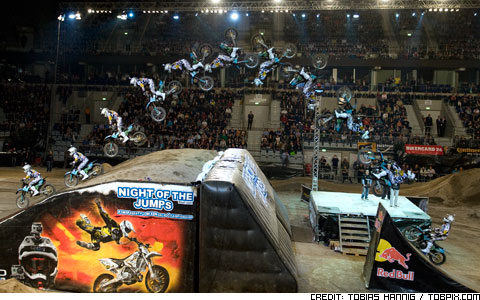 The Race and Style contest was really breathtaking because Kai Haase after beeing behind made the race against Alastair Sayer. And also the second Heat Lukas could call himself the winner.against Massimo Bianconcini. Semi 1 Kai Haase won a against Brice Izzo and Lukas Weis came in as second so the final was on Jose Miralles and Kai Haase. And it was a photo finish. Almost to the same time Kai and Jose entered the finish line. At the end Jose Miralles won the Race and Style Contest.

Highest Air
Lukas Weis, Kai Haase and Alastair Sayer showed theyr high jump skills. Alastair was in the final with Kai Haase. Both of them jumped 8.5 meters but Alastair only needed one try, and won the Highest Air Comp.
Only one german made it to the finals. Fabian Bauersachs opened the freestyle final with a nice Tsunami Helicopter and an Rocksolid Indian. A good flowing ride was the result after a big Superflip and a Superflip Indian. And so Fabian was the first rider on the Hot Seat.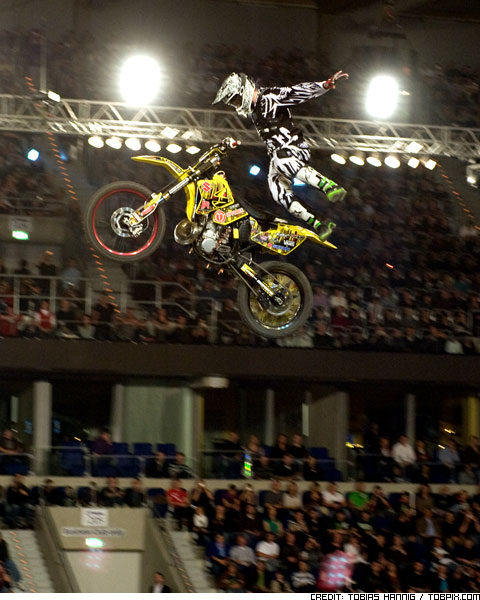 But not for long... Alastair Sayer showed some nice Backflip Combos but a small mistake on the kicker ramp made it a close decition for the judges to put Alastair, who also showed a nice Underflip on the Hot Seat.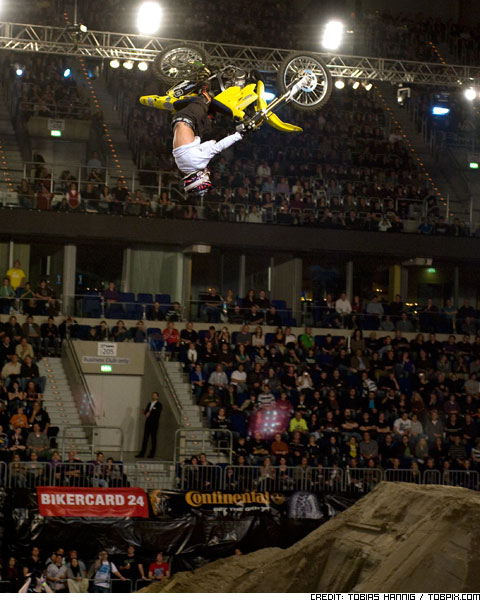 Now it was time for Brody Wilson. Who entered his run with a no handed Backflip to one handed landing. He showed big Combos like a Tsunami to Indian Back flip and a Cordova Backflip. His run was big and very clean and put him on the Hot Seat.
Libor Podmol had an solid run and his speedy run was entertaining the arena with one and no handed Combos in tricks and landing. According to this we have to mention his big one handed Underflip which was very stylish.
Now it was time for El Loco Jose Miralles. His run was very various and had a good flow. But a dead sailor took his chance for the Hot Seat. Although he fought like a lion doing one trick more, but it didn't work out to be on top of the podium.
Last but not least Brice Izzo enterd the Arena and showed what he has to offer. A well picked bag of Back Flips in combination with Seatgrab Indian, Stripper, Tsunami and a big Underflip made him to the man of the night. Congratulations Izzo.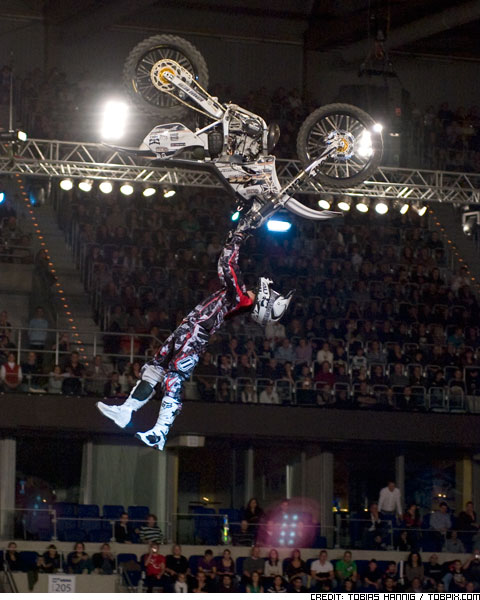 Again it was a greate event and all the riders showed their fun and passion on FMX. It is a pleasure watching you guys – go on like this and the viewer will be greatful.

The tour continues over the weekend of 20th-21st November in the Czech city of Ostrava. On the programme are the next two contests in the FIM Freestyle MX World Championship.

FACTS NIGHT of the JUMPs / UEM Freestyle European Cup
Mannheim/GER, 30th October 2010
Results NIGHT of the JUMPs – Final
1. Brice Izzo FRA FFM Yamaha 423 Points
2. Brody Wilson USA AMA Yamaha 407 Points
3. Jose Miralles ESP RFME KTM 398 Points
4. Libor Podmol CZE ACCR Suzuki 398 Points
5. Alastair Sayer BOT MSA Suzuki 372 Points
6. Fabian Bauersachs GER DMSB Suzuki 355 Points
Results Qualification
1. Brice Izzo FRA FFM Yamaha 378 Points
2. Jose Miralles ESP RFME KTM 375 Points
3. Libor Podmol CZE ACCR Suzuki 373 Points
4. Brody Wilson USA AMA Yamaha 367 Points
5. Alastair Sayer BOT MSA Suzuki 349 Points
6. Fabian Bauersachs GER DMSB Suzuki 339 Points
7. Petr Pilat CZE ACCR KTM 338 Points
8. Massimo Bianconcini ITA KTM DMSB 323 Points
9. Lukas Weis GER DMSB Suzuki 321 Points
10. David Rinaldo FRA FFM Yamaha 315 Points
11. Hannes Ackermann GER DMSB KTM 284 Points
12. Remi Bizouard FRA FFM Yamaha 10 Points
Race & Style Contest
1. Jose Miralles ESP KTM
2. Kai Haase GER Suzuki
3. Lukas Weis GER Suzuki
3. Brice Izzo FRA Yamaha

Results Highest Air Contest
1. Alastair Sayer BOT 8,50 Meter
2. Kai Haase GER 8,50 Meter
3. Lukas Weis GER 8,00 Meter

Overall ranking UEM Freestyle European Cup
(after all contests)
1. Brody Wilson USA AMA Yamaha 56 Points
2. Brice Izzo FRA FFM Yamaha 50 Points
3. Jose Miralles ESP RFME KTM 46 Points
4. Rob Adelberg AUS MA Yamaha 38 Points
5. Petr Pilat CZE ACCR KTM 33 Points
6. Lukas Weis GER DMSB Suzuki 22 Points
7. David Rinaldo FRA FFM Yamaha 21 Points
8. Romain Izzo FRA FFM Yamaha 20 Points
9. Alastair Sayer BOT MSA Suzuki 18 Points
10. Martin Koren CZE ACCR KTM 17 Points
11. Hannes Ackermann GER DMSB KTM 15 Points
12. Libor Podmol CZE ACCR Suzuki 14 Points
13. William v.d. Putte BEL FMB KTM 11 Points
14. Fabian Bauersachs GER DMSB Suzuki 10 Points
15. Martin Schenk AUT OSK Yamaha 8 Points
16. Massimo Bianconcini ITA KTM DMSB 8 Points
17. Remi Bizouard FRA FFM Yamaha 4 Points