Three-time runner-up Libor Podmol finally does it –
2010 FIM Freestyle MX World Champion

Pictures and Story by Oliver Franke/IFMXF.com
Fortalesa, 12th December 2010: This was by far the most thrilling conclusion ever to the NIGHT of the JUMPs FIM Freestyle MX World Championship. As nightfall engulfed the Estadio Castelao in Fortalesa, it was showdown time for the two World Championship contenders, Libor Podmol (CZE) und Brice Izzo (FRA). Both riders gave their all, as they traded incredible Backflip Combos in the finale. The Czech rider finally prevailed at the Brazilian Grand Prix and secured the long-awaited world championship title.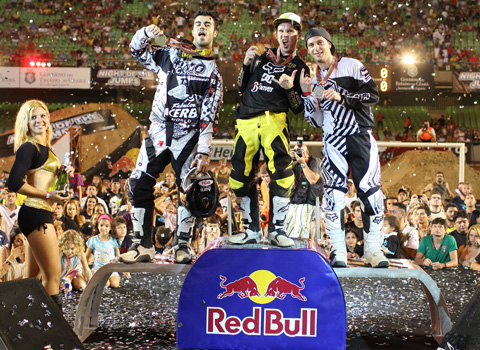 But firstly, they both had to progress through the qualifiyings that might well have been called 'Brazil versus the rest of the world'. The five best 'Brasilieros', Marcelo Simoes, Gilmar Flores, Fred Kyrillos, Otavio Neto and local hero Claudio Rocha, tried to win through to the finals. Flores and Simoes turned in good performances but in the last analysis, all the Brazilians went out after the preliminary rounds. A sixth South American, Javier Villegas, fared better. The Chilean took third place in qualifying at his NIGHT of the JUMPs premiere and bagged a place in the finals, followed by David Rinaldo, Jose Miralles, Remi Bizouard and the two World Championship contestants, Podmol and Izzo.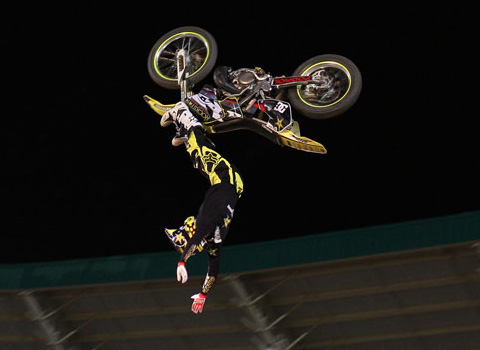 It was clear that only a big mistake by Podmol in the final would result in Izzo clinching the title. Even if Frenchman Izzo had won this contest, the Czech only had to finish fourth to become World Champion. Libor needed some support from the other finalists, and they did all they could to oblige. Rinaldo produced a Double Grab Backflip, Jose Miralles his Superman Seat Grab Indy Flip, Javier Villegas did an impressive Tsunami Flip and Remi Bizouard performed the Ruler Flip plus Heart Attack Backflip.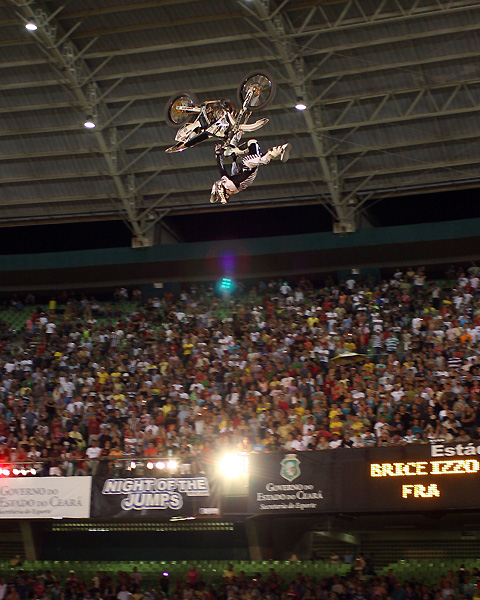 But then Brice Izzo really went to town. He scored 425 points with a Lazyboy Flip, Tsunami Flip, Underflip and a Stripper Flip. That put Podmol under a lot of pressure, but the Czech kept his nerve: Underflips, a Cliffhanger Flip, and a Superman Seat Grab Flip Indy, to name but a few tours de force from his routine, gave him victory on the day and the 2010 FIM Freestyle MW World Championship crown.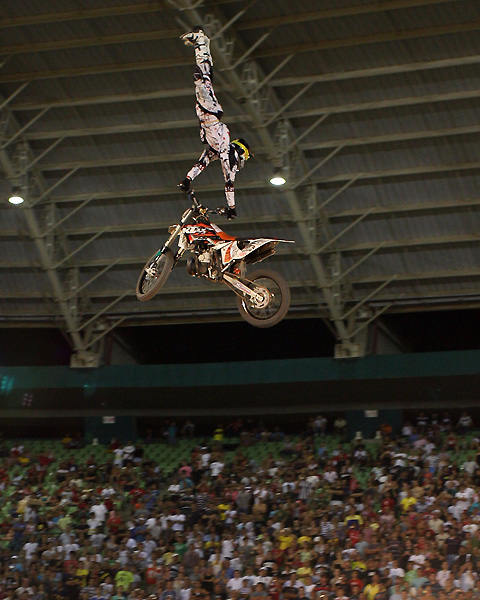 Spaniard Jose Miralles, who finished second in the FMX World Championships last year at this same venue, was third. Javier Villegas won the Whip Contest and Bianconcini was best-placed rider in the Highest Air competition.

IFMXF will now take a short winter break until the 14-15th January, which sees the UEM Freestyle European Championship opener at the NIGHT of the JUMPs in Linz, Austria. First round of the FIM Freestyle MX World Championship takes place 19th February at the NIGHT of the JUMPs in Turin, Italy.

More information: www.ifmxf.com // www.nightofthejumps.com
FACTS NIGHT of the JUMPs – FIM Freestyle MX World Championships
Fortaleza, 12. December 2010 – Round 13

Results NIGHT of the JUMPs – Final
1. Libor Podmol CZE ACCR Suzuki 429 Points
2. Brice Izzo FRA FFM Yamaha 425 Points
3. Remi Bizouard FRA FFM Yamaha 401 Points
4. Javier Villegas CHI AMA Yamaha 392 Points
5. Jose Miralles ESP RFME KTM 380 Points
6. David Rinaldo FRA FFM Yamaha 369 Points
Results Qualification
1. Libor Podmol CZE ACCR Suzuki 367 Points
2. Brice Izzo FRA FFM Yamaha 355 Points
3. Javier Villegas CHI AMA Yamaha 349 Points
4. Remi Bizouard FRA FFM Yamaha 347 Points
5. Jose Miralles ESP RFME KTM 330 Points
6. David Rinaldo FRA FFM Yamaha 320 Points
7. Fabian Bauersachs GER DMSB Suzuki 314 Points
8. Massimo Bianconcini ITAL DMSB KTM 309 Points
9. Hannes Ackermann GER DMSB KTM 290 Points
10. Gilmar Flores BRA CBM Yamaha 270 Points
11. Marcelo Simoes BRA CBM Yamaha 253 Points
12. Fred Kyrillos BRA CBM Honda 228 Points
13. Otavio Neto BRA CBM Yamaha 174 Points
14. Claudio Rocha BRA CBM Yamaha 150 Points

Results Whip Contest
1. Javier Villegas CHI AMA Yamaha
2. Jose Miralles ESP RFME KTM
2. Marcelo Simoes BRA CBM Yamaha

Highest-Air
1. Massimo Bianconcini ITAL DMSB KTM 6,50 Meter
2. Otavio Neto BRA CBM Yamaha 6,30 Meter


FIM Freestyle MX World Championships
Ranking (after 13th and final contest)
1. Libor Podmol CZE ACCR Suzuki 222 Points
2. Brice Izzo FRA FFM Yamaha 214 Points
3. Jose Miralles ESP RFME KTM 196 Points
4. Remi Bizouard FRA FFM Yamaha 140 Points
5. Brody Wilson USA AMA Yamaha 119 Points
6. Massimo Bianconcini ITAL DMSB KTM 119 Points
7. Alastair Sayer BOT MSA Suzuki 106 Points
8. Fabian Bauersachs GER DMSB Suzuki 103 Points
9. Hannes Ackermann GER DMSB KTM 78 Points
10. Lukas Weis GER DMSB Suzuki 68 Points
11. Petr Pilat CZE ACCR KTM 61 Points
12. David Rinaldo FRA FFM Yamaha 55 Points
13. Josh Sheehan AUS MA Honda 48 Points
14. Rob Adelberg AUS MA Yamaha 34 Points
15. Martin Koren CZE ACCR KTM 20 Points
16. Marcelo Simoes BRA CBM Yamaha 15 Points
17. Javier Villegas CHI AMA Yamaha 14 Points
18. Thomas Wirnsberger AUT OeAMTC Yamaha 9 Points
19. Tomas Lysacek CZE ACCR Yamaha 8 Points
20. Kai Haase GER DMSB Suzuki 8 Points
21. Martin Schenk AUT OeAMTC Yamaha 7 Points
22. Gilmar Flores BRA CBM Yamaha 6 Points
23. William v.d. Putte BEL FMB KTM 5 Points
24. Fred Kyrillos BRA CBM Honda 4 Points
25. Aleksey Koleshnikov RUS KTM MFR 4 Points
26. Freddy Peters GER DMSB Yamaha 3 Points
27. Ales Liemann CZE ACCR Suzuki 3 Points
28. Otavio Neto BRA CBM Yamaha 3 Points