Red Bull X-Fighters 2005 in Madrid/Spain
Story by Tobias Hannig
Pix by AlexSchelbert.de & FloHagena.de
The air is getting thinner for the US Boys
It was a fantastic atmosphere in the arena of Las Ventas. The opening show was a combination of spanish temperament and professional entertainment. The 23.000 spectators went wild when the X-Fighters rode into the arena for the rider presentation. This event is one of the best Freestyle Motocross events of the world. The most of the best FMX riders worldwide are invited to fight for the crown of the X-Fighter of the year 2005.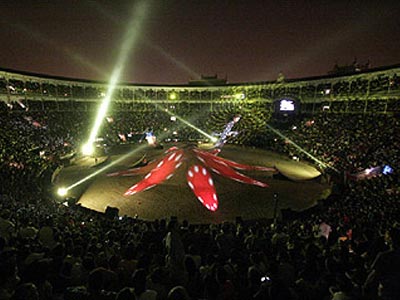 The opening show in the arena of Las Ventas

The European/IFMXF superstars were meeting the US/IFMA big dogs. Mat Rebeaud from Switzerland showed in the latest IFMXF season that he is the man to beat in europe. The most people of the FMX scene were asking one question themselves: "Is Mat good enough to play with the Big Dogs from the USA?" The answer is: "Yes, he is!" Rebeaud did some crazy tricks like Backflip Saran Wrap and McNasty (Backflip Heelclicker). Rebeaud qualified for the Final and finished 3rd at his 1st X-Fighters event ever.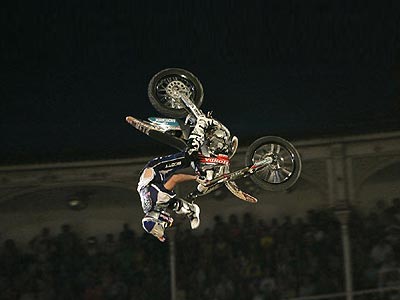 Mat Rebeaud (SUI) doing a Backflip Saran Wrap

Jeremy Stenberg from the US showed a really good performance and looked self confident. He showed big Backflip combos. His Dead Body wasn't as good as the rest of his tricks. Finally he ended on a good 2nd place and repeated the good result of Mexico.

The final run of Nate Adams looked good, but it wasn't the Nate before his injury, yet. Nate was the only rider doing a 360°, but the 360° wasn't a brillant flatspin 360°. It looked more than a Flip. The rest of Nate's run was perfect with a NacNac Backflip and CanCan Backflip Onehand. Nate, we were missing your Seatgrab Backflip! Nate's result: Winner!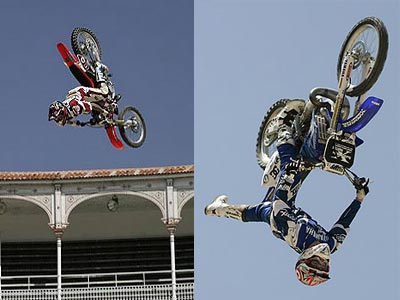 The US Boys Twitch Stenberg and Nate Adams

The runs of the final 3 contained almost different flip combos. It's getting boring to see so many flips. If you are watching the contest sitting a bit more far away you can't see the difference between the backflip combos. We want to see more creativity!

Ronnie Renner did the most creative run. He started with an awesome suicide Whip and made a perfect ruler. Mr. "who is your daddy" styled with his sick Aerial-whip! Renner also showed the Flip over the big distance. Finally he ended up 4th.

Travis Pastrana and Kris Brock couldn't ride, because there are injured. So there were doing the judging job together with Andy Bell.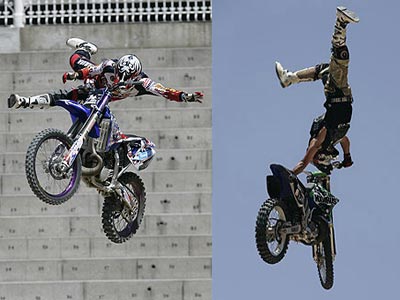 Dani Torres and Eigo Sato with a fresh style

The spanish rider Dani Torres showed a clean run with sick tricks. He ended up on 5th position. Eigo Sato from Japan has his own style. His style is fresh looks attractive. We also should have such guys in europe. Eigo is the first Japanese Backflipper.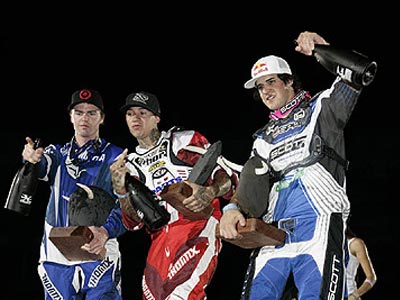 The Final 3 - 1st Nate Adams, 2nd Twitch Stenberg, 3rd Mat Rebeaud
Red Bull X-Fighters | Madrid, 21-07-2005
Final Results:
1. Nate Adams (USA)
2. Jeremy Stenberg (USA)
3. Mathieu Rebeaud (CH)
4. Ronnie Renner (USA)
5. Dani Torres (ESP)
6. Robbie Maddison (AUS)
7. Andre Villa (NOR)
8. Kenny Bartram (USA)
9. Eigo Sato (JP)
10. Busty Wolter (GER)
11. Nick Franklin (NZL)
12. Manu Troux (FRA)
More information about the event on www.redbullxfighters.com