Masters of Dirt | Graz/Austria
MOD Press Release | Pics by Martin Reiter
Arnold Schwarzenegger's hometown, hosted the first stop of the 2011 Masters of Dirt tour this past weekend. Despite icy sub-freezing temperatures both nights, MoD's riders, dancers and crew managed to dig deep - delivering a performance that topped anything they had produced to date. Both shows were to sold-out audiences.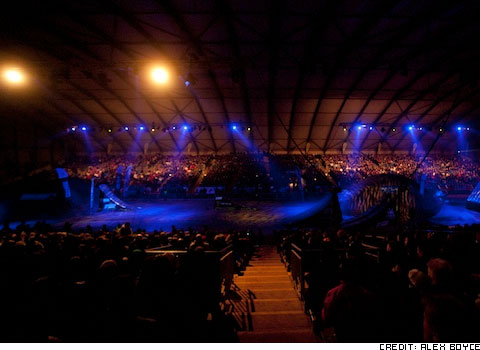 Spanish Mountain Bike madman Bienvenido Aguado attempted the double front flip several times on Friday night, crashing spectacularly in the process. Saturday, after several more bone crunching crashes - Bienve stuck a massive double frontflip off a full size FMX superkicker. Definitely one of the weekend's highlights.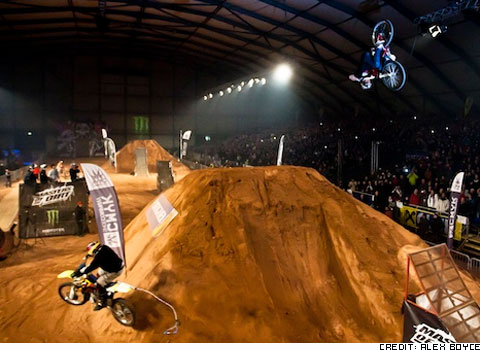 The FMX, Synchro, Whip and Flip Progression segments saw the MoD FMX riders joined by newbies to the series Mike Metzger and Jose Miralles, who slotted in perfectly - adding their own unique styles to the MoD mix. The FMX ending in a climax featuring a run down of the biggest and baddest Backflip tricks around.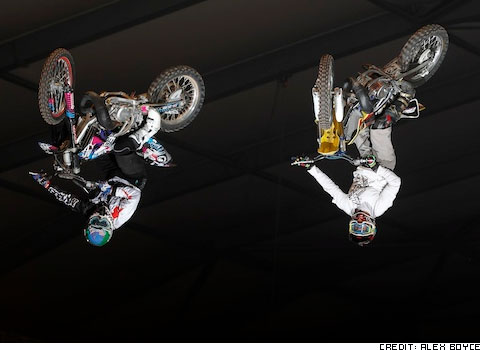 The Fuel Girls added some new sparks to the show, Jon Guetter & Justin Hoyer unveiled new tricks and flip combos to their Sled & Quad routines, whilst the Barcelona pitbike crew - Richard & Ranjer - attempted a tandem backflip both nights. On Saturday they got the full rotation, but drifted off the side of the landing and crashed pretty hard.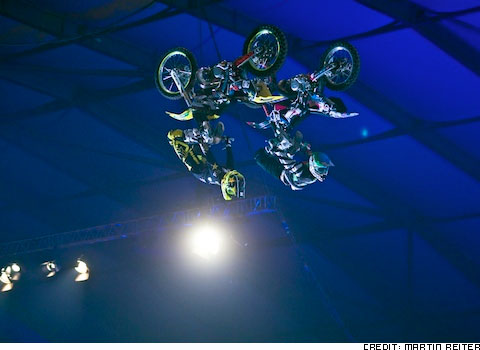 Almost everyone walked away in one piece (except for Swedish ripper David Karlson who tore a knee ligament in Friday's show & Bienve being a bit scraped and bruised) - the riders & crew are already preparing to add even more to the show at the Vienna tour stops in just over a week's time. Vienna will also feature the double frontflip, as well as an FMX body varial, a 2 sled show, a 2 quad show and a 4 rider side by side FMX synchro segment. It is going to be mad!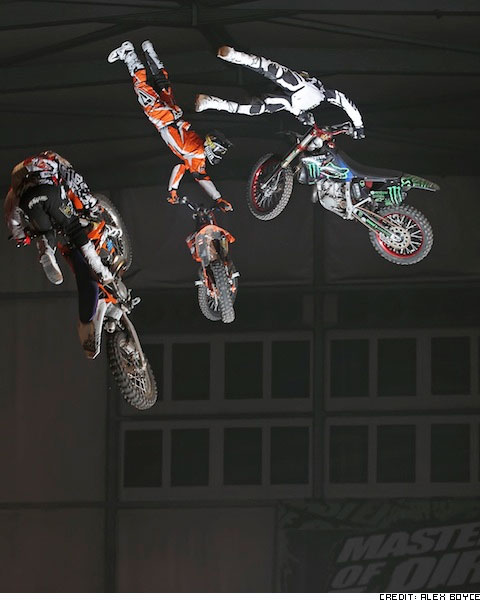 FMX legend Mike Metzger was stoked after the show saying; " MoD is the best show in the world, and unlike anything I've ridden in".
A massive thank you goes out to MoD's event partners in Graz at the Leutgeb Entertainment group for hosting the opening tour stop so successfully.
More information: www.mastersofdirt.com