Josh Sheehan wins HANNSpad NotJ in Hamburg


Remi Bizouard takes European title
Pictures by Marcel "PetiPix.de" Petke | Story by Oliver Franke/IFMXF.com
Hamburg, 15th May 2011: Around 9,000 fans turned up at the HANNSpad NIGHT of the JUMPs in Hamburg to cheer on their freestyle idols. In a spectacular finale to the UEM Freestyle MX European Championship, the riders amazed the crowd with a sequence of daredevil tricks. While Josh Sheehan (AUS) took the honours by the narrowest of margins from David Rinaldo (FRA), Bizouard Remi (FRA) was quietly clinching the European championship, despite finishing the evening in a relatively unassuming seventh place.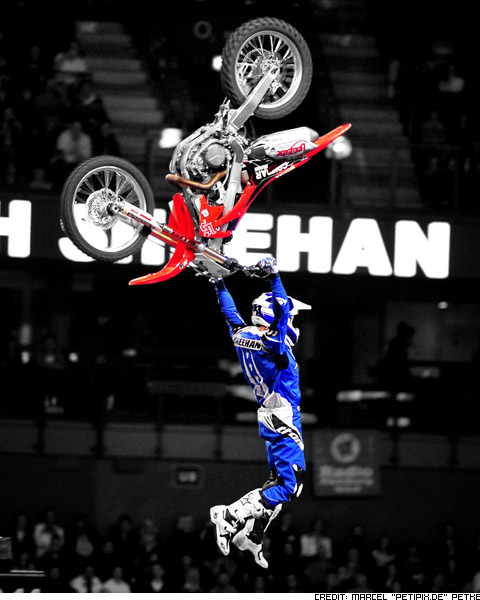 Martin Schenk (AUT) and Kai Haase (GER) made it through the pre-qualification stage to join the starting field for the evening. Although the pair put on a solid performance, they never looked like contenders for the finale. The same fate befell the two other German riders, Hannes Ackermann and Fabian Bauersachs. And because of technical problems with his bike, Remi Bizouard likewise failed to make into the top six, leaving Bianconcini, Pilat, Miralles, Podmol, Sheehan and Rinaldo to battle it out in the final round.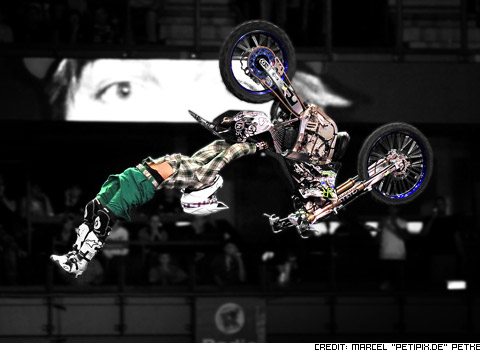 But the home crowd took satisfaction in brilliant individual displays of skill from two German riders: first, Luc Ackermann set a new record as the youngest rider to perform a long-distance backflip; then, Kai Haase (Berlin) not only won the Hein Gericke Race & Style Contest but went on to triumph in the Maxxis Highest Air. What a great way to fire the crowd up for the final!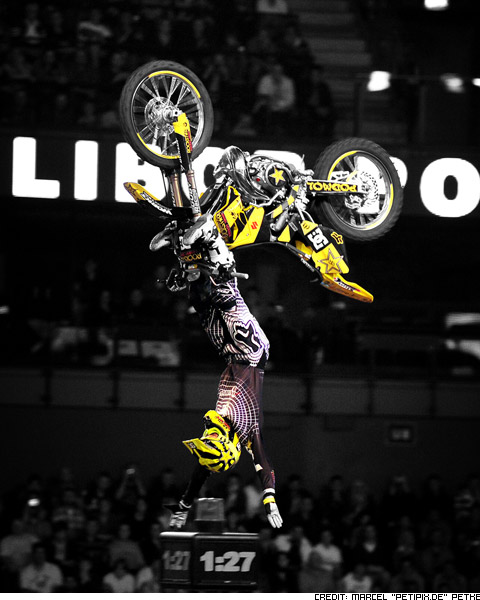 Although Massimo Bianconcini showed off his new Cliffhanger Backflip, it was still only good enough for a P6 result. Red Bull rider Petr Pilat making the comeback of the year following a three-month layoff for injury finished fifth with a Candybar Underflip.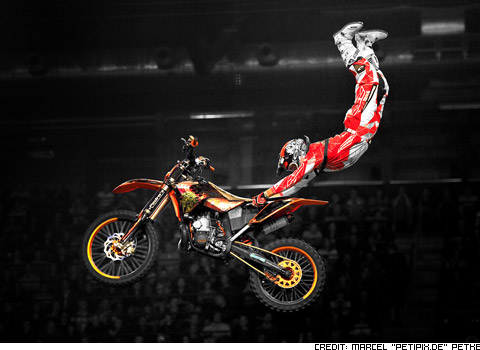 With Bizouard having gone out at the qualifying stage, Jose Miralles was in with a real chance of taking the European title – third place would have sufficed. He was certainly pumped up for the occasion, but ultimately his repertoire on the evening was not enough for a podium spot. And so the European championship was decided almost by default.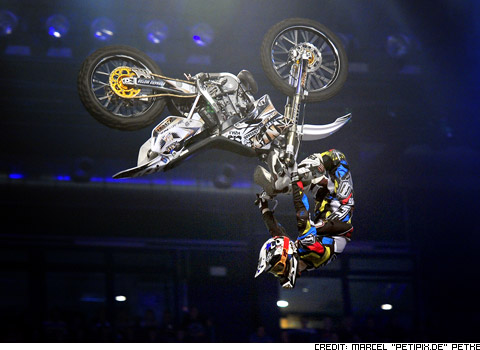 Reigning world champion Libor Podmol pulled his full range of flip combinations out of the bag, but on the night, there was no way past Rinaldo and Sheehan.The Australian performed some stunning tricks, including a Lazyflip and a Heelclicker 360. Rinaldo, who started from pole in the final, pulled off triple combos and a Doubleseatgrab Flip. But the deciding factor was Sheehan's 360° which gave him a wafer-thin victory.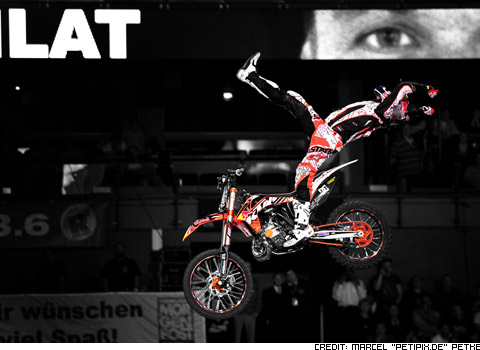 After tonight's spectacular European Championship final, the show goes on next week with the fourth and fifth rounds of the World Championship at NIGHT of the JUMPs. On Friday 20th and Saturday 21st May, the FMX riders come together once again at the St Jakobshalle in Basle to compete for the next available points in the FIM Freestyle MX World Championship.
FACTS HANNSpad NIGHT of the JUMPs/
UEM Freestyle MX European Championships
Hamburg, 15th May 2011 – Round 3

Results NIGHT of the JUMPs – Final
1. Josh Sheehan AUS MA Honda 410 Points
2. David Rinaldo FRA FFM Yamaha 395 Points
3. Libor Podmol CZE ACCR Suzuki 390 Points
4. Jose Miralles ESP RFME KTM 376 Points
5. Petr Pilat CZE ACCR KTM 359 Points
6. Massimo Bianconcini ITAL ACCR KTM 340 Points

Results Qualification
1. David Rinaldo FRA FFM Yamaha 355 Points
2. Josh Sheehan AUS MA Honda 352 Points
3. Libor Podmol CZE ACCR Suzuki 346 Points
4. Jose Miralles ESP RFME KTM 335 Points
5. Petr Pilat CZE ACCR KTM 331 Points
6. Massimo Bianconcini ITAL ACCR KTM 318 Points
7. Remi Bizouard FRA FFM Yamaha 317 Points
8. Romain Izzo FRA FFM Yamaha 309 Points
9. Fabian Bauersachs GER DMSB Suzuki 295 Points
10. Kai Haase GER DMSB Suzuki 249 Points
11. Martin Schenk AUT OSK Yamaha 240 Points
12. Hannes Ackermann GER DMSB KTM 234 Points
Results Hein Gericke Race & Style Contest
1. Kai Haase GER DMSB Suzuki
2. Jose Miralles ESP RFME KTM
Results Maxxis Highest-Air
1. Kai Haase GER DMSB Suzuki 7,00 Meter
2. Jose Miralles ESP RFME KTM 6,60 Meter