Brazil: 100,000 fans celebrate Freestyle Motocross stars
Story by Red Bull / Global-Newsroom.com

Nate Adams of the United States pulled off the best tricks on Saturday to win the second stop of the 2011 Red Bull X-Fighters World Tour in Brasilia (Brazil) in front of the greatest crowd in FMX history. Robbie Maddison (AUS) was defeated by Adams in the final showdown in the Brazilian capital city that was designed by architect Oscar Niemeyer. Andre Villa (NOR) took third place.



 
BRASILIA (Brazil) – 600 truckloads of dirt (7,300 cubic meters) was used to turn the "Esplanada dos Ministerios" in the heart of Brasilia into the playground for the best FMX athletes of the age. Adams, who with the victory now has four career wins, said: "I've never seen so many people in one spot before. I'm just speechless." The 27-year-old from Madera de Playa Road in Temecula, California (USA) defeated Robbie Maddison, who also happens to be his neighbor, in the final.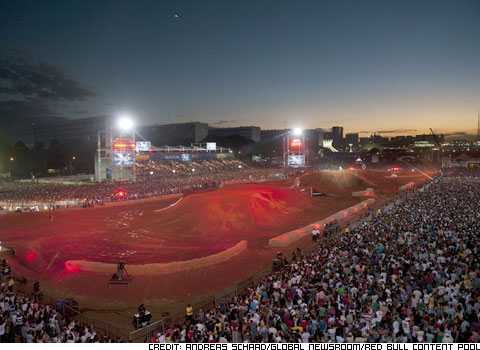 The giant kickers and the enormous crowd of 100,000 spectators caused some of the riders problems with nerves. Andre Villa (NOR) was among the favorites after coming in second overall last year.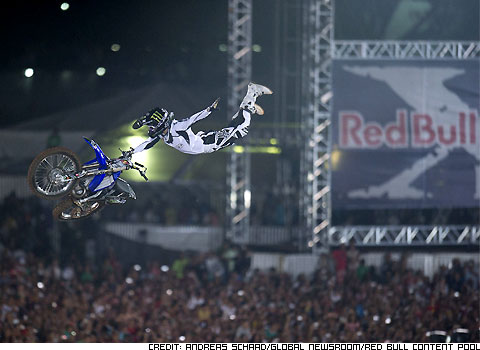 He was forced to dismount from bike in the semi-final. Levi Sherwood, a 19-year-old from New Zealand, also suffered a similar fate, ending up in fourth place.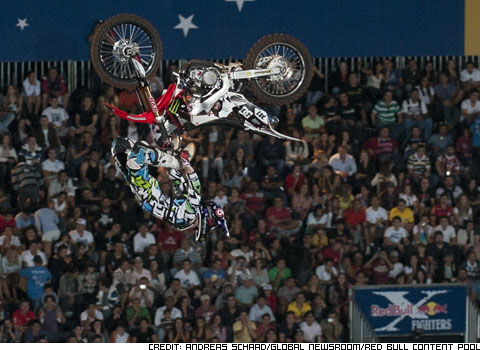 Brazil's local hero Gilmar Flores was unable to advance beyond the first round and ended up 11th. Nate Adams now moves into the overall lead in the Red Bull X-Fighters after the first two rounds with 165 points. The leader coming into Brasilia, Dany Torres (ESP), was not able to take part due to injuries.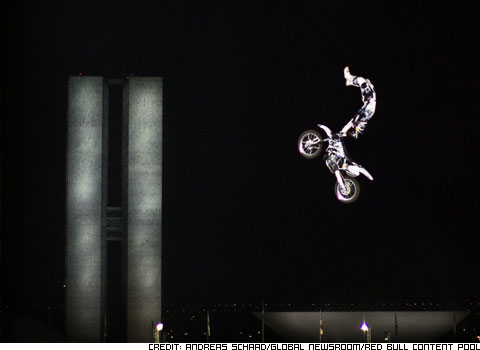 The remaining stops in the global series include: Rome (June 24), Madrid (July 15), Warsaw (August 6) and Sydney (September 17).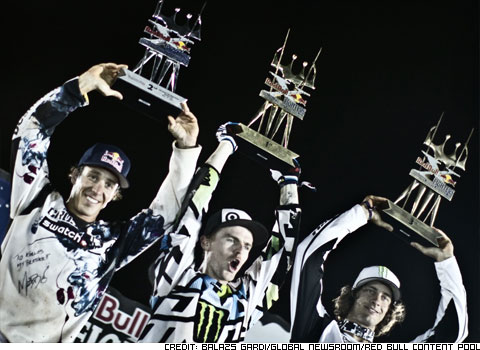 Final results Brasilia:
1. Nate Adams (USA)
2. Robbie Maddison (USA)
3. Andre Villa (NOR)
4. Levi Sherwood (AUS)
5. Eigo Sato (JAP)
6. Javier Villegas (CHI)
7. Adam Jones (USA)
8. Blake Williams (AUS)
9. Beau Bamburg (USA)
10. Gilles Dejong (BEL)
11. Gilmar Flores (BRA)
Overall standings (after 2 of 6 events):
1. Nate Adams (USA) 165 Points
2. Andre Villa (NOR) 145 Points
3. Robbie Maddison (AUS) 110 Points