FREESTYLE.CH @ ZÜRICH/SUI
The freestyle.ch was a really good event! 41.000 spectators showed up in Zürich to cheer for their idols. Some of the best Snowboarders, Freeskiers, Skateboarders, BMXers and FMXers were invited to Zürich last weekend.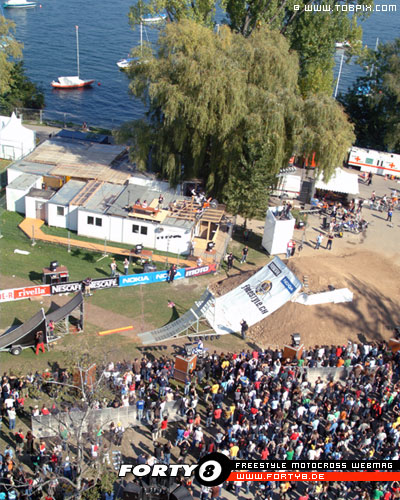 The FMX setup @ Freestyle.ch
Let's talk about the FMX contest ...
Mat Rebeaud won the Final against a tired Nate Adams. Mat made some nice combos like Saran Wrap Flip to Onehand Landing or Nac Nac to Mc Nasty.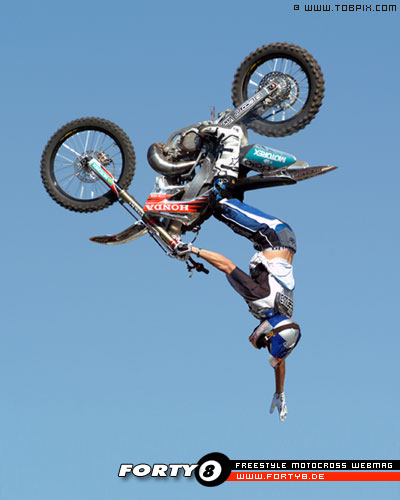 Mat Rebeaud doing a onehanded Backflip
Nate showed his sweet Holyman to Double Hart Attack and some sick Flip Combos. But in the Final against the local star Rebeaud he didn't showed a brilliant extension during the Tricks.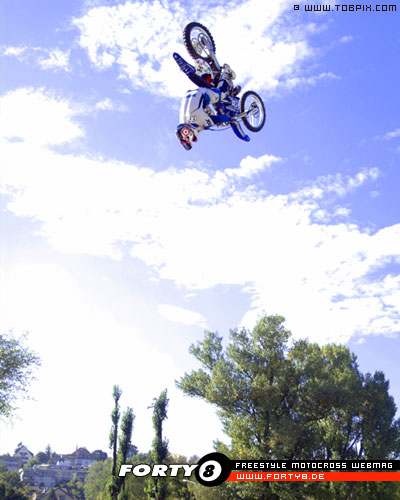 Nate Adams with a Backflip
3rd place went to Manu Troux. Manu looked motivated and confident on the bike. He showed Nac Nac Backflip, Onehand Flip and Double Hart Attack.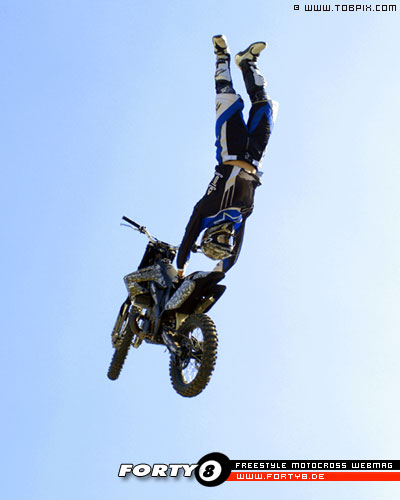 Manu Troux with an perfect extended Double Hart Attack
Remi Bizouard really rocked into 4th place. He was the best Non-Backflipper. He showed tricks like Oxecutioner, Scorpion Tsunami, Rock Solid Indian.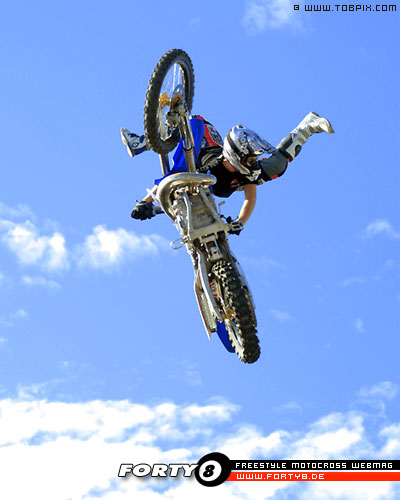 Upcoming Star Remi Bizouard with a sweet Kiss of Death Indian
Thamer Engeli started with the Backflip and showed a constant run without mistakes doing tricks like Tsunami, Rock Solid, Flintstone to Heelclicker and a killer CrackNac.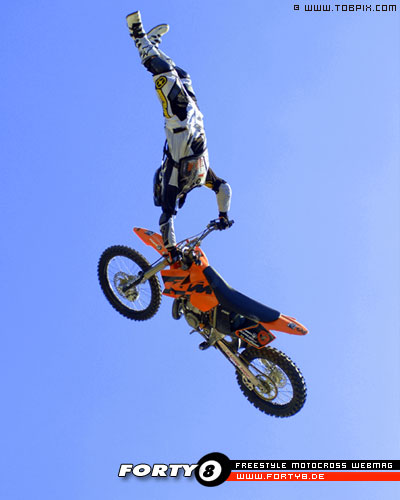 Thamer Engeli with an awesome Crack Nac
Busty Wolter looked good in practise, but in his run he made two dead sailors. Busty took it easy and performed a Backflip for the fans.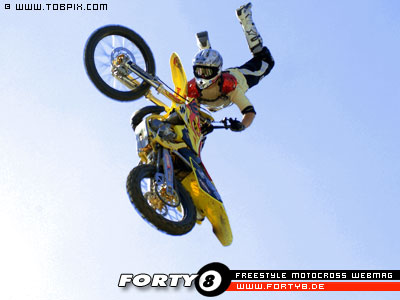 Germans Busty Wolter with a Kiss of Death
Ronnie Renner made too much party on Saturday. The result were two Dead Sailors, Dead Body, Ruler and Cat Nac Indian.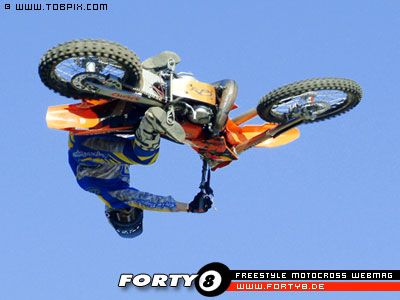 Ronnie Renner with his signarture trick - the whip!
"Sugarboy" Libor Podmol arrived on Saturday night and couldn't train as much as the others. Libor showed Cliffhanger, Rock Solid and a Stripper.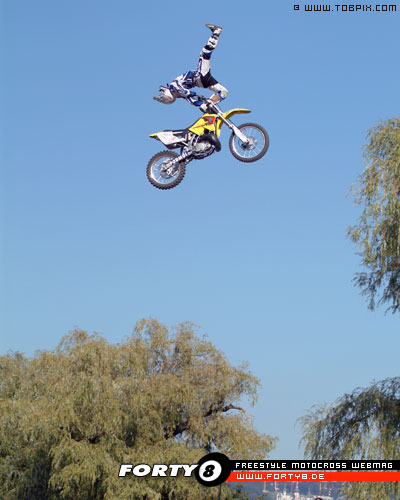 Sugarboy Libor Podmol "strippin" on the Landiwiese

Final Results:
1. Mat Rebeaud
2. Nate Adams
3. Manu Troux
4. Remi Bizouard
..........................................
5. Thamer Engeli
5. Busty Wolter
5. Ronnie Renner
5. Libor Podmol