FMX gladiators in modern Circus Maximus
Red Bull X-Fighters World Tour 2011 in Rome
Story by Red Bull | Pictures Credit: Jörg Mitter, Daniel Grund, Sebastian Marko
The world's top 12 freestyle motocross athletes converted Rome's Stadio Olimpico into a modern Circus Maximus on Friday. In front of 45,000 spectators Nate Adams (USA) nailed the tricks to earn the title as the new Roman Caesar. Andre Villa (NOR) took second place and whiz kid Josh Sheehan (AUS) came out of nowhere to take third place in the third stop of the 2011 Red Bull X-Fighters Tour.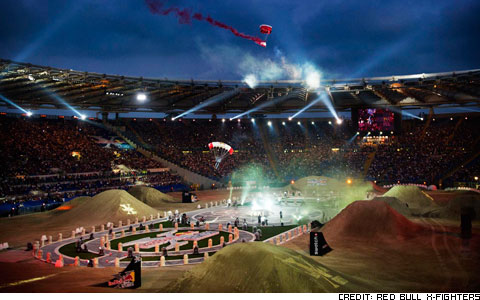 ROME (Italy) – The wave would not stop rolling through the Stadio Olimpico crowd as Nate Adams and Andre Villa were revving up for the start of the final showdown battle on two wheels. When it finally did, Adams got off 18 flawless jumps within the 120-second time limit to win over the five-member gladiator jury, picking up his fifth victory in the 11-year history of the Red Bull X-Fighters. "It was the most difficult win in my career after I had a crash in Qualifying", the 27-year-old American said afterwards.




Robbie Maddison showed the Volt in his Semi-Final against Nate Adams. Unfortunately he made a dead sailor in the rhythm section.
 
On the biggest FMX course ever built in Italy – with 11 kickers and 8 dirt landings – the athletes pushed themselves to their limits, jumping distances of up to 30 meters and as high as 15 meters. Co-favorite Dany Torres (ESP), who won in Rome last year, sent a shiver through the big crowd when he crashed at the end of a botched landing in the second round. His bike veered off the course and into a barrier.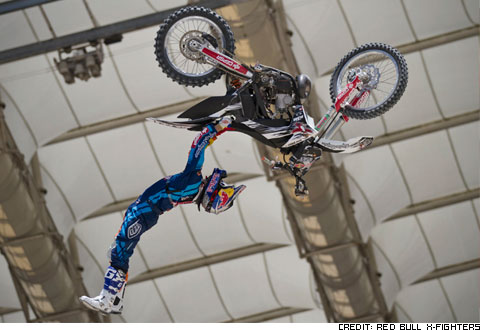 Torres came to Rome with five broken bones that weren't quite healed but nevertheless won the Qualifying round. Judging by the way his right ankle feels right now, he will leave Rome with six broken bones. The Spaniard was confident he would be ready to battle for the victory at the next stop in front of his home crowd in Madrid.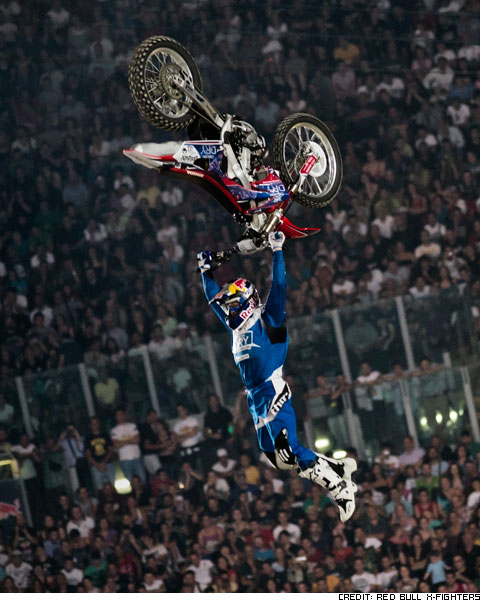 Josh Sheehan from Australia performs during the finals of the third stage of the Red Bull X-Fighters World Tour 2011 in the Olympic stadium of Rome on 24th of June.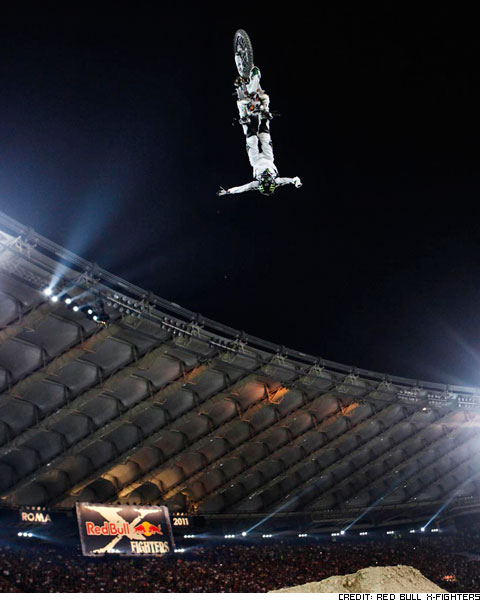 André Villa from Norway showed hard tricks like this Cliffhanger Backflip and made it into the final. Finally he finished 2nd after battling against Nate Adams.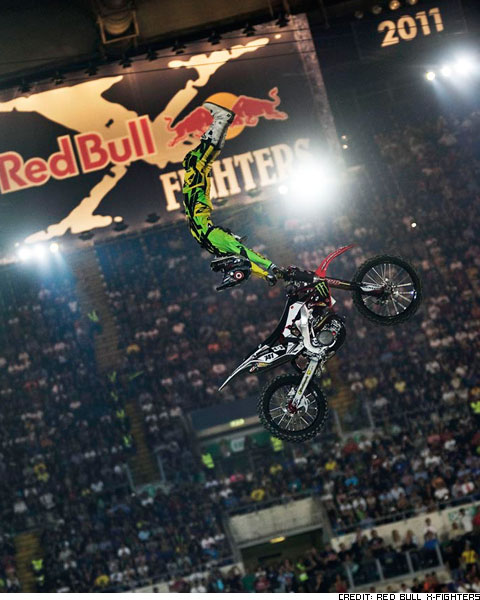 Adams widened his lead in the overall 2011 Red Bull X-Fighters standings, following a third place in Dubai (UAE) and victories in Brasilia (BRA) and Rome, to 40 points over Villa. The Norwegian still has plenty of time to catch Adams in the three remaining stops in Madrid (ESP/July 15), Poznan (POL/August 6) and Sydney (AUS/September 17).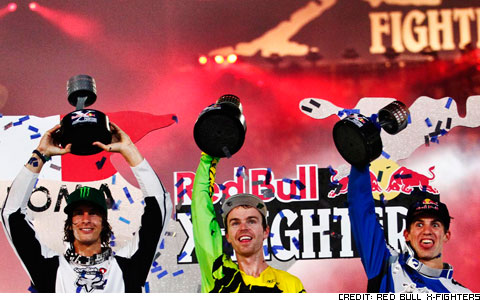 Final results Rome
1. Nate Adams (USA
2. Andre Villa (NOR)
3. Josh Sheehan (AUS)
4. Blake Williams (AUS)
5. Dany Torres (ESP)
6. Eigo Sato (JPN)
7. Adam Jones (USA
8. Robbie Maddison (AUS)
9. Javier Villegas (CHI)
10. Maikel Melero (ESP)


Standings(after 3 of 6 events)
1. Nate Adams (USA/265 points)
2. André Villa (NOR/225)
3. Dany Torres (ESP/145)
4. Robbie Maddison (AUS/135)
5. Blake Williams (AUS/135)