Freestyle bull battle in Madrid – home victory for Torres
Pictures Credit: Credit: Joerg Mitter and Balazs Gardi for Red Bull X-Fighters

In front of 35,000 spectators in the City Stadium in Poznan (POL), Nate Adams came up with the big tricks on Saturday to pick up the victory and his 18the  career podium in the 10-year history of the Red Bull X-Fighters. The American didn't give his title rival, Dany Torres of Spain, any chance in the final. Eigo Sato of Japan got third place.



POZNAN (Poland) – A total of 440 truckloads of dirt was used to turn the home field of Poland's perennial soccer champion KKS Lech Poznan into a freestyle motocross playing field, a stage that had the longest and highest jumps this year. The world's 12 best FMX riders leaped up to 15 meters high and distances of up to 36 meters.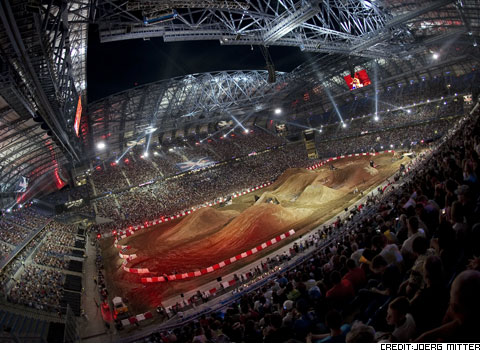 Adams had to deal with some jittery moments in the final with the ramps. "The bike was under-rotating on the long jump and I came down on the front wheel. But I'm really happy to beat Dany," he said. The decision ended up looking lopsided with Adams winning four of the five categories.

Dany Torres with an long and extended Flintstone – 2nd place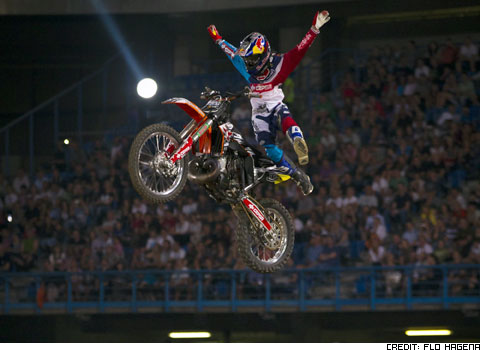 Torres said he will keep fighting for the title. "I wasn't 100 percent fit so I'm happy to get second place. I'm going to train hard for the next six weeks and fight back in Australia."


Spaniard Maikel Melero made a Tsunami to 5th place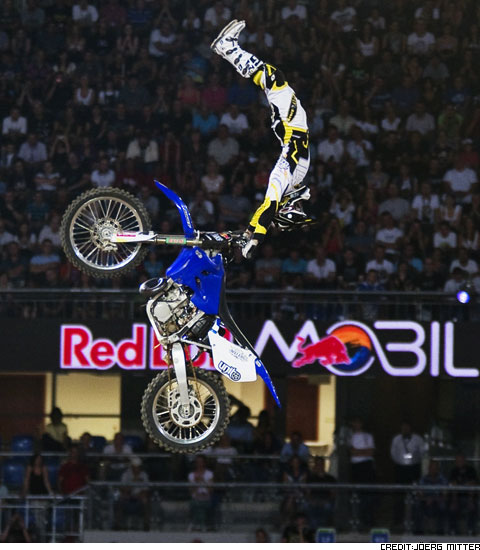 Adams picked up his third victory of the season and with 365 points has a 40-point lead over Torres (325 points). The competition in Poland was quite literally a knock-out event. Andre Villa of Norway came to Poznan leading in the title race but crashed while doing a backflip in Qualifying and ended up with a broken femur.


Eigo Sato showed a good performance and finished 3rd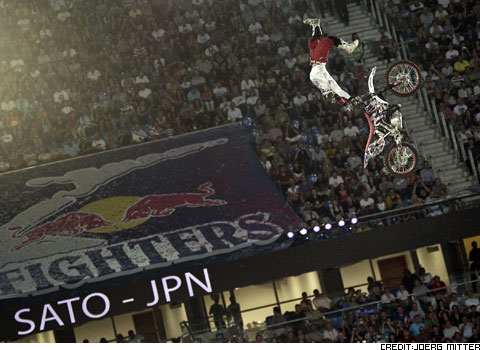 Switzerland's Mat Rebeaud was hoping to launch his comeback in Poznan but arrived in Poland on crutches and had to ditch his return plans. The three Australians Robbie Maddison, Blake Williams and Josh Sheehan were also knocked out by injuries in the run-up to Poznan.


Javier Villegas NacNaced to a great 4th place - congratulations!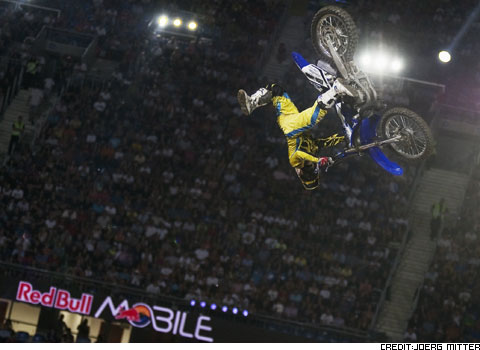 The decisive battle will take place in the season finale on Sept. 17, 2011 when Australia (Sydney) hosts the Red Bull X-Fighters for the first time.


Nate Adams wins the X-Fighters in Poznan after winning X-Games Gold in LA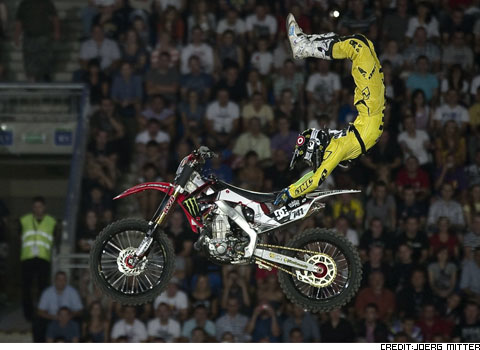 Nate Adams 1st / Eigo Sato 3rd / Dany Torres 2nd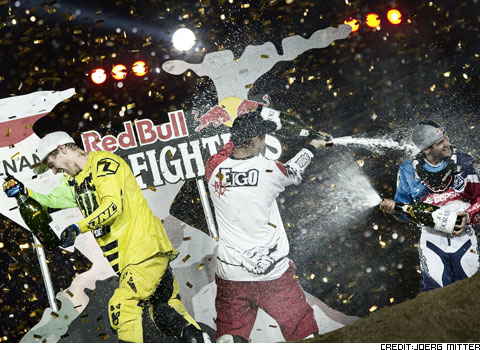 Finale standings Poznan (Poland):
1. Nate Adams (USA)
2. Dany Torres (ESP)
3. Eigo Sato (JPN)
4. Javier Villegas (CHL)
5. Maikel Melero (ESP)
6. Petr Pilat (POL)
7. Adam Jones (USA)
8. Andre Villa (NOR)
9. Libor Podmol (CZE)
10. Beau Bamburg (USA)
11. Jackson Strong (AUS)
 
Standings (after 5 of 6 events):
1. Nate Adams (365 points)
2. Dany Torres (325 points)
3. Andre Villa (270 points)
4. Blake Williams (AUS/215 points)
5. Eigo Sato (180 points)
6. Robbie Maddison (AUS/160 points).