Jungle Rush FMX Jam - Dainfern, South Africa
(Pictures courtesy Lyle Goldman@JungleRushFMX,
except for one picture by Helmut Schwarzer - marked accordingly)
Riders from all over Southern Africa converged on the Jungle Rush FMX compound (situated midway between the cities of Pretoria and Johannesburg). It had been really long since a decent FMX event or contest had gone down in the area, so the turn out was good, despite it being cold, dry and dusty at the moment (it's winter down in SA). In all 42 riders turned out, with classes for beginners, amateurs, pro-ams, pros, quads, ladies and even a new class for Enduro riders. Yep, Enduro riders!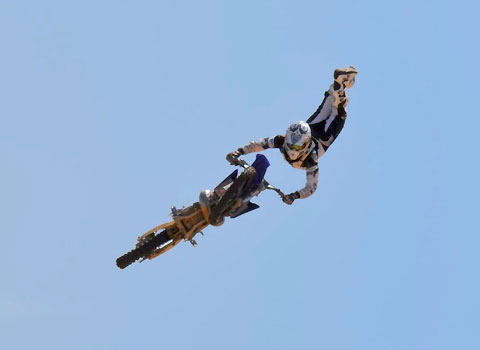 Dallan Goldman from Douglasdale was busting huge tricks all day long
The idea for the Enduro class came about ʻcos the park owner found he regularly had Enduro riders stopping by on their trail rides wanting to try the jumps. 5 enduro riders turned up on the day to give it a go, headlights, soft suspension, big gas tanks, bark busters, tool belts, beer bellies and all. Not ideal, but give it to them for trying!
The format for the day was a big old fashion FMX jam, with sessions for the respective groups and a formal contest at the end of the day for the pros. (All other classes were judged on overall impression of the jam session)
With a prize purse on offer for the Pro contest and the added incentive of the top 4 riders getting wild card spots in the "Masters of Dirt" International event happening in South Africa later in the year - it was set to be a good contest.
The park looked amazing with multiple lines: 11 steel ramps on a range of distances from 8m to 23m (28ft - 78ft) to cover all ability levels, plus several dirt doubles, table tops, step- ups and transfer lines.
A lot of new youngsters popped up for the day and made an impact. Michael Oyston won the Amateur class, with some HUGE bar tricks, a few other solid tricks and a smooth style. Definitely one to look out for in the future.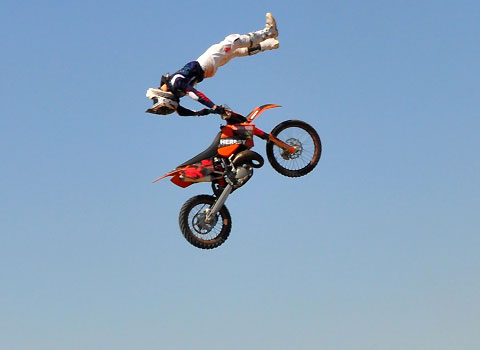 Dead bodies, strippers, shaolins - young Mike Oyston has bar tricks dialed

Keryn Ehlers was one of three "lady dudes" hitting the ramps and the only one jumping the 55ft steel gap and trying tricks off of it. The other two girls hit steel for the first time on the day and were progressing well, but only attempted tricks off the table tops.
Wayne Lester was the standout Quad rider on the day with some solid tricks and Matt King was judged to have hucked his 250exc better than any of the other Enduro jumpers on the day, and was hitting the 62ft gap by the end of the day.
Kobus Grobbelaar flipped his way to the ProAm win, making the trick look too easy. Second in proAms was Alex Kruchen, with a solid mix of tricks and some good Rock Solids and KoDs. Grant Lucas made a name for himself with massive bar tricks, including a "Rigormortis" that Adam Jones would be proud of and a stylish "Paris Hilton". Netting him third overall in the ProAms in his first ever contest.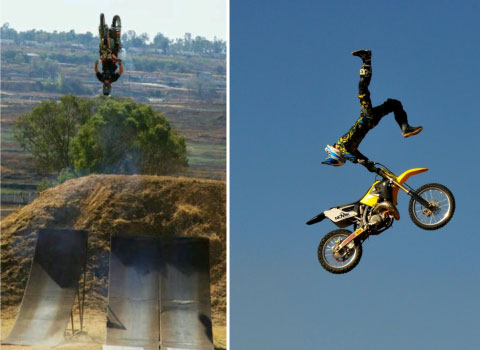 ProAm talent: Kobus flipped every second jump he hit all day and Grant's bar tricks were mad
The Pro's were motivated, as they had Botswana rider Alastair Sayer in town putting in a guest appearance fresh off of his Madrid Red Bull X-fighters stint a few weeks ago. As Alastair is already qualified for the African MoD event in December he decided to sit out the contest and let the other Pros do battle for the qualifying spots, but still rode all the jam sessions and had the crowd going nuts for his tweaked extensions and ballsy style. All 8 guys in the Pros were hanging it out, but in the end Dallan Goldman edged the win from Tim Boshoff. With Colin Stanton getting third and Stewart Couper clinching the final MoD wildcard spot in fourth.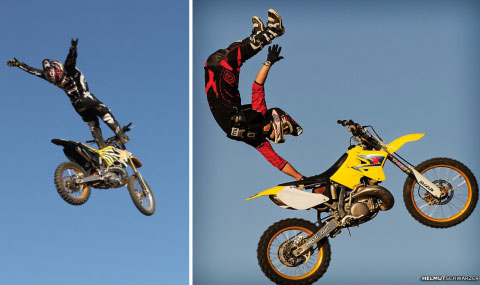 Having African style hero Alastair (left) in town motivated locals like Tim Boshoff
Lyle and his Jungle Rush crew did a great job setting up a slick event in the middle of the African bush. He had a lot of industry & sponsor support and is excited to start planning another contest - as soon as he recovers from the stress of putting on this past weekend's event that is. (see the poster below for a list of all the local sponsors that support FMX)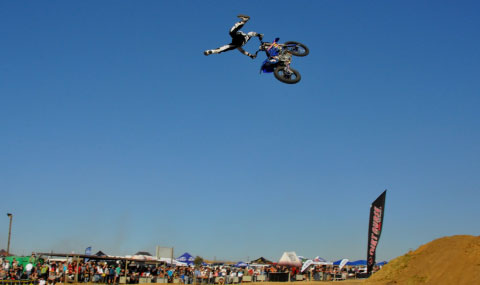 Dallan's 2nd run was flawless; style, variation and big extension. Enough for victory
"Masters of Dirt" is Europe's top indoor FMX arena show and will bring a star studded cast of international FMX & Quad riders to South Africa this December. The Cape Town Bike Festival will host the MoD show in the Cape Town Stadium (2010 World Cup host).
Apart from the FMX show each night, there's a Supercross race, 3 International bands, Junior MX racing, Trials & Stunt Bike displays, a custom bike build-off, Miss Biker SA pageant, tattoo expo and 3 day trade show.
(More info: www.capetownbikefestival.com )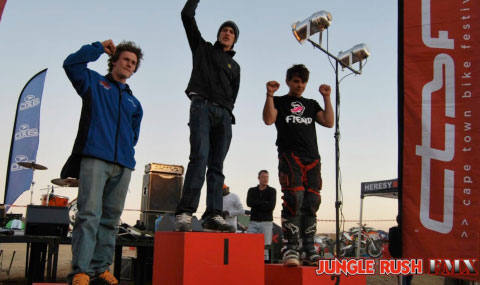 Pro podium - securing their spots in the "Masters of Dirt" show in December at the much anticipated Cape Town Bike Festival. Colin (left), Dallan (centre) & Tim (right) will join 4th place finisher Stu Couper at CTBF
30 July Contest Results:

Pro's:
1st Dallan Goldman
2nd Tim Boshoff
3rd Colin Stanton
4th Stewart Couper

ProAm:
1st Kobus Grobbelaar
2nd Alex Krutchen
3rd Grant Lucas

Amateur:
1st Mike Oyston
2nd Nicky Campher
3rd Greg Andrews

Ladies:
1st Kerryn Ehlers

Enduro class:
1st Matt King

Quad class:
1st Wayne Lester


Support us: Like and Share it!

Video of the month

Facebook /FORTY8Mag

Partner