Taka Higashino Takes Home 2011 ASA World Championships of Freestyle Motocross Title
ASA Press Release | Photo Credit: Luke Nguyen
Huge Combinations, Mind-Boggling Tricks and Big-Air Impress the Crowd to Close the Last Weekend of the L.A. County Fair
LOS ANGELES (October 1, 2011) – Taka Higashino earned top scores in the 9th Annual ASA World Championships of Freestyle Motocross to beat out the top motorcycle aerialists in the industry during the final weekend at the L.A. County Fair on Saturday night. In true ASA Entertainment style, the extreme rider lineup brought veterans and up-comers together to compete in the head-to-head contest for the Title of World Champion. The riders' high energy and flair kept the Southern California fans on their feet throughout the night. Higashino earned first by showing off crisp tricks, several different back flip combinations, and creativity on every single jump. Australia's Rob Adelberg claimed second and Todd Potter rounded out the podium.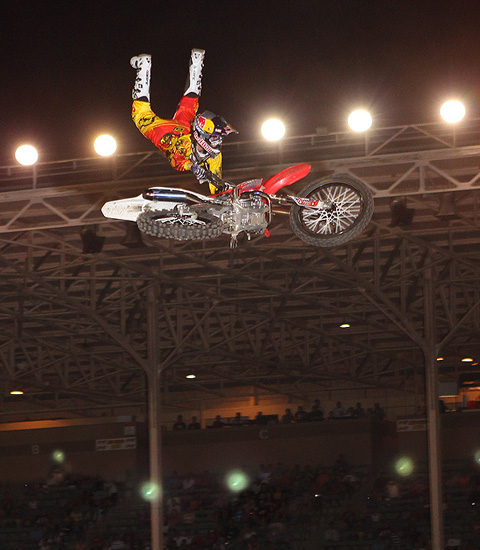 The FMX athletes pulled out all the stops to show off huge tricks, combinations, extensions and upside down tricks. All of the riders had their 240-pound bikes flying up to 120 feet to prove who had the skills to take the win. The event featured a head-to-head contest, with first place from each round advancing to the semi-finals and then on to the final heat. The contest was judged on the tricks performed during their best run.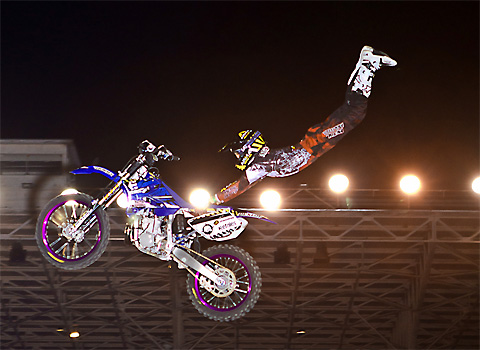 "Coming into the final I thought it was Adelberg's night to win," said Head Judge Chuck Carothers. "Higashino pulled out some tricks we hadn't seen and had a great 75-second run."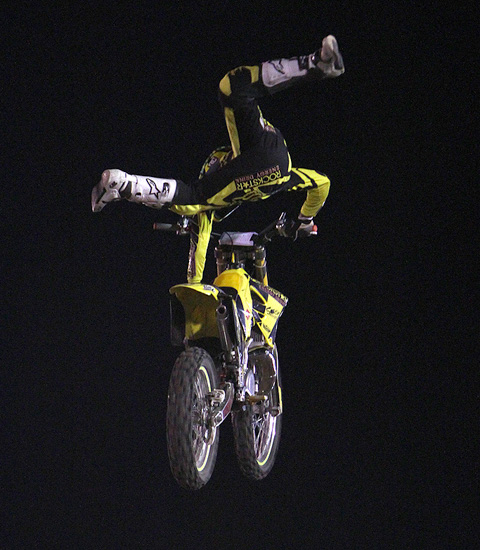 In the contest's earlier rounds of competition, Libor Podmol showed everyone that he deserved his spot in the contest by performing big underflips and back flip variations. In addition to his recent successes, like earning the FIM Freestyle MX World Champion title in 2010, Podmol continues to impress the industry and fans alike with his growth in turn around on technical tricks. However, it was Dustin Miller's aggressive back-to-back tricks that enabled him to advance to the semi-finals. Lance Coury also had a good showing during the contest after earning his spot in the competition as a result of last-minute injuries suffered by Javier Villegas, Beau Bamburg, and Ronnie Faisst that forced them to withdraw.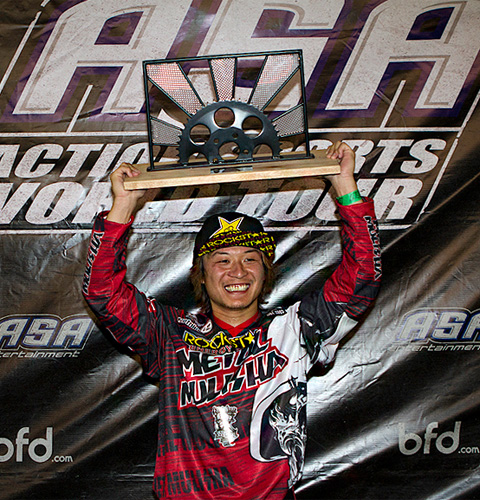 ASA FMX World Championship Final Results

1- Taka Higashino (Osaka, Japan)
2- Rob Adelberg (Benalla, Australia)
3- Todd Potter (Temecula, California)
4- Dustin Miller (Gardnerville, Nevada)
5- Libor Podmol (Prague, Czech Republic)
6- Lance Coury (Los Angeles, California)
7- Myles Richmond (Cherry Valley, California)
8- Wiley Fullmer (Chino, California)