Bizouard dominates NIGHT of the JUMPs in Ostrava
to keep World Championship open
Story and pictures by Oliver Franke/IFMXF.com
Ostrava, 19th November 2011: The FIM Freestyle MX World Championship has entered its decisive phase. On Saturday night, the CEZ Arena in Ostrava played host to the world's trickiest riders as they contested the ninth round of the World Championship during NIGHT of the JUMPs.
Four Czech riders lined up for the qualifying stage. Despite a few decent backflips, Tomas Lysacek and Frantisek Maca didn't make it through to the final round. But never mind, because Red Bull rider Petr Pilat and local hero Libor Podmol won the hearts of the Ostrava fans by progressing into the finale. Accompanying the two Czech riders were the French duo of Brice Izzo and Remi Bizouard. By way of a little bonus, Izzo pulled off a miniflip while Bizouard totally dominated the preliminary round. Current championship leader Javier Villegas (CHL) and Spanish 'El Loco' Jose Miralles booked the last two places for the final showdown.


Remi Bizouard is back in the game - 1st place in Ostrava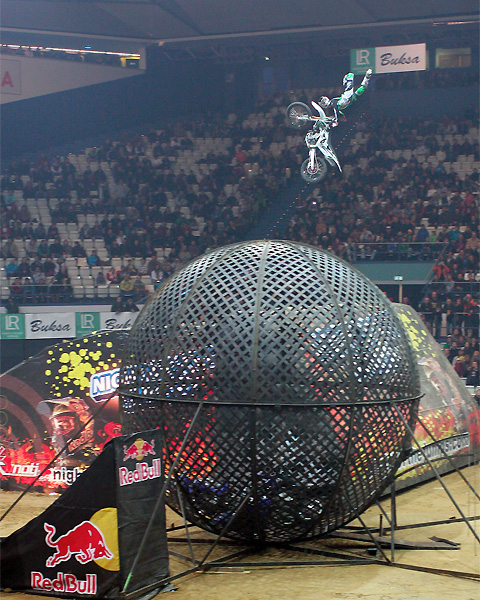 Surprisingly, Maikel Melero (ESP) missed out this time in qualifying, finishing only seventh. And despite a good run, eighth-placed Fabian Bauersachs was also sent for an early bath, a fate that was shared by fellow countryman Lukas Weis and Belgian rider William van den Putte. David Rinaldo put in a solid run that should have been good enough to see him through. But in the double-up, he took a nasty tumble that required medical treatment.
German fans have waited a long time for success in the Race & Style Contest, and it eventually came tonight. Lukas Weis beat off the challenge from Jose Miralles to secure the win bonus. In the Maxxis Highest Air, Frantisek Maca triumphed with 8.40-metre jump ahead of Jose Miralles, a win that was celebrated tumultuously by the home crowd.


Frantisek Maca wins the Highest Air contest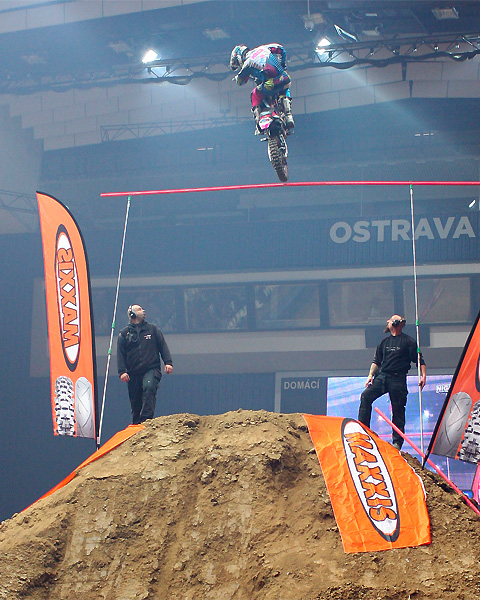 Libor Podmol was contesting his 100th NIGHT of the JUMPs this weekend, but despite making it through to the final, the evening ended in anticlimax. First, he crashed in free practice while attempting a tandem backflip with his brother. Then on his penultimate jump in the final, he crashed into the perimeter board and was unable to continue. So he ended in sixth place, the worst result he has ever posted in his home town.


Javier Villegas with a solid 2nd place and 21 points in the lead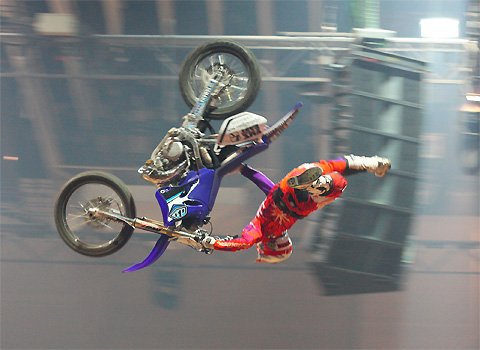 Even so, the Czech crowd had good grounds for optimism as Petr Pilat was still flying the national flag. With tricks such a One-Hand-Takeoff Backflip and Tsunami Flip, he earned himself a place on the podium and was surpassed only by Javier Villegas and Remi Bizouard. Villegas once again completed a strong run, but was well beaten on the night by Bizouard who was not only on a new bike but also back to peak form with Ruler Flip, Cliffhanger Flip and Hart Attack Flip. Brice Izzo ruled himself out of contention for a podium finish with a botched miniflip. And even Jose Miralles could finish no higher than fifth.


Petr Pilat stretched his body into the 3rd place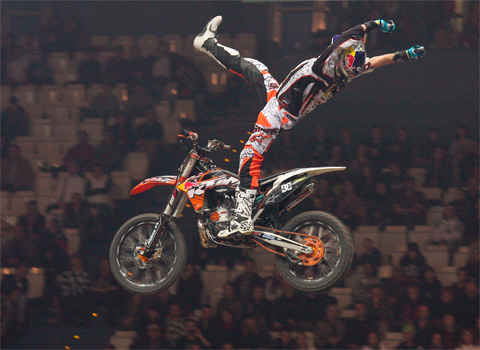 In the overall standings, Javier Villegas continues to hold Remi Bizouard at bay. But the Frenchman succeeded in reducing Chilean rider's lead to 21 points, thereby opening up the World Championship once again. In the ensuing press conference, Javier was quick to announce that he will see off the challenge from Remi in the upcoming events.



Javier Villegas 2nd, Remi Bizouard 1st and happy 3rd Petr Pilat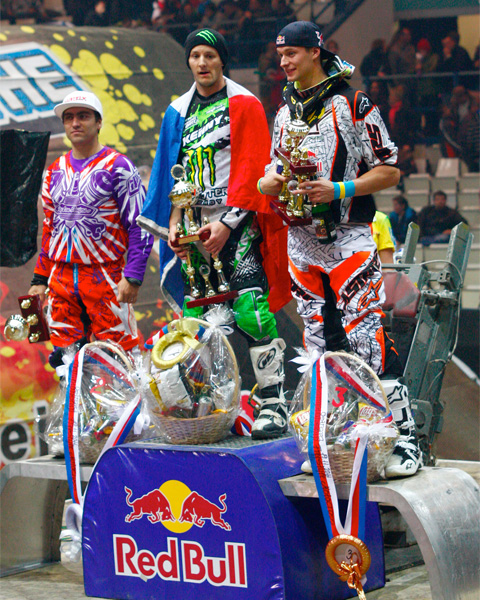 The FMX professionals have only a few days rest, because rounds 10 and 11 of the World Championship are scheduled for next weekend in the context of NIGHT of the Jumps at the Ergo Arena in Gdansk. But if you can't be there in person, the proceedings will once again be livestreamed on NIGHToftheJUMPs.com.

FACTS NIGHT of the JUMPs – FIM Freestyle MX World Championships
Ostrava, 19th November 2011 – Round 9


Results NIGHT of the JUMPs – Final
1. Remi Bizouard FRA FFM Honda 427 Points
2. Javier Villegas CHL AMA Yamaha 417 Points
3. Petr Pilat CZE ACCR KTM 396 Points
4. Brice Izzo FRA FFM Yamaha 376 Points
5. Jose Miralles ESP RFME KTM 374 Points
6. Libor Podmol CZE ACCR Suzuki 353 Points


Results Qualification
1. Remi Bizouard FRA FFM Honda 365 Points
2. Libor Podmol CZE ACCR Suzuki 360 Points
3. Javier Villegas CHL AMA Yamaha 356 Points
4. Petr Pilat CZE ACCR KTM 341 Points
5. Brice Izzo FRA FFM Yamaha 340 Points
6. Jose Miralles ESP RFME KTM 337 Points
7. Maikel Melero ESP RFME Yamaha 331 Points
8. Fabian Bauersachs GER DMSB KTM 296 Points
9. William v.d. Putte BEL MFR KTM 287 Points
10. Lukas Weis GER DMSB Suzuki 283 Points
11. David Rinaldo FRA FFM Yamaha 280 Points
12. Tomas Lysacek CZE ACCR Suzuki 180 Points
13. Frantisek Maca CZE ACCR Kawasaki 165 Points


Results Race & Style
1. Lukas Weis GER DMSB Suzuki
2. Jose Miralles ESP RFME KTM
Results MAXXIS Highest Air
1. Frantisek Maca CZE ACCR Kawasaki 8,40 Meter
2. Jose Miralles ESP RFME KTM 8,10 Meter
FIM Freestyle MX World Championships
Ranking (after 9th contest)
1. Javier Villegas CHL AMA Yamaha 156 Points
2. Remi Bizouard FRA FFM Yamaha 135 Points
3. Jose Miralles ESP RFME KTM 124 Points
4. Maikel Melero ESP RFME Yamaha 105 Points
5. Libor Podmol CZE ACCR Suzuki 99 Points
6. Josh Sheehan AUS MA Honda 96 Points
7. David Rinaldo FRA FFM Yamaha 90 Points
8. Fabian Bauersachs GER DMSB KTM 69 Points
9. Romain Izzo FRA FFM Yamaha 52 Points
10. Petr Pilat CZE ACCR KTM 47 Points
11. Massimo Bianconcini ITAL ACCR KTM 43 Points
12. Lukas Weis GER DMSB Suzuki 42 Points
13. Hannes Ackermann GER DMSB KTM 40 Points
14. Brice Izzo FRA FFM Yamaha 20 Points
15. Kai Haase GER DMSB Suzuki 10 Points