Javier Villegas leaps to
FIM Freestyle MX World Championship
Story and pictures by Oliver Franke, Marko Manthey/IFMXF.com
Sofia, 17th December 2011: On Saturday night, professional freestyle motocross arrived big time in Bulgaria. The world's leading exponents of FMX gathered for the last NIGHT of the JUMPs of the 2011 season at the ARMEEC Arena in Sofia (Bulgaria), where the destination of the FIM Freestyle MX World Championship title would be decided. Twelve riders from seven countries laid on an incredible spectacle in front of 10,000 spectators in a packed arena, a show that had even the Bulgarian prime minister on the edge of his seat. The highlight of the evening was to be the big clash between title rivals Remi Bizouard (FRA) and Javier Villegas (CHI).



Javier Villegas - the FIM FMX World Champion 2011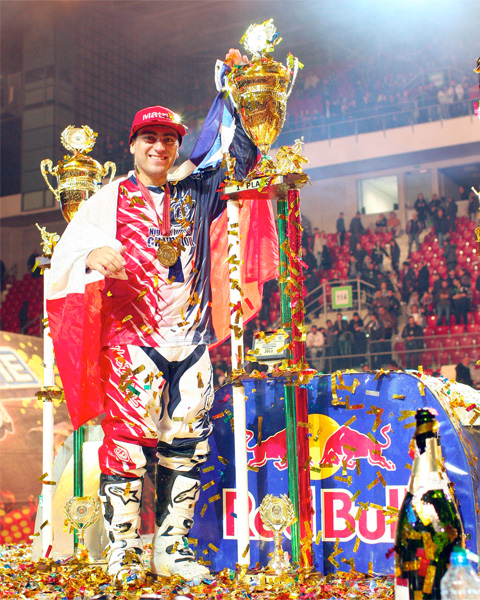 The crowd were already whipped up into frenzy during the qualifying round, which inspired maximum performance from the riders. Debutant James Carter (USA) dug deep to perform incredible Ruler Flips and Scorpion Combos that took him into the Top 10 but still fell short of the standard produced by the six finalists. Also missing out at this stage was Libor Podmol who took a tumble on his very first trick and was unable to continue. The German duo also progressed no further than the first round: Fabian Bauersachs had a good run, but could finish no higher than tenth, and unlucky Hannes Ackermann had no preparation time, as his bike and equipment arrived only at the very last minute. The two Frenchman Brice Izzo and David Rinaldo were also unable to convince the judges of their case to be included in the final – this despite Rinaldo's Airplane and Superman Seatgrab Flip. So the finalists on this occasion were Massimo Bianconcini (ITA), Jose Miralles (ESP), Petr Pilat (CZE) and Maikel Melero (ESP) plus the two title aspirants, Javier Villegas and Remi Bizouard.


Jose Miralles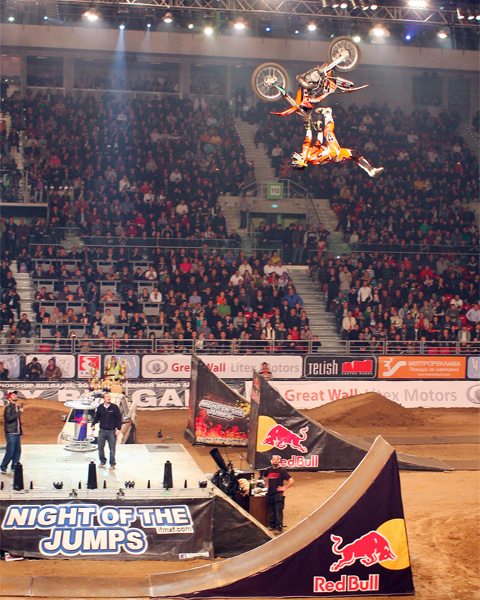 Jose Miralles won the final Race & Style contest of the season. Fellow Spaniard Melero triumphed in the Maxxis Highest Air, recording a jump of 7.1 metres.
The first rider out on track for the deciding round was Massimo Bianconcini. Italy's grand master delighted the crowd with a brand new trick – a Double 9 O'Clock Combo – and will no doubt have been satisfied with his sixth place on the night. Miralles also showed off a new combo consisting of Stalefish to Double Can Can Flip. Although he finished the event in fifth, the result was good enough to secure him the bronze medal in the overall standings.


Remi Bizouard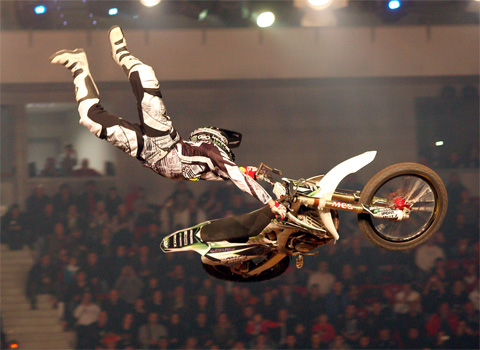 Red Bull rider Petr Pilat put in a really good run to take P4 in Sofia and to score enough points to finish eighth overall in the FIM Freestyle MX World Championship.
Maikel Melero, who had already received the Rookie of the Year Award before the proceedings began, confirmed himself a worthy winner of the accolade with a perfect final run, including Double Seatgrab Flip, that steered him to third place in the Bulgarian Grand Prix and fourth in the overall standings.


Javier Villegas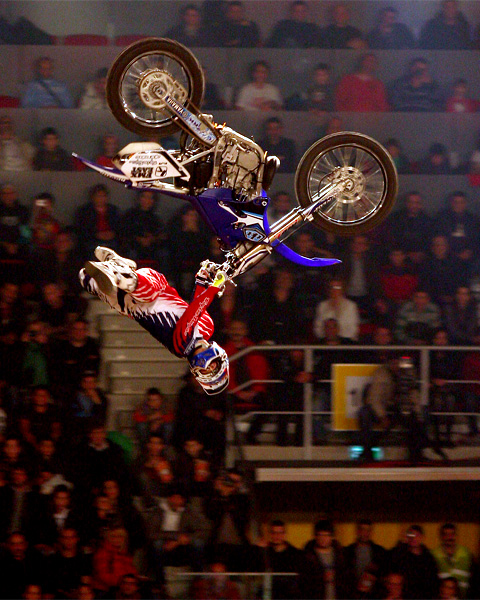 Then came the moment that everyone had been waiting for – the confrontation between Javier Villegas and Remi Bizouard. Villegas laid on a tour de force ranging from Suicide Backlip Lockback to Tsunami Flip. Bizouard countered with Ruler, Cliffhanger and Hart Attack Flip, ending his sideshow with a Sidesaddle Landing. The Frenchman prevailed once again – his fourth triumph in a row – but Villegas had built up such a substantial points cushion that he comfortably took the title. The new champion looked truly delighted as he was handed the huge trophy and, looking back over the season as a whole, he is a worthy winner. The Chilean's victory also represents a first in the FMX World Championship, with all previous titles having gone to European contestants.


The podium of the FIM FMX World Championship 2011:
Remi Bizouard (2nd) - Javier Villegas (1st) and Jose Miralles (3rd)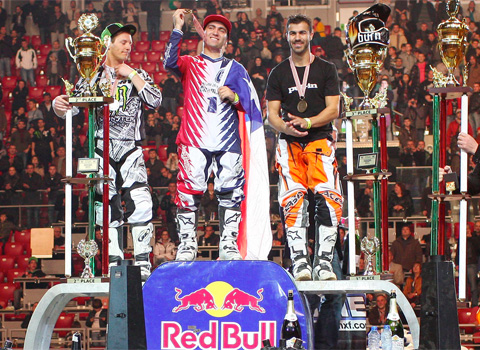 The world's most extreme freestyle motocross series now enters its Christmas break. The new season starts on the weekend of 20th/21st January with the NIGHT of the Jumps in Linz (Austria), where the first two rounds of the UEM Freestyle MX European Championship will be contested. The first round in the 2012 FIM Freestyle MX World Championship will be staged on the weekend of 2nd/3rd February in the Italian city of Turin.
FACTS NIGHT of the JUMPs – FIM Freestyle MX World Championships
Sofia, 17th December 2011 – Round 12

Results NIGHT of the JUMPs – Final
1. Remi Bizouard FRA FFM Honda 417 Points
2. Javier Villegas CHL AMA Yamaha 409 Points
3. Maikel Melero ESP RFME Yamaha 403 Points
4. Petr Pilat CZE ACCR KTM 402 Points
5. Jose Miralles ESP RFME KTM 389 Points
6. Massimo Bianconcini ITA ACCR KTM 355 Points

Results Qualification
1. Remi Bizouard FRA FFM Honda 355 Points
2. Petr Pilat CZE ACCR KTM 341 Points
3. Javier Villegas CHL AMA Yamaha 340 Points
4. Jose Miralles ESP RFME KTM 333 Points
5. Maikel Melero ESP RFME Yamaha 332 Points
6. Massimo Bianconcini ITA ACCR KTM 317 Points
7. Brice Izzo FRA FFM Yamaha 305 Points
8. David Rinaldo FRA FFM Yamaha 303 Points
9. James Carter USA MA Yamaha 295 Points
10. Fabian Bauersachs GER DMSB KTM 281 Points
11. Hannes Ackermann GER DMSB KTM 239 Points
12. Libor Podmol CZE ACCR Suzuki 8 Points
Results Race & Style
1. Jose Miralles ESP RFME KTM
2. Massimo Bianconcini ITA ACCR KTM

Results MAXXIS Highest Air
1. Maikel Melero ESP RFME Yamaha 7,10 Meter
2. Massimo Bianconcini ITA ACCR KTM 6,80 Meter
FIM Freestyle MX World Championships
Ranking (after 12th contest)
1. Javier Villegas CHI AMA Yamaha 210 Points
2. Remi Bizouard FRA FFM Yamaha 195 Points
3. Jose Miralles ESP RFME KTM 158 Points
4. Maikel Melero ESP RFME Yamaha 145 Points
5. David Rinaldo FRA FFM Yamaha 118 Points
6. Libor Podmol CZE ACCR Suzuki 114 Points
7. Josh Sheehan AUS MA Honda 96 Points
8. Petr Pilat CZE ACCR KTM 91 Points
9. Fabian Bauersachs GER DMSB KTM 89 Points
10. Massimo Bianconcini ITAL ACCR KTM 69 Points
11. Romain Izzo FRA FFM Yamaha 52 Points
12. Brice Izzo FRA FFM Yamaha 52 Points
13. Hannes Ackermann GER DMSB KTM 45 Points
14. Lukas Weis GER DMSB Suzuki 42 Points
15. Kai Haase GER DMSB Suzuki 10 Points