FMX World Championship in Berlin:


Remi Bizouard and Javier Villegas umped to victory in Berlin
Story by Oliver Franke/IFMXF.com

Day 1
Remi Bizouard marches onwards in Berlin



On Friday, Berlin witnessed the magnificent return of NIGHT of the JUMPS. Twelve freestyle artists from seven countries were at the o2 World arena to contest the third round of this year's FIM Freestyle MX World Championship. The German freestyle brigade in the shape of Hannes Ackermann, Fabian Bauersachs, Lukas Weis and local hero Kai Haase lined up against the international FMX elite.
In the qualifying round, Thuringian rider Ackermann put together a fine run with a series of backflip combos to finish ahead of his fellow countrymen in seventh, but still agonisingly short of a place in the final. Also missing out was Clinton Moore who crashed in practice attempting at 360 and consequently decided to save himself for the Best Trick Contest. Since world record high jumper Massimo Bianconcini (ITA) also failed to make it through to the top six, the honour of qualifying was shared amongst Libor Podmol (CZE), Maikel Melero (ESP) Brice Izzo (FRA), Javier Villegas (CHL), David Rinaldo (FRA) and Remi Bizouard.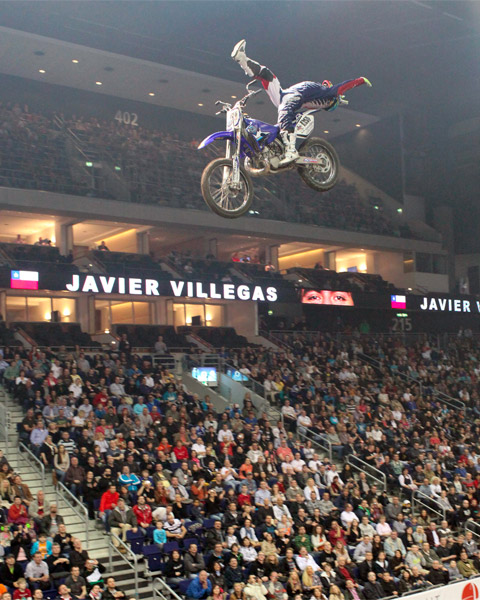 Clinton Moore's strategy paid off, as he took the generous prize money in the Best Trick Contest with his version of 'The Volt'. Victor in the Best Whip Contest was Javier Villegas, with the Maxxis Highest Air trophy going to Massimo Bianconcini who recorded a jump of 8.00 metres.
The final promised to be another cracker. Melero was aiming to repeat his Turin podium, but his attempt at a Seatgrab Flip ended in a horror crash. Miraculously, he was unharmed and finished sixth. David Rinaldo was also keen to defend his second place in the preliminary round, but a couple mistakes saw him slump to fifth.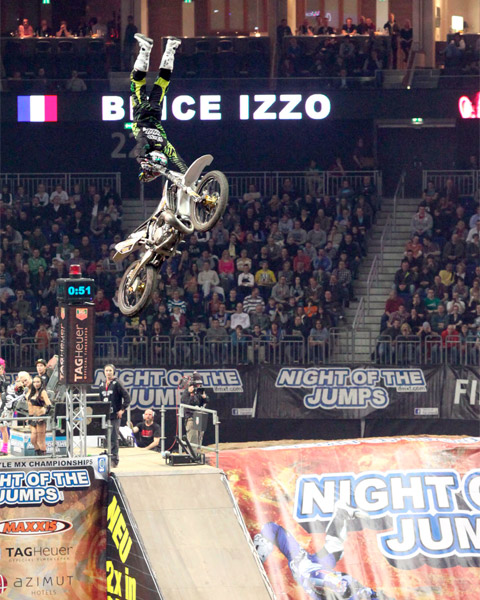 Despite pulling out a super-extended Cliffhanger Flip plus a sequence of underflip combinations, a visibly disappointed Libor Podmol had to settle for fourth. Third place went instead to Brice Izzo who conjured up a Tsunami flip plus another Heelclicker Underflip to claim his first podium in ages.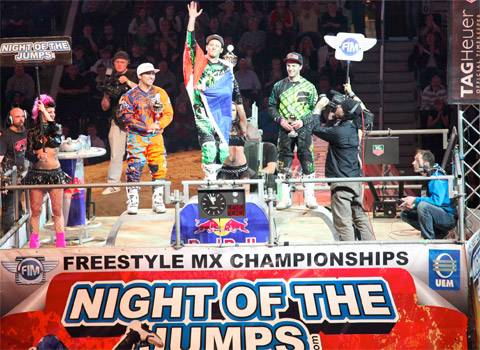 Javier Villegas more than compensated for the disappointment of Turin, performing the best of his repertoire to secure second. But Remi Bizouard was once again in a class of his own. The Frenchman thrilled the fans with Cliffhanger Flip, Tsunami Flip, 360 and Hart Attack Flip to notch up his second victory in the third contest of the season and extend his lead in the FIM Freestyle MX World Championship. He is now eight points ahead of Podmol (50 points).
The NIGHT of the JUMPs continues a mere 24 hours later in Berlin with the second of a two-part bill.
FACTS NIGHT of the JUMPs – FIM Freestyle MX World Championships
Berlin, 16th March 2012 – Round 3

Results NIGHT of the JUMPs – Final
1. Remi Bizouard FRA 437.0
2. Javier Villegas CHL 425.0
3. Brice Izzo FRA 422.0
4. Libor Podmol CZE 417.0
5. David Rinaldo FRA 404.0
6. Maikel Melero ESP 355.0
Whip Contest
1. Javier Villegas CHL
2. Kai Haase GER
3. Libor Podmol CZE
4. Lukas Weis GER
4. Massimo Bianconcini ITA
Qualification
1. Remi Bizouard FRA 377.0
2. David Rinaldo FRA 357.0
3. Javier Villegas CHL 356.0
4. Brice Izzo FRA 353.0
5. Maikel Melero ESP 349.0
6. Libor Podmol CZE 339.0
7. Hannes Ackermann GER 326.0
8. Massimo Bianconcini ITA 313.0
9. Lukas Weis GER 293.0
10. Fabian Bauersachs GER 264.0
11. Kai Haase GER 260.0
12. Clinton Moore AUS 225.0


DAY 2
Villegas signals title intentions with Berlin win – Ackermann jumps his way into first final



Berlin, 17th March 2012: The second half of a NIGHT of the JUMPS double bill was staged on Saturday at the Berlin O2 World arena. This fourth round of the FIM Freestyle MX World Championship was, however, contested by a reduced field of eleven riders, with Spaniard Maikel Melero dropping out as a result of injuries sustained in a fall on Friday.
In the qualifying stage, the 10,000 partisan fans at a sold-out O2 World wildly cheered on the German contingent. Local hero Kai Haase showed off a Saran Wrap Flip, Lukas Weis a 360-style underflip and Fabian Bauersachs his One-Hand Can Backflip. Sadly for the home crowd, it was not enough for any of the trio to progress. But hope lingered on in the shape of Hannes Ackermann who put in the best NIGHT of the JUMPS run of his career and had the immense satisfaction of reaching his first championship final with a score of 350 points. Joining him in the showdown were Brice Izzo (FRA), Libor Podmol (CZE), David Rinaldo (FRA), Javier Villegas (CHL) and Remi Bizouard (FRA).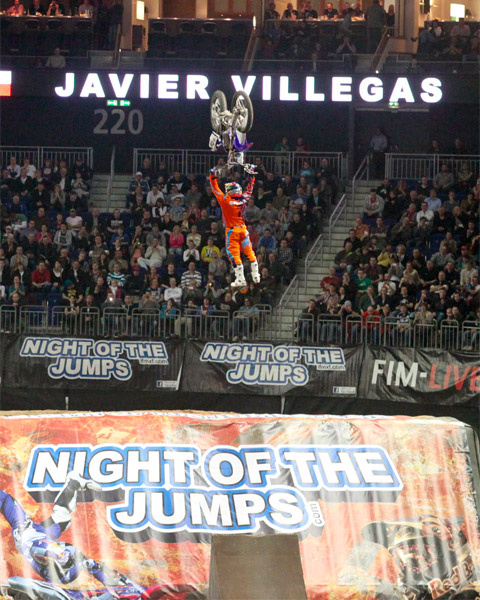 The arena erupted when Berliner Kai Haase claimed victory in the Whip contest. In the Maxxis Highest Air, Massimo Bianconcini cleared 8.4 metres to pick up the trophy. In third place with a jump of 6.5 metres was the 14-year-old prodigy Luc Ackermann. The Best Trick award once again went to Clinton Moore for his version of The Volt. In the Stadler Mountainbike Show, Russian rider Pavel Alkhin pulled off a Backflip Double Tailwhip.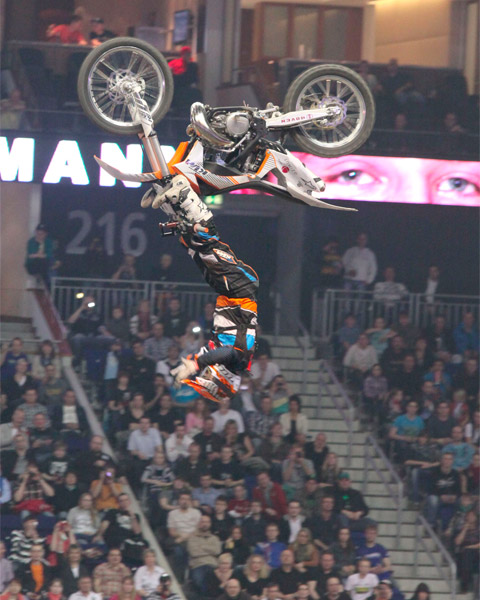 Hannes Ackermann was really up for the final but overreached himself, making a couple of errors that left him trailing in sixth. David Rinaldo had a clean run, but without his customary Double Seatgrab Flip, he ended up in fifth place. Fellow Frenchman Brice Izzo has now fully incorporated the Tsunami Flip and Heelclicker Underflip into his routine, and this was good enough to secure him fourth place.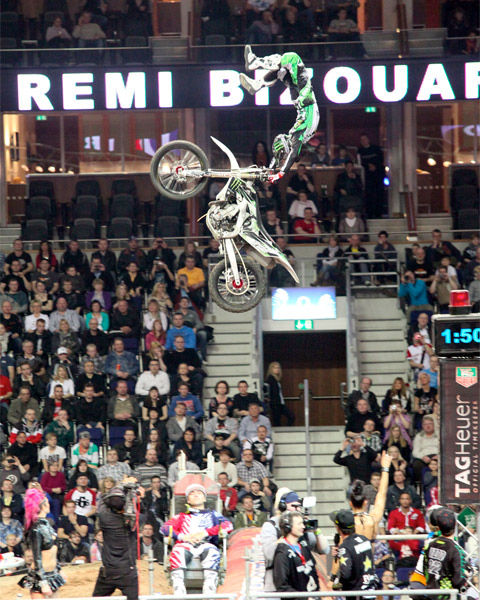 Former world champion (2010) Libor Podmol obviously found the Berlin air much to his liking, taking the third podium spot with various flip and underflip combos. But the battle for the top rung was a re-run of so many finals in the 2011 season. Javier Villegas showcased all his most daring tricks while Remi Bizouard also selected the best from his repertoire, including a 360. Ultimately, though, the Chilean was judged to have the edge, which takes him back into contention for the title.
Despite having to settle for second on the evening, Bizouard (76 points) has extended his championship lead to ten points over his closest pursuer, Libor Podmol on 66. Villegas moves up to fifth in the championship rankings. Hannes Ackermann is the best-placed German in seventh following his debut qualification for a championship final.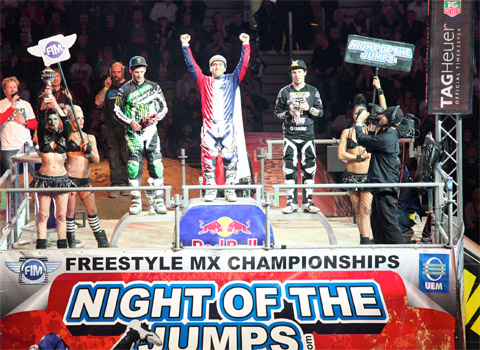 The FIM Freestyle MX World Championship continues on the weekend of 13th/14th April at the Sankt Jakobshalle arena in Basel (Switzerland). NIGHT of the JUMPs returns to Germany on 28th April for an international event at the Olympic Hall in Munich.

FACTS NIGHT of the JUMPs – FIM Freestyle MX World Championships
Berlin, 17th March 2012 – Round 4

Results NIGHT of the JUMPs – Final
1. Javier Villegas CHL FMC Yamaha 447 Points
2. Remi Bizouard FRA RFME Honda 438 Points
3. Libor Podmol CZE ACCR Yamaha 432 Points
4. Brice Izzo FRA FFM Yamaha 426 Points
5. David Rinaldo FRA FFM Yamaha 418 Points
6. Hannes Ackermann GER DMSB KTM 366 Points

Results Qualification
1. Remi Bizouard FRA RFME Honda 379 Points
2. Libor Podmol CZE ACCR Yamaha 375 Points
3. Javier Villegas CHL FMC Yamaha 374 Points
4. David Rinaldo FRA FFM Yamaha 359 Points
5. Brice Izzo FRA FFM Yamaha 357 Points
6. Hannes Ackermann GER DMSB KTM 350 Points
7. Massimo Bianconcini ITAL PZM KTM 315 Points
8. Lukas Weis GER DSMB Suzuki 286 Points
9. Kai Haase GER DMSB Suzuki 284 Points
10. Clinton Moore AUS MA Yamaha 219 Points
11. Fabian Bauersachs GER DMSB Suzuki 155 Points
Results Whip Contest
1. Kai Haase GER DMSB Suzuki
2. Massimo Bianconcini ITAL PZM KTM
3. Luc Ackermann GER KTM

Results Best Trick Contest
Freestyle Motocross
1. Clinton Moore AUS MA Yamaha
2. Remi Bizouard FRA RFME Honda
3. Javier Villegas CHL FMC Yamaha
Mountain Bike
1. Pavel Alekhin RUS
2. Nico Scholze GER
Results MAXXIS Highest Air
1. Massimo Bianconcini ITA 8,40 Meter
2. Kai Haase GER 8,00 Meter
3. Luc Ackermann GER 6,50 Meter
FIM Freestyle MX World Championships
Ranking (after 4th contest)
1. Remi Bizouard FRA RFME Honda 76 Points
2. Libor Podmol CZE ACCR Yamaha 66 Points
3. Brice Izzo FRA FFM Yamaha 54 Points
4. David Rinaldo FRA FFM Yamaha 48 Points
5. Javier Villegas CHL FMC Yamaha 47 Points
6. Maikel Melero ESP RFME KTM 44 Points
7. Hannes Ackermann GER DMSB KTM 34 Points
8. Clinton Moore AUS MA Yamaha 34 Points
9. Massimo Bianconcini ITAL PZM KTM 32 Points
10. Lukas Weis GER DMSB Suzuki 15 Points
11. Ivan Zucconi ITA PZM KTM 15 Points
12. Kai Haase GER DMSB Suzuki 12 Points
13. Fabian Bauersachs GER DMSB Suzuki 11 Points
11. Vanni Oddera ITA PZM KTM 10 Points
15. Jose Miralles ESP RFME KTM 10 Points