Sherwood wins Dubai stop of $1 million World Tour
Pictures: Joerg Mitter, Balazs Gardi, Predrag Vuckovic, Jorge Ferrari
New Zealand's Levi Sherwood was the victor of the 2012 season opener of the Red Bull X-Fighters World Tour in Dubai (UAE). The former 'wunderkind' of FMX got his first victory since 2010.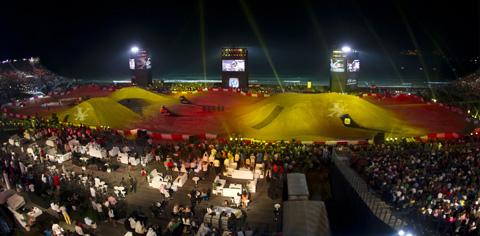 DUBAI (United Arab Emirates) - Levi Sherwood won the 2012 season opener of the $1 million World Tour on Friday with a brilliant performance in front of 20,000 spectators on a stunning dirt track set up on the white sands of Dubai's Jumeirah Beach between the city's glittering skyscrapers and the Gulf's turquoise water. Kicking off the six-month long season with its six stops on four continents, Dubai gave Sherwood his fourth career victory and first since triumphing in London in 2010. Australia's Rob Adelberg was a surprise second while Javier Villegas of Chile got his first podium with third place.


The "Rubber Kid" is back in business. Levi Sherwood was unbeatable this night in Dubai

It was a night filled with upsets as defending World Tour champion Dany Torres of Spain and Norway's Andre Villa, a leading title contender, were both knocked out in the quarter-finals, finishing eighth and fifth, respectively. Villa had earlier wept with tears of joy after taking second in Qualifying, overcome with emotions that he was able to ride well again after suffering a leg injury last season.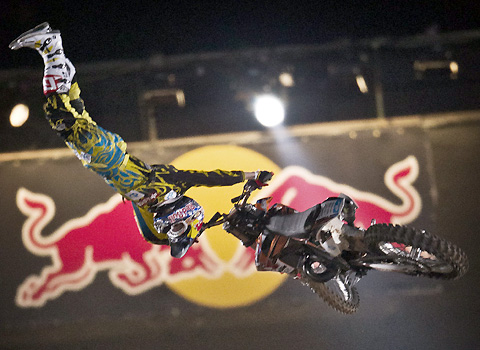 The X-Fighters Champ 2011 Dany Torres finishing in 8th place, because of having trouble with the new Judging rules.
Sherwood was clearly on top of his game in the sweltering heat of Dubai, able to once again display his incomparable flexible and fluid style in the world's most prestigious Freestyle Motocross competition that will have a total purse of $1 million based on performances and appearance fee.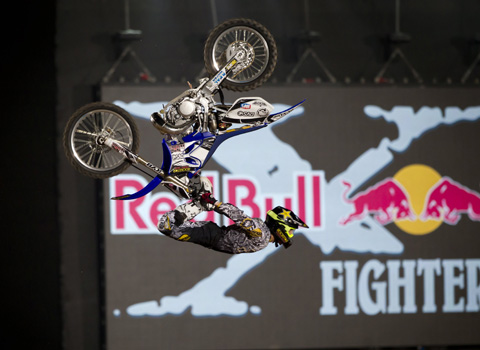 Rob Adelberg went straight into the final with tricks like the Cordova Flip

"It means a lot," said a beaming Sherwood, 20, after celebrating with the spirited crowd that savored the spectacle with riders jumping up to 12 meters high and 20 meters in distance on their bikes. "I didn't have much confidence coming into it," added the friendly New Zealander.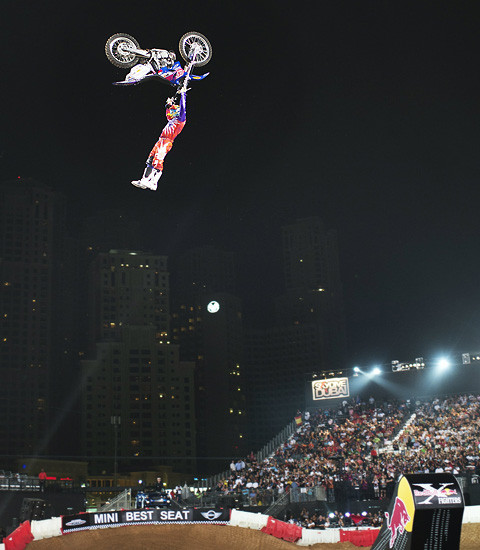 The IFMXF FIM World Champion 2011 showed a solid performance finishing 3rd

Villegas was thrilled to get the first podium. "After years of sacrifice, I finally made it," he said. "I'm not going to stop here. I want to be on the podium all season." Red Bull X-Fighters has become the biggest and most respected freestyle motocross tour on the planet since it was created in 2001 with the best FMX riders anywhere battling for championship points at six stops on four continents.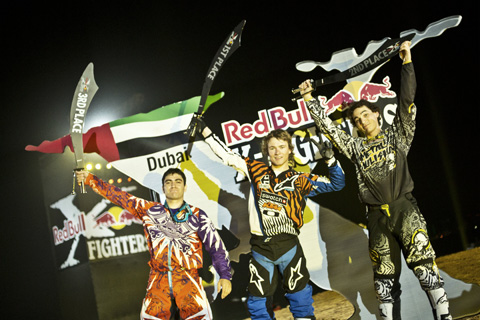 Javier Villegas (3rd) - Levi Sherwood (1st) - Rob Adelberg (2nd)
 
Results Red Bull X-Fighters Dubai

1. Levi Sherwood (NZL)
2. Rob Adelberg (AUS)
3. Javier Villegas (CHL)
4. Josh Sheehan (AUS)
5. Andre Villa (NOR)
6. Todd Potter (USA)
7. Edgar Torronteras (ESP)
8. Dany Torres (ESP)
9. Mat Rebeaud (SUI)
10. Eigo Sato (JPN)

Watch the Red Bull X-Fighters Action Clip: