FIM FMX World Championship in Basel
Round 5 and 6
Remi Bizouard wins NIGHT of the JUMPS in Basel despite missed practice session

The Jakobshalle arena in Basel is hosting the FIM Freestyle MX World Championship for the sixth time this weekend. Twelve motorcycling acrobats from three continents are contesting the Swiss FMX Grand Prix in the context of NIGHT of the JUMPS. As a fair number of the riders billed for the occasion were out of action through injury, fans had the opportunity to appraise some of the upcoming stars in the sport.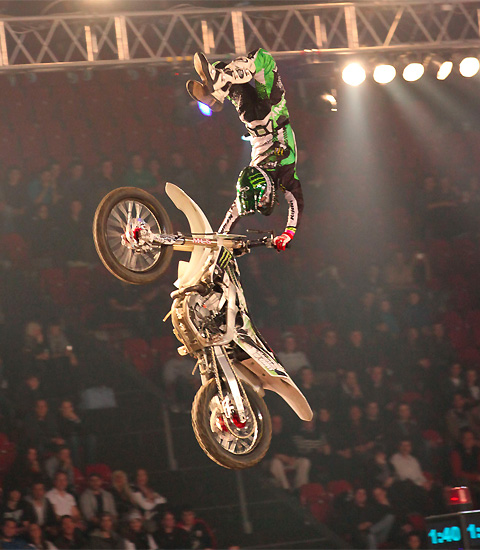 Remi Bizouard is on fire - he won friday night without doing practise
Aleksey Koleshnikov (RUS), Ivan Zucconi (ITA) and Gabriel Villegas (CHL) were making their Basel debut. The latter, who is the brother of world champion Javier Villegas, was making his first ever NIGHT of the JUMPS appearance. Sadly, none of the new names made it past the preliminary round, though Villegas would have been a worthy finalist if he hadn't forgotten his double-up jump. Also missing out this time were Lukas Weis and Martin Koren. William van den Putte had to drop out even before qualifying commenced after taking a tumble in practice. So this left the field clear for a final six of Massimo Bianconcini (ITA), Hannes Ackermann (GER) and Libor Podmol (CZE) plus the French trio of Remi Bizouard, Brice Izzo and David Rinaldo. Due to a missing bike part, championship leader Bizouard was able to complete only one practice session, but this had no adverse affect on his performance or on his routine which even included a Hart Attack Flip. Also deserving a special mention is Hannes Ackermann who put in his best championship run to date, qualifying in fifth.
The Whip contest was won by Libor Podmol ahead of newcomer Gabriel Villegas. In the Maxxis High Air, the crowd were astonished by 14-year-old Luc Ackermann's sensational 6.8m leap which secured him joint second with Lukas Weis, while victory on the night went to world record holder Massimo Bianconcini with a jump of 7.0m.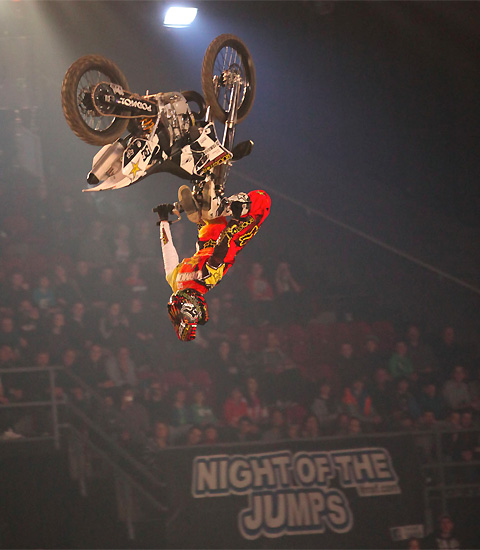 Former World Champion Libor Podmol rode consistant and finished 3rd
The Italian veteran went straight on to open the final round with a clean run that had style and featured a rank underflip. This was good enough to keep him ahead of Hannes Ackermann who, in his eagerness to excel, made a couple of errors that meant he finished sixth.
Brice Izzo was contestant number four in the final. The diminutive Frenchman wowed the Basel crowd with a Tsunami Flip and his new Heelclicker Underflip, a performance that was good enough for runner-up spot on the podium. His compatriot David Rinaldo executed an Airplane and Superman Seatgrab Flip that almost secured the remaining podium.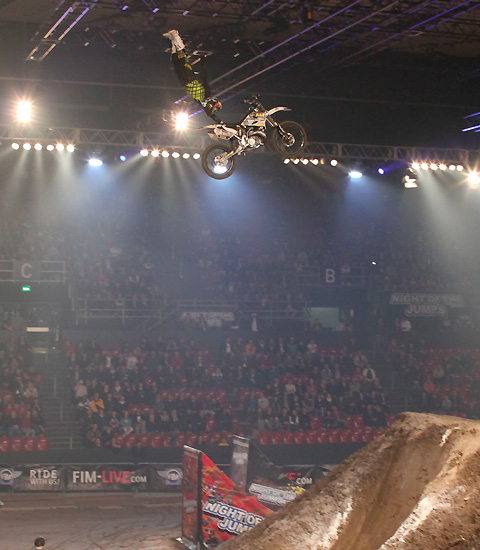 Brice Izzo is back in business after a long injury in 2011
Evidently inhibited by the missed practice session, Remi Bizouard did just enough to qualify, but was firing on all cylinders for the final. His Cliffhanger Flip, Ruler Flip, Switchblade Flip and Hart Attack Flip easily saw him take the honours on the night and marked another step along the way to his third title win. Libor Podmol was powerless to avert the outcome after making a small but costly error in his run that dropped him back to third.
With this latest triumph, Bizouard advances to 96 points and increases the gap on Podmol, his nearest pursuer in the FIM Freestyle MX World Championship. The Czech is up to 82 points, but now has an even bigger deficit of 14 points to make up. Brice Izzo follows in third place.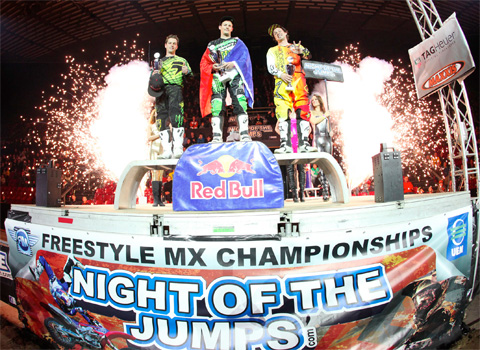 Brice Izzo (2nd) - Remi Bizouard (1st) - Libor Podmol (3rd)
The FIM Freestyle MX World Championship continues just 24 hours later on Saturday with the second of a NIGHT of the JUMPS double bill at the Jakobshalle in Basel.

FACTS NIGHT of the JUMPs – FIM Freestyle MX World Championships
Basel, April 13 2012 – Round 5

Results NIGHT of the JUMPs – Final
1. Remi Bizouard FRA RFME Honda 405 Points
2. Brice Izzo FRA FFM Yamaha 391 Points
3. Libor Podmol CZE ACCR Yamaha 386 Points
4. David Rinaldo FRA FFM Yamaha 385 Points
5. Massimo Bianconcini ITAL PZM KTM 331 Points
6. Hannes Ackermann GER DMSB KTM 315 Points
Results Qualification
1. Libor Podmol CZE ACCR Yamaha 346 Points
2. David Rinaldo FRA FFM Yamaha 344 Points
3. Remi Bizouard FRA RFME Honda 334 Points
4. Brice Izzo FRA FFM Yamaha 333 Points
5. Hannes Ackermann GER DMSB KTM 322 Points
6. Massimo Bianconcini ITAL PZM KTM 308 Points
7. Martin Koren CZE ACCR KTM 300 Points
8. Ivan Zucconi ITA PZM KTM 279 Points
9. Lukas Weis GER DSMB Suzuki 275 Points
10. Gabriel Villegas CHL FMC KTM 272 Points
11. Aleksey Koleshnikov RUS MFR KTM 225 Points
12. Willam v. den Putte BEL RFME KTM 0 Points
Results Whip Contest
1. Libor Podmol CZE ACCR Yamaha
2. Gabriel Villegas CHL FMC KTM
3. Massimo Bianconcini ITAL PZM KTM
Results MAXXIS Highest Air
1. Massimo Bianconcini ITA 7,00 Meter
2. Lukas Weis GER 6,80 Meter
Luc Ackermann GER 6,80 Meter
FIM Freestyle MX World Championships
Ranking (after 5th contest)
1. Remi Bizouard FRA RFME Honda 96 Points
2. Libor Podmol CZE ACCR Yamaha 82 Points
3. Brice Izzo FRA FFM Yamaha 72 Points
4. David Rinaldo FRA FFM Yamaha 62 Points
5. Javier Villegas CHL FMC Yamaha 47 Points
6. Massimo Bianconcini ITAL PZM KTM 44 Points
7. Hannes Ackermann GER DMSB KTM 44 Points
8. Maikel Melero ESP RFME KTM 44 Points
9. Clinton Moore AUS MA Yamaha 34 Points
10. Ivan Zucconi ITA PZM KTM 23 Points
11. Lukas Weis GER DMSB Suzuki 22 Points
12. Kai Haase GER DMSB Suzuki 12 Points
13. Fabian Bauersachs GER DMSB Suzuki 11 Points
14. Vanni Oddera ITA PZM KTM 10 Points
15. Jose Miralles ESP RFME KTM 10 Points