Podmol wins FIM FMX World Championship in Basel
Story & Pictures by Marcus Anstett and Tobias Hannig
Let's start at the beginning: A sold out St. Jakobs Arena on the 2nd day was waiting to see finest Freestyle Motocross in Basel/Switzerland. The qualifying made one thing clear: small mistakes can take you out. So almost every rider performed very safe qualification run. But not Libor Podmol. He did not hide his ambitions and was the only rider with an aggressive qualy run.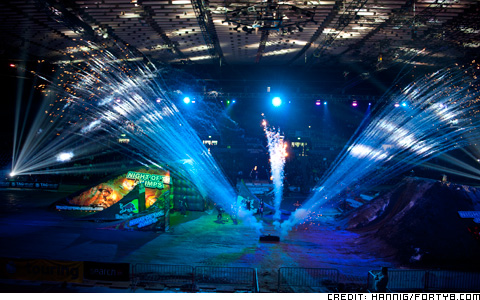 Because of injurys the two Spaniards José Miralles and Maikel Melero could not take part, there was a better chance to get a spot in the final for guys like Hannes Ackerman, Massimo Bianconcini, Martin Koren and Gabriel Villegas – the brother of the 2011 FIM FMX World Champion Javier Villegas.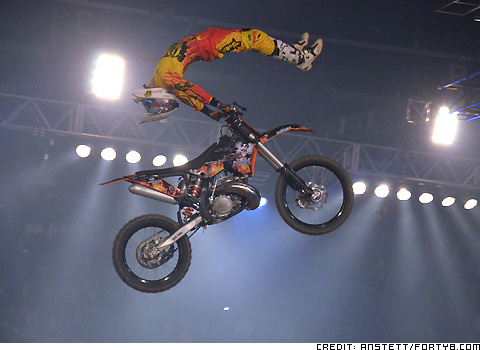 Gabriel Villegas was sent to Basel to replace his brother Javier, who was riding the Red Bull X-Fighters in Dubai this weekend. Gabriel showed a great performance in Basel and almost qualified for a spot in the final in his first ever Night of the Jumps contest.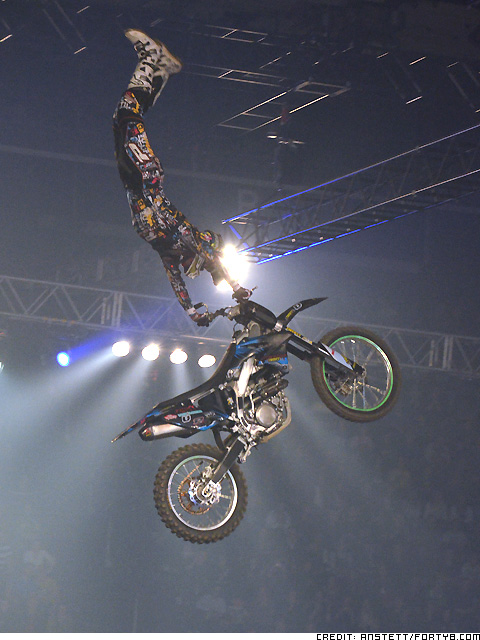 Lukas Weis sadly didn't make it to the finals. He screwed his run and lost his smooth rhythm. A light injury on his hand didn't make it easier. But in the Double-Up he showed his signature 360° – so he was the only rider which did this hardcore trick. If Lukas will find the right flow and does some more technical combos (we know, he can), he has the best chances, to do much better.
Whip contest: Whipmaster Lukas Weis took out his competitors and really whipped ass against Massimo Bianconcini and Gabriel Villegas.



Step up: Two germans battle for the win... Lukas Weis and Luc Ackermann are left for the shoot out. The sensation of the event. 14 year old Luc Ackermann wins the high jump and manages 8 meters. Holy cow – this youngster is getting better and better.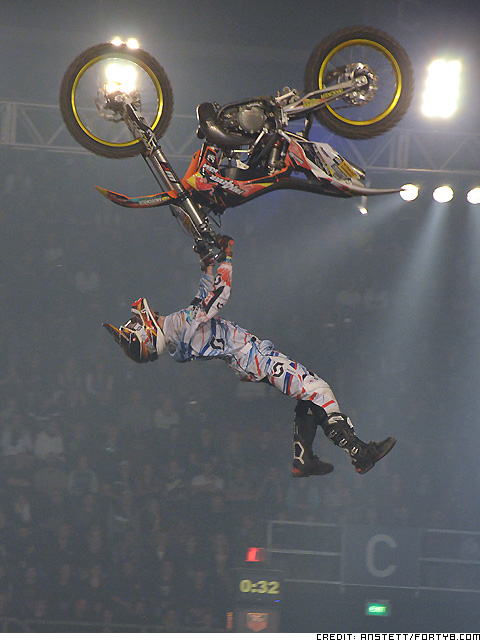 The Finals. First final rider Martin Koren made it back to the NOTJ. 5 years have passed since his last final participation. He performed a solid ride and doubled up with a Tsunami Flip. 346 points – welcome back!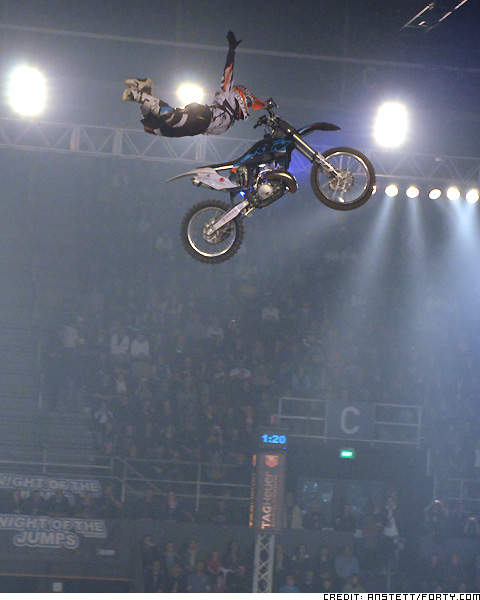 Next rider Hannes Ackermann demonstrated his skills with Can Can Whip flip and doubled his score by landing a cliffhanger backflip. He reached 341 points for his run.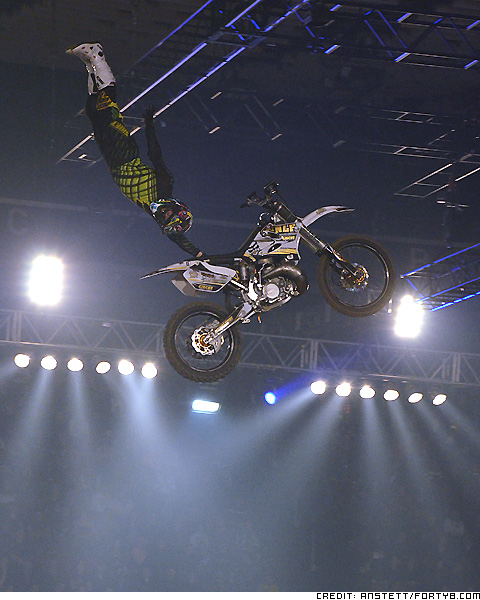 Now it was Izzo time... 1 out of 3 Frenchmen who claimed to win the NOTJ in Basel. Starting with good speed he jumped an Underflip followed by a Tsunamiflip and doubled up with an Underflip Heelclicker. 385 points for his run.


Remi Bizouard opened his final round and showed why he is worlds first double time champion. A strong run with a lot of massive backflips combos like a big Tsunami Backflip, Cliffhanger Backflip, Shaolin Backflip... He doubled with a Hart Attack Backflip, hammered 396 points and took the lead.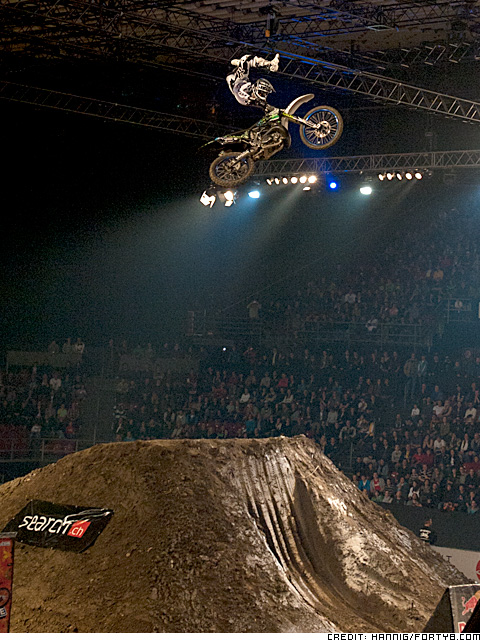 The next French rider David Rivaldo had to show his best to pass Remi. His Heelclicker Backflip and Holy Grab to Double Hart Attack had a good extention. He ended his run with a Seatgrab Backflip a finally got 390 points from the judges.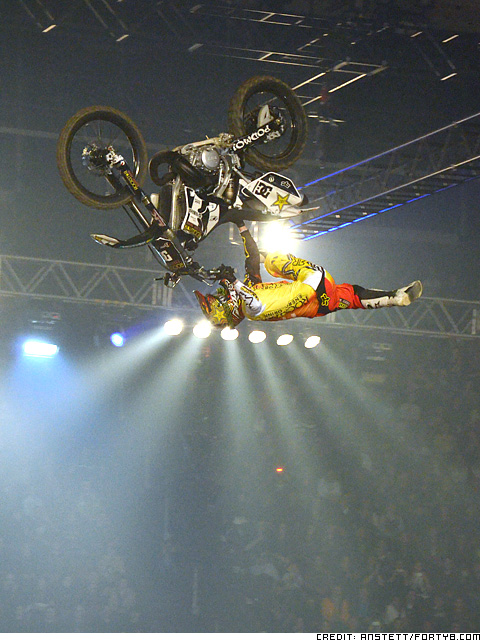 Last but not least – Libor Podmol was the only rider able to stop the French connection which was dominating the event. His complete body language showed, his will to win. Hooking up with a big Clffhanger Backflip, many combos like a Cliffhanger to no hand landing and high risk made his run the best of the show. He doubled up with his Underflip Indian, had good speed and aggressive power. The only rider cracking the 400 with 415 points. Congratulations Libor. Like we mentioned before – that's what it takes.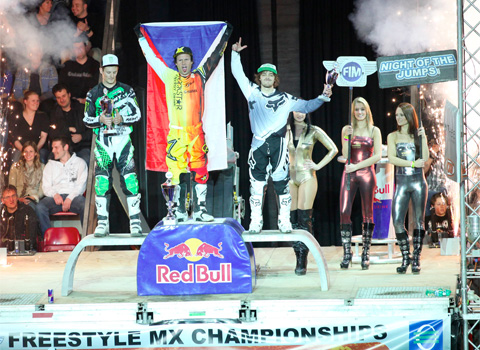 Next NOTJ is in Munich/Olympia Arena – April 28th. You can win 2 x 2 tickets for this event on FORTY8. Be there and don't miss this spectacular event. Ride hard.
FACTS NIGHT of the JUMPs – FIM Freestyle MX World Championships
Basel, April 14 2012 – Round 6

Results NIGHT of the JUMPs – Final
1. Libor Podmol CZE ACCR Yamaha 415 Points
2. Remi Bizouard FRA RFME Honda 396 Points
3. David Rinaldo FRA FFM Yamaha 390 Points
4. Brice Izzo FRA FFM Yamaha 385 Points
5. Martin Koren CZE ACCR KTM 346 Points
6. Hannes Ackermann GER DMSB KTM 341 Points
Results Qualification
1. Libor Podmol CZE ACCR Yamaha 345 Points
2. David Rinaldo FRA FFM Yamaha 342 Points
3. Remi Bizouard FRA RFME Honda 330 Points
4. Brice Izzo FRA FFM Yamaha 318 Points
5. Hannes Ackermann GER DMSB KTM 317 Points
6. Martin Koren CZE ACCR KTM 309 Points
7. Gabriel Villegas CHL FMC KTM 304 Points
8. Ivan Zucconi ITA PZM KTM 298 Points
9. Massimo Bianconcini ITAL PZM KTM 296 Points
10. Lukas Weis GER DSMB Suzuki 250 Points
11. Aleksey Koleshnikov RUS MFR KTM 212 Points
Results Whip Contest
1. Lukas Weis GER DSMB Suzuki
2. Massimo Bianconcini ITAL PZM KTM
3. Gabriel Villegas CHL FMC KTM
Results MAXXIS Highest Air
1. Luc Ackermann GER 8,00 Meter
2. Lukas Weis GER 7,80 Meter
3. Massimo Bianconcini ITA 7,40 Meter