NIGHT of the JUMPs Munich


The Bavarian Battle Zone – Conquered by Remi Bizouard
Story & Pictures by Marcus Anstett and Tobias Hannig
Back in Munich for the second time with the three FIM Freestyle MX World Champions Villegas, Podmol and Bizouard. The very first hot day in the year with more than 30° Celsius the NOTJ promissed to be smoking hot. Everyone of the 9.000 spectators could feel that the heat was on in the Olympic Arena...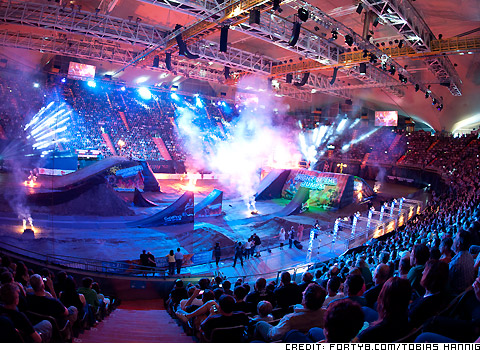 Qualification
Compared to the NOTJ in Basel every Rider shaped up and performed a more dynamic first run. So the overall impression was that there will be some close decisions for the judges to find the finalists.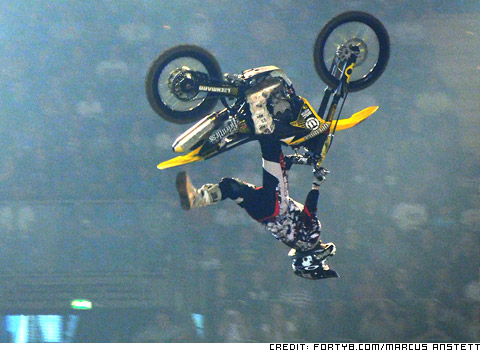 On out of three German Riders - Kai Haase opened the show with an solid run and performed a stylish NacNac Flip, but overall the hard combos were missing. So he only received 225 points from the judges.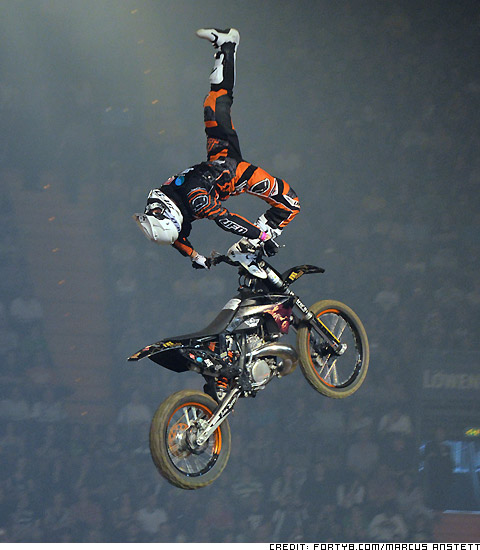 Ivan Zucconi came up to show us what his repertoire has to offer. His run contained an extended stripper such as a Cordoba Flip and a Superflip. His Score: 278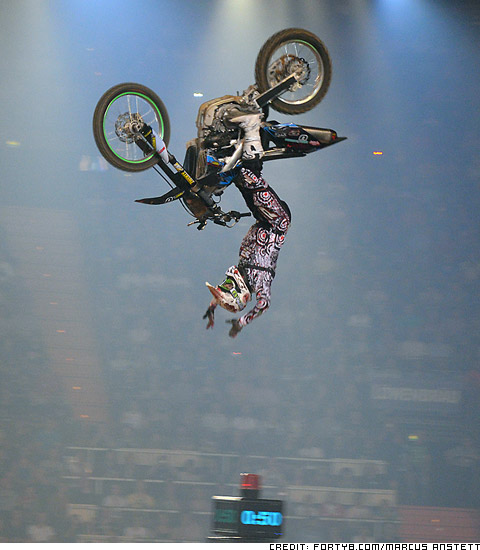 Next Rider and Local Hero was Lukas "Whipmaster" Weis. He showed his total motivation to rock the house and shook ground by landing a fat Tsunami. Followed by Flintstone, Nohanded Flip and of course his signature 360. He took the lead for that moment with 282 points.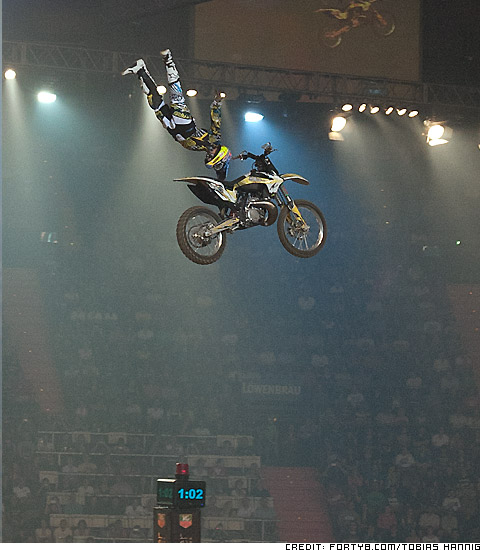 Now Maikel Malero entered the arena and started his energetic run with a big Tsunami, Seatgrab Flip and a massive Onehand Indy to Rocksolid. It looked like he was on fire. But he crashed after his big Flintstone and could not resume to his run. Unlucky he got injured after his bail. We wish him to get well soon. 254 points for his run.
Martin Koren was the next rider and managed several Flip combos like Heel Clicker, No Hand and Tsunami. A big Whip and Kiss of Death made his good run worth 315 points.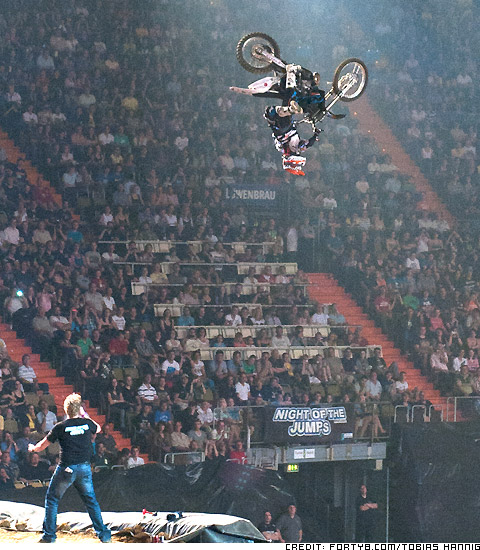 The third German, Hannes Ackermann wanted to impress the judges with a big Holy Grab to Double Heartattack. He comboed a good extended Tsunami Indy Flip and landed a fat Heel Clicker Flip. A very good run which got him into the finals bcause he doubled up with a Cliffhanger Flip. 308 points.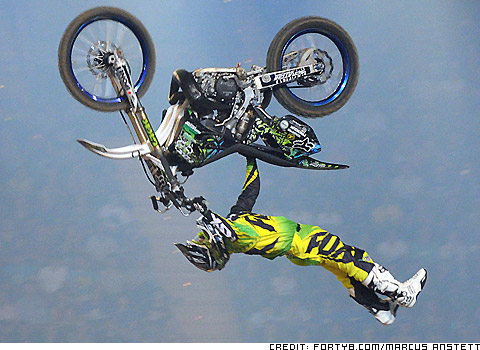 David Rinaldo started with a Tsunami over the 26 meters ramp with good extension. A Heel Clicker Flip and an Airplane followed and he finished with a Seatgrab Flip the double up. 340 points for that and welcome to the final.



Libor Podmol started his run like always... A lot of power and many combos like Heelclicker- to Superflip. A huge Cliffhanger to nohanded landing followed and then he made two Dead Sailors. He doubled with his Underflip. After his run he mentioned not to feel so good. But the judges gave him 287 points. That must've been like medicine to him.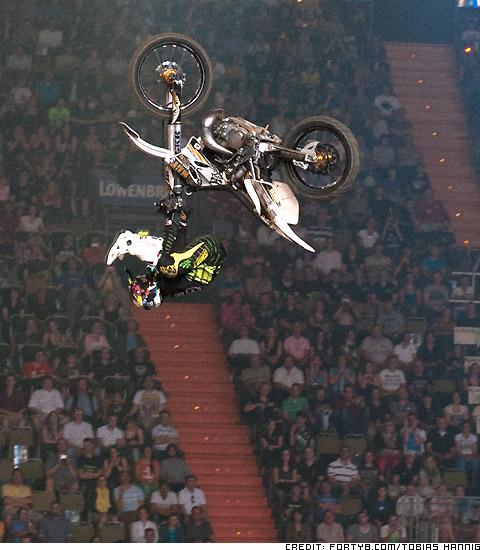 Brice Izzo wanted to make it into the finals with a good and stylish run. He landed a Deadbody, an Underflip, showed a big Whip and doubled with his Tsumami Flip. 313 Points.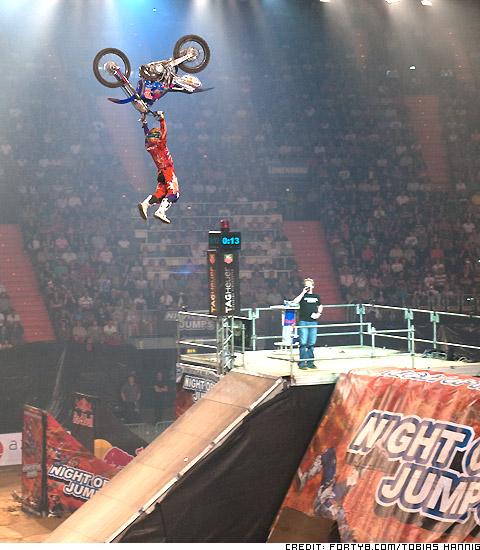 Back from the X-Fighters, Javier Villegas entered and slipped. But after standing up he fired his engine up again and started his run. Is someone nervous? No! Because he did not seamed to be impressed by this bail. Proving his skills with a massive Rocksolid, Tsunami Flip and doubles up with his Suicide Nohand Flip. 360 points for his fast and good run.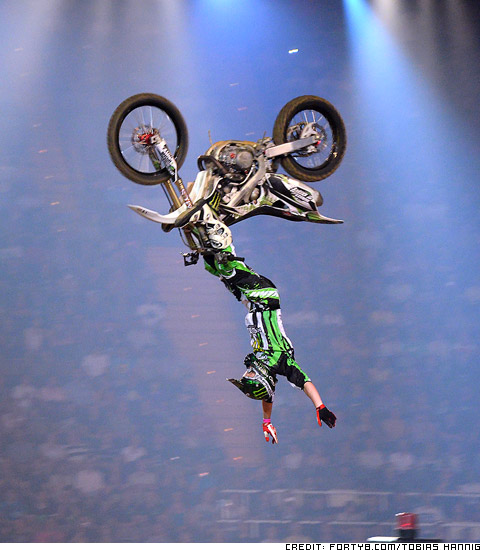 Remi Bizouard hammered his Quali run to the top with nice Flip Combos like a Cliffhanger and a Barhop. He landed a Holy Grab and 360 and claimed his ambitions to win tonights event. 362 points – the lead.
MTB Dirt Jump
Turndown, Tailwhips, Back- and Frontflips: These riders have no engine, but they can fly. Let me tell you this was not a fill for the break. The arena cheered for them and did not leave their seats. That was really enjoyable.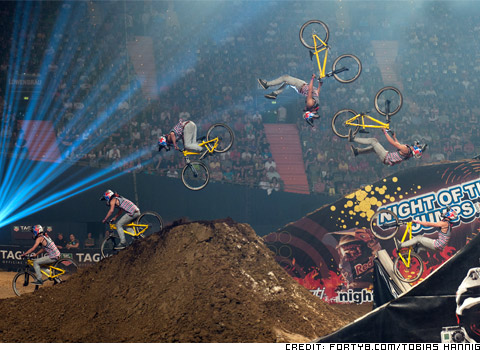 Nico Scholze – Kiss of Death Flip

Best Whip
A great battle between Javier Villegas, Kai Haase and the "Whipmaster" Lukas Weis. Lukas made it again showing his awesome Whip skills and declassed his opponents.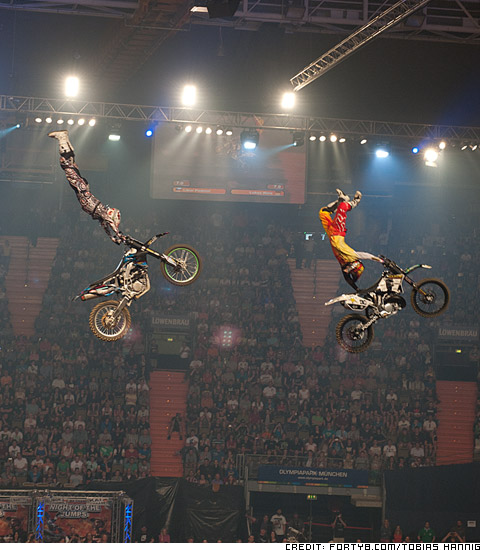 Race & Style
Youngster Luc Ackermann joined in and had to race against Lukas Weis. But Lukas Weis made no compromise and showed in a hard and fast run why is the former German SX2 Champ. So Luc Ackermann had no chance for the win. The final against Libor Podmol was also dominated by Lukas and – so he won the Race & Style Contest. Well done.


Final
Hannes Ackermann did it again – he qualified for the final 6 – pounding massive Flip combos like No Hand and Heel Clicker into the ground. He doubles up with his Cliffhanger Flip and gets 326 points.
Martin Koren's run contained serveral Flip Combos, a big 9 o'clock and in the double up was a Tsunamiflip. Finally he earned 292 points.
Brice Izzo showed a nearly perfect run with tricks like a Cordova Flip, Onehand Hart Attack, Turndown Whip and doubled up with a Heelclicker Underflip. 355 points.
David Rinaldo also claimed his will to get a lot of points by landing a Onehand take off Flip, Tsunami, Cordoba Flip, Holygrab to Double Hart Attack and ended his run with a Seatgrab Flip. He took the Hot Seat with 374 points for that moment and had to watch the two hardest competitors of the evening.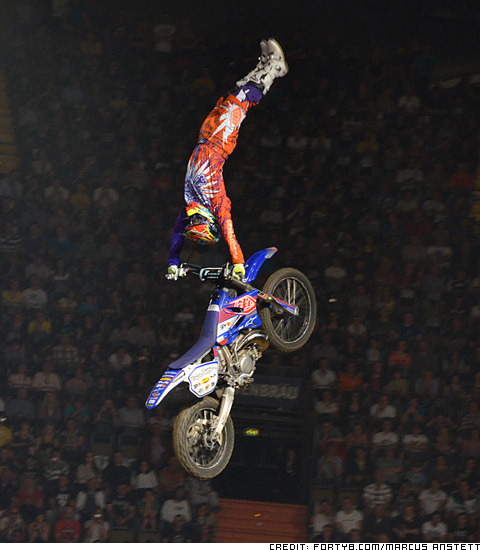 Now the current Champion Javier Villegas from Chile entered. His strong run really looked hard to beat. Cordovaflip, Tsunami, Rock Solid, Tsunami Flip ... And finally he doubled up with his signature Nohanded Suicide Flip. The new leader with 405 points.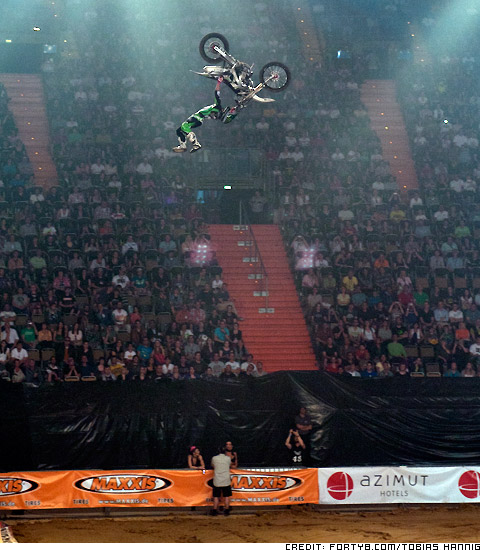 Former two time world champion Remi Bizouard had to show the best run of the day to beat Villegas. And he did. Tsunami Flip, 360 and a Shaolin Flip, Sideshow with great airtime made him the winner. He doubled with a Hart Attack Flip and got 419 points.
It was a great happening and we hope the fans won't forget to come back next year to enjoy the stunning skills of these athletes, that risk their health to make us have a good time. Thank you!
Next NOTJ is in Mannheim/SAP Arena – May 12th. You can win 2 x 2 tickets for this event on FORTY8. Be there and don't miss this spectacular event. Ride hard.

FACTS NIGHT of the JUMPs
Munich, 28th April 2012

Results NIGHT of the JUMPs – Final
1. Remi Bizouard FRA FFM Honda 419 Points
2. Javier Villegas CHL FMC Yamaha 405 Points
3. David Rinaldo FRA FFM Yamaha 374 Points
4. Brice Izzo FRA FFM Yamaha 355 Points
5. Hannes Ackermann GER DMSB KTM 326 Points
6. Martin Koren CZE ACCR KTM 292 Points

Results Qualification
1. Remi Bizouard FRA FFM Honda 362 Points
2. Javier Villegas CHL FMC Yamaha 360 Points
3. David Rinaldo FRA FFM Yamaha 340 Points
4. Martin Koren CZE ACCR KTM 315 Points
5. Brice Izzo FRA FFM Yamaha 313 Points
6. Hannes Ackermann GER DMSB KTM 308 Points
7. Libor Podmol CZE ACCR Yamaha 287 Points
8. Lukas Weis GER DMSB Suzuki 282 Points
9.Ivan Zucconi ITA PZM KTM 278 Points
10. Maikel Melero ESP RFME Yamaha 254 Points
11. Kai Haase GER DMSB Suzuki 225 Points
Results Maxxis Race & Style Contest
1. Lukas Weis GER DMSB Suzuki
2. Libor Podmol CZE ACCR Yamaha
Results Whip Contest
1. Lukas Weis GER DMSB Suzuki
2. Kai Haase GER DMSB Suzuki

NIGHT of the JUMPs World Ranking
1. Remi Bizouard FRA FFM Honda 421 Points
2. Libor Podmol CZE ACCR Yamaha 316 Points
3. Javier Villegas CHL FMC Yamaha 296 Points
4. Jose Miralles ESP RFME KTM 291 Points
5. Brice Izzo FRA FFM Yamaha 286 Points
6. David Rinaldo FRA FFM Yamaha 255,5 Points
7. Maikel Melero ESP RFME KTM 206 Points
8. Massimo Bianconcini ITAL ACCR KTM 190,5 Points
9. Hannes Ackermann GER DMSB KTM 174 Points
10. Petr Pilat CZE ACCR KTM 165,5 Points
11. Josh Sheehan AUS MA Honda 160 Points
12. Fabian Bauersachs GER DMSB Suzuki 147,5 Points
13. Lukas Weis GER DMSB Suzuki 107,5 Points
14. Romain Izzo FRA FFM Yamaha 57,5 Points