NIGHT of the JUMPs in Mannheim


French triple triumph with European champion Bizouard on top
Story by Oliver Franke and Tobias Hannig
Mannheim, 12th May 2012: The third round of the UEM Freestyle MX European Championships was certainly the most exciting NIGHT of the JUMPS that Mannheim has ever experienced. The 12 extreme riders from six nations literally brought the house down at the SAP Arena with a salvo of tricks just as impressive as the fireworks produced by Rammstein's pyrotechnics crew at the opening ceremony.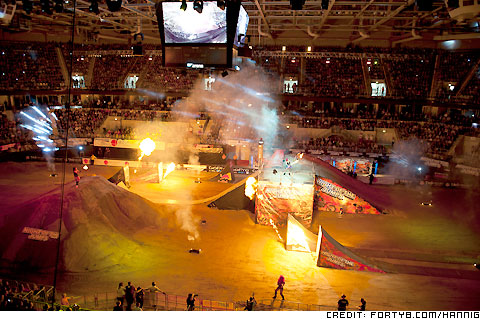 The German freestyle elite of Hannes Ackermann, Fabian Bauersachs, Lukas Weis and Kai Haase did their level best to put their stamp on qualifying and outflank the international FMX crew of Remi Bizouard (FRA), Libor Podmol (CZE), Brody Wilson (USA), Brice Izzo, David Rinaldo (both FRA). They made a valiant effort to secure as many places in the final as possible and fly the flag for Germany but not one of them succeeded. Lukas Weis looked to have the best chance. Placed seventh, he missed the finals by the narrowest of margins but clinched victory in the Whip contest.


Fabian "the Professor" Bauersachs decided to close his active career 2012 and makes a lap of honor by riding selected events to say Goodbye to his fans. Fabian Bauersachs - thank you so much for the great FMX action the last 12 years. Good luck for the next chapter in your life!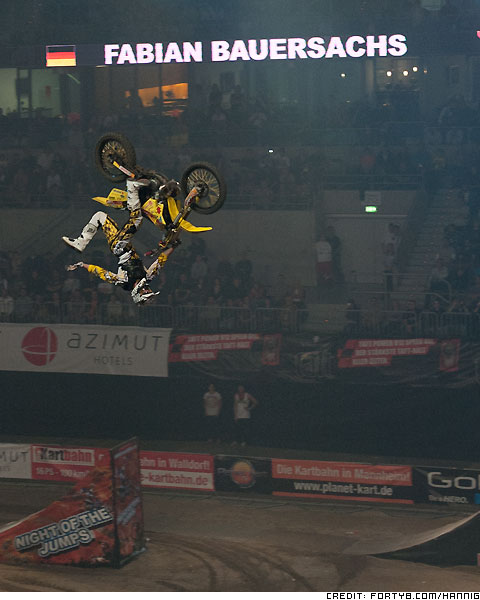 Led by Berliner Kai Haase and 14-year-old Luc Ackermann from Thuringia, the German contingent also dominated the Maxxis Highest Air competition. Haase took the honours in a thrilling contest with a jump of 8.00 metres to Ackermann's 7.50 metres.

Hannes Ackermann made a small mistake during his qualification run and didn't extend his Cliffhanger Flip in the double up. The other tricks like the Holygrab and the Nohanded Flip looked big as always.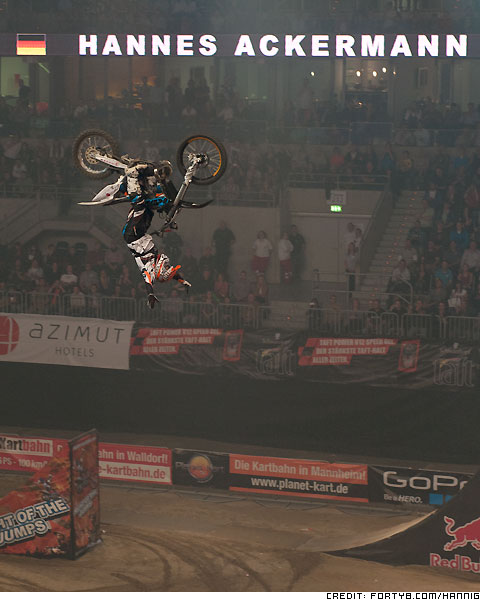 Lukas "Whipmaster" Weis was in great shape and showed an aweseom performance in Mannheim. He almost qualified for the final - only 9 Points were missing to beat Ivan Zucconi from Italy.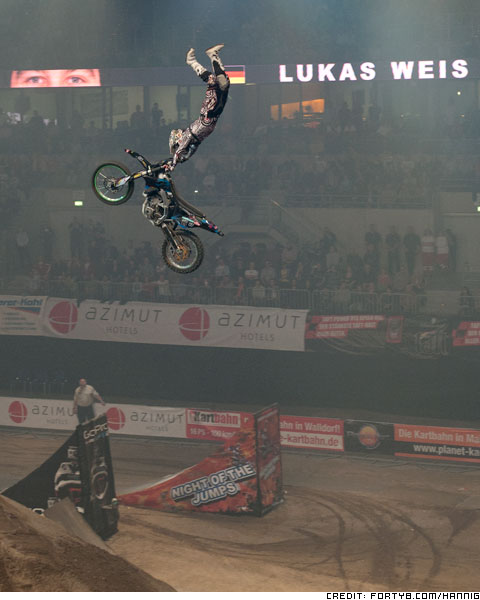 Spanish newcomer Pedro Moreno, U.S. returnee Brody Wilson, Libor Podmol and the three French riders Brice Izzo, David Rinaldo and Remi Bizouard fought it out in the NIGHT of the JUMPS final. Moreno, Wilson and Podmol pulled out all the stops to prevent a French triple victory but in vain.


Another spaniard showed up at the NOTJ in Mannheim. Pedro Moreno qualified for the final in his first ever NOTJ contest attendance - congratulations! Pedro rode clean and showed tricks like Ruler, Oxecutioner, several Flip Combos and is on the best way to get a fixed place in the series.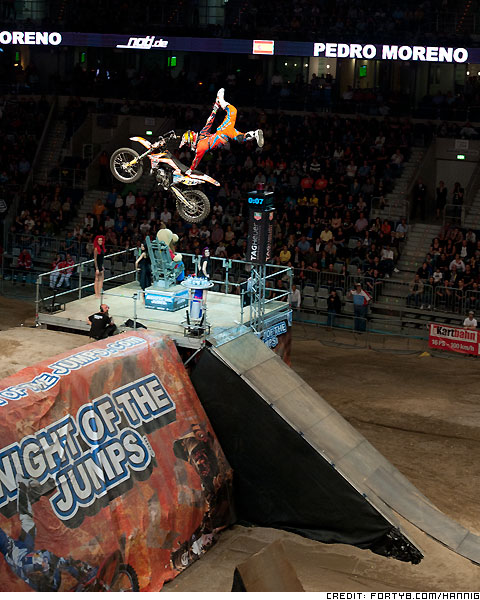 US rider Brody Wilson is back on a 4-stroke Honda since two weeks nowand looked great on the new bike. He ended up in 5th place in the final. He showed his great extended Ruler and Flip tricks like Switchblade and Heelclicker.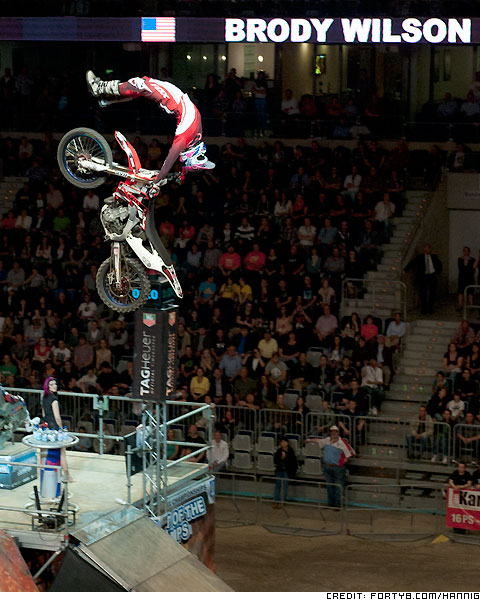 Firing on all cylinders, the French trio were not about to let any mistakes spoil their runs. Izzo was consigned to third place as Rinaldo pulled a Superman Seatgrab Flip, and then followed through with a new Coffin Backflip. But Rinaldo could do nothing to counter Bizouard's Ruler Flip, Cliffhanger Flip, 360, and Hart Attack Backflip – a perfect combination done to perfection that had victory written all over it.
Yes, Libor Podmol is the man. After spending almost the whole week with the video premiere of his film Tomorrow Will Be Better Libor was a bit tired. Nevertheless he qualified for the final and finished in a great 4th place.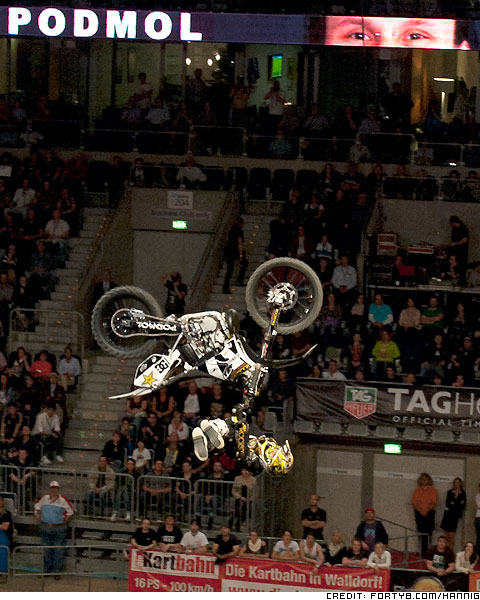 Brice Izzo showed a clean run as always and placed 3rd in the final doing his signature trick Cordova Backflip and Underflip Heelclicker.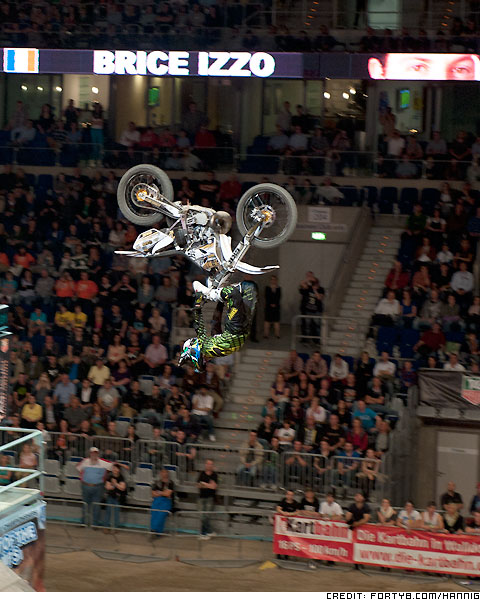 David Rinaldo rode smart and consistant with uge tricks like Holygrab, Crack Nac and Seatgrab Flip. The results is a great 2nd place behind his buddy Remi Bizouard.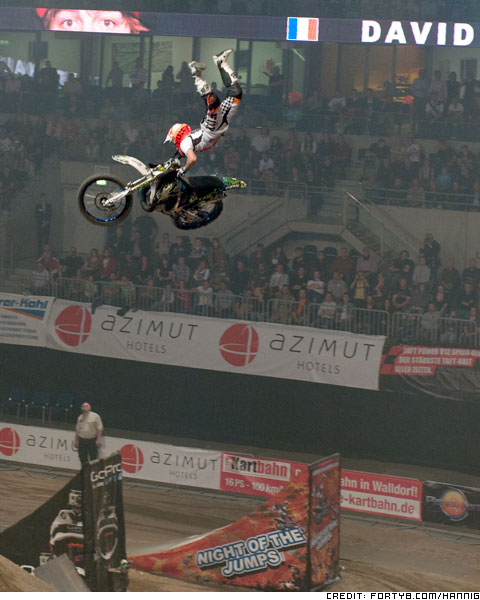 This guy is almost unbeatable, if he doesn't fail. The two time IFMXF FIM World Champion Remi Bizouard showed a bag of all his big tricks like 360°, Rulerflip, Shaolinflip and of course the Hart Attack Flip.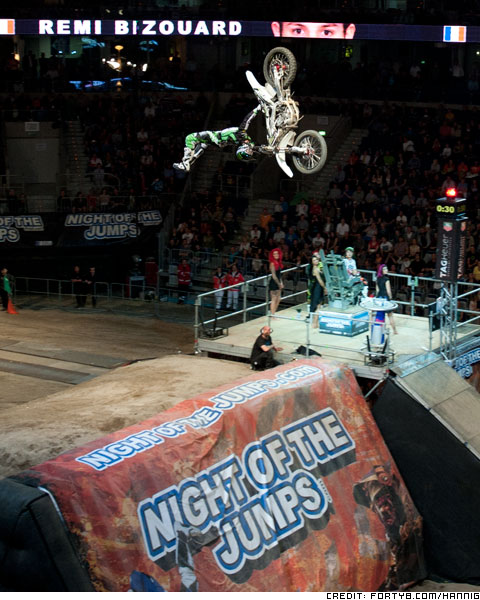 NIGHT of the JUMPS continues on 15th-16th June when Rounds 7 and 8 of the FIM Freestyle MX World Championship get underway in the Russian city of Togliatti.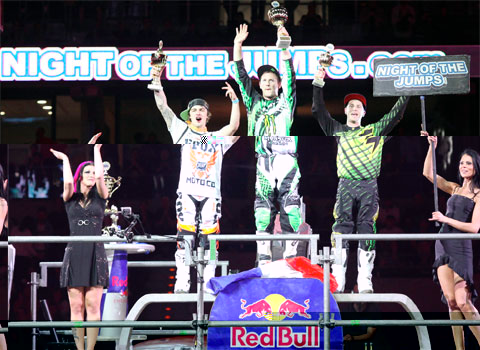 As a result of his win in Mannheim, Bizouard secured the lead in the UEM Freestyle MX European Championship and so successfully defended his European title. Brice Izzo took second place in the standings. Although he missed out on a place in the finals at Mannheim, Hannes Ackermann was the best German rider, finishing in fifth position.

FACTS
NIGHT of the JUMPs/UEM Freestyle MX European Championships
Mannheim, 12. Mai 2012 – Runde 3

Results NIGHT of the JUMPs – Final
1. Remi Bizouard FRA FFM Yamaha 396 Points
2. David Rinaldo FRA FFM Yamaha 380 Points
3. Brice Izzo FRA FFM Yamaha 378 Points
4. Libor Podmol CZE ACCR Yamaha 375 Points
5. Brody Wilson USA MA Yamaha 320 Points
6. Pedro Moreno ESP RFME KTM 314 Points

Results Qualification
1. Remi Bizouard FRA FFM Yamaha 345 Points
2. David Rinaldo FRA FFM Yamaha 327 Points
3. Brice Izzo FRA FFM Yamaha 314 Points
4. Libor Podmol CZE ACCR Yamaha 307 Points
5. Brody Wilson USA MA Yamaha 299 Points
6. Pedro Moreno ESP RFME KTM 291 Points
7. Lukas Weis GER DMSB Suzuki 282 Points
8. Ivan Zucconi ITA PZM KTM 269 Points
9. Hannes Ackermann GER DMSB KTM 258 Points
10. Kai Haase GER DMSB Suzuki 239 Points
11. Fabian Bauersachs GER DMSB Suzuki 209 Points
Results Whip Contest
1. Lukas Weis GER DMSB Suzuki
2. Kai Haase GER DMSB Suzuki
3. Libor Podmol CZE ACCR Yamaha
Maxxis Highest-Air
1. Kai Haase GER DMSB Suzuki 7,50 Meter
2. Luc Ackermann GER KTM 7,00 Meter
3. Ivan Zucconi ITA PZM KTM 6,50 Meter

UEM Freestyle MX European Championships
Ranking (after 3rd contest)
1. Remi Bizouard FRA FFM Yamaha 56 Points
2. Brice Izzo FRA FFM Yamaha 40 Points
3. Javier Villegas CHL FMC Yamaha 40 Points
4. Jose Miralles ESP RFME KTM 28 Points
5. Hannes Ackermann GER DMSB KTM 26 Points
6. Petr Pilat CZE ACCR KTM 24 Points
7. Massimo Bianconcini ITA PZM KTM 20 Points
8. David Rinaldo FRA FFM Yamaha 18 Points
9. Kai Haase GER DMSB Suzuki 12 Points
10. Clinton Moore AUS MA Yamaha 18 Points
11. Thomas Wirnsberger AUT OSK Yamaha 16 Points
12. Libor Podmol CZE ACCR Yamaha 14 Points
13. Brody Wilson USA MA Yamaha 12 Points
14. Martin Schenk AUT OSK Yamaha 11 Points
15. Maxime Gregoire FRA FFM Yamaha 10 Points