Istanbul canceled due to heavy gusts of wind
The Red Bull X-Fighters event in Istanbul was canceled on Saturday due to heavy gusts and crosswinds. The massive effort to set up the location in the old town of Istanbul in record time of three days after it had to be moved from the Yedikule Dungeons castle went unrewarded.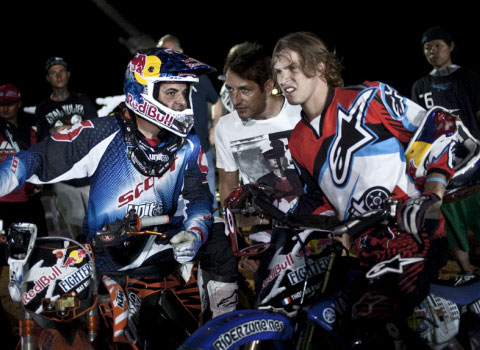 Mat Rebeaud and Tom Pages during the training

ISTANBUL, Turkey – The first-ever Red Bull X-Fighters event in Turkey had to be canceled due to heavy winds that gusted up to 45 kph. The $1 million six-stop 2012 World Tour will thus be reduced to five stops. Heavy gusts of winds coming from different directions proved to be too treacherous to go forward with the competition and all 12 riders voted unanimously to cancel it after a two-hour wait in vain for the winds to die down.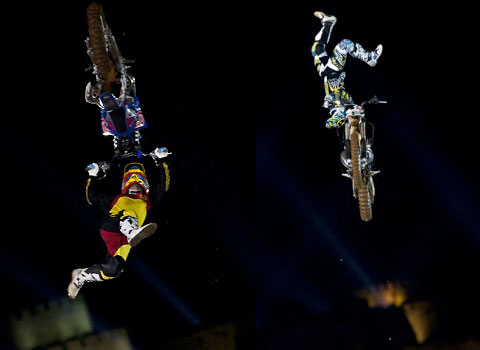 Javier Villegas and Maikel Melero
Sports director Tes Sewell said. "At this level of competition you do not have any room for mistakes. If your motorcycle is blowing off the course it may cause you to land sideways or not get the wheels down. And if you're detached from the motorcycle and it gets blown, then you might not be able to get back to it. So wind is a huge factor. "
"The number one priority for us is the safety of the athletes," Sewell added. "What the 12 best FMX riders do takes an incredible amount of skill and precision and it can be very dangerous when it goes wrong. For all of us it's disappointing not to be able to give the Turkish fans the pinnacle of this sport and show them the highest level of Freestyle Motocross."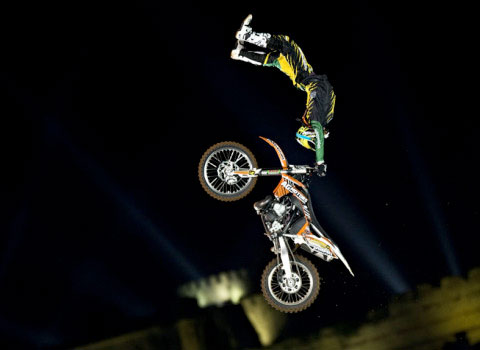 Jey Rouanet was ready to show his skills
Heavy winds had buffeted the location and repeatedly forced the cancellation of training sessions in recent days as well as Qualifying, which after several delays was scrapped on Saturday morning. The riders jump up to 15 meters high on their motorcycles and are airborne for distances covering up to 30 meters.


Crew members had worked heroically around the clock for several days to move the event location from the original site inside the Yedikule Dungeons after local authorities revoked their permits to an area just outside the castle near the seaside. Moving tons of dirt and the entire race infrastructure in such a short time was a Herculean effort but the track was up and ready for the event before the heavy winds set in.
The next stop of the 2012 World Tour will be in Madrid on July 20 at the Plaza de Toros de las Ventas, an iconic bullring that has been on the Red Bull X-Fighters calendar for more than a decade. The tour then moves on to Munich, Germany on August 11 before concluding in Sydney, Australia on October 6.
Check out the video clip: