NOKIA AIR & STYLE Games | MUNICH/GER
Saturday, December, 3rd 2005
21.000 spectators went to the Nokia Air & Style Games which celebrated it's premiere in the Olympic Stadium in Munich. This amazing event is a mixture between extremesports and music entertainment. A range of the worlds best Snowboarders and Freestyle Motocross riders were invited to battle for the Air & Style Games title. Also big music acts like U.S star XZibit and the german band Sportfreunde Stiller were performing in the stadium.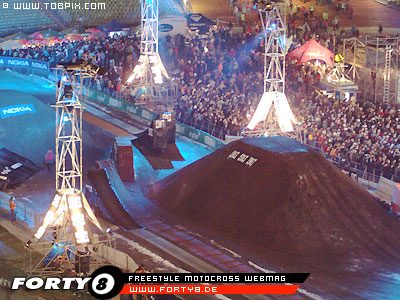 Big names like Nate Adams (winner X-Fighters Madrid 2005), Jeremy Stenberg (X-Games Best Trick gold medalist 2005), Ronnie "Who is your daddy?" Renner (winner X-Fighters Mexico 2005) and Drake McElroy (Mr. Style with uncountable IFMA wins) came over from the the USA. But the Euros wanted to show the US-boys, that they are on the same level. Ailo Gaup from Norway, who successfully competed at the Mtn. Dew Tour in the USA. , was the european top favorite. Also the pleasant partyman Alvaro Dal Farra/Italy from the Da Boot Crew and the german riders Busty Wolter and local Tobias Immler were invited. Reserve riders were local Skywalker Luki Weis and Massimo Bianconcini from Italy, who also showed their skills during the demo session.
So let's talk about the FMX Contest ...
1st round
Tobias Immler had to ride against Jeremy Stenberg. Due to a misunderstanding Tobi did some test jumps at the beginning. But the run was already started. So Tobi couldn't perform his top-range of tricks.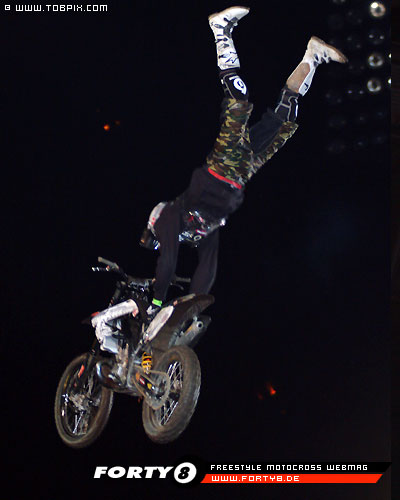 Tobias Immler doing a Double Hartattack

Jeremy exploded on the track. He rode fast, smooth and had a great style doing several flip and grab tricks. So Twitch moved into the next round.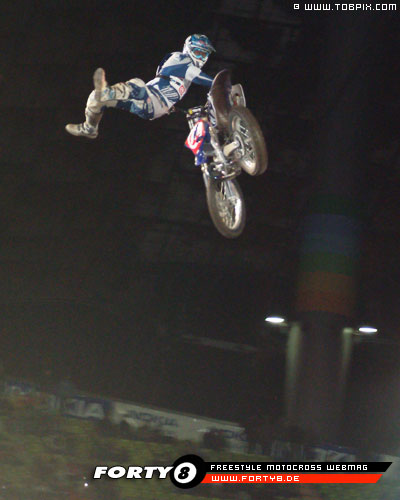 Jeremy Stenberg doing a Catnac Indian
The next battle was between Ronnie Renner and Busty Wolter. Ronnie looked motivated on the bike. He made some nice Catnac variations and showed a longdistance backflip.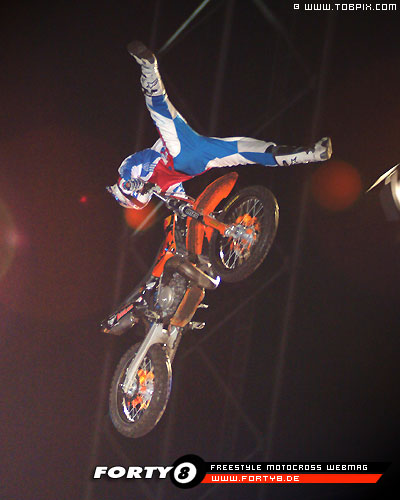 Ronnie Renner with a sick Deadbody Shaolin

Busty had some ups and downs during his run. He did some sweet tricks, but unfortunately he made some mistakes. So Busty was out and Ronnie in the next round.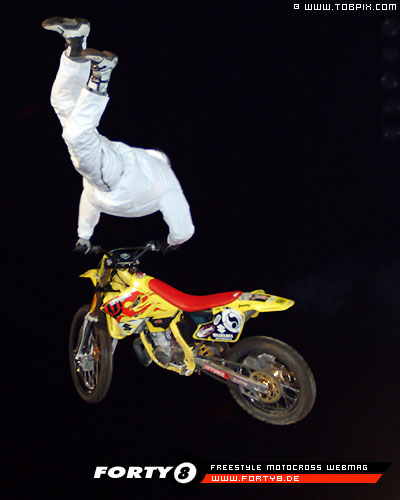 Busty Wolter with a sweet Catnac
Then Alvaro dal Farra had to compete against Ailo Gaup. The pleasant partyman from Italy made a smooth run with sick tricks like Holygrab, Rock Solid, Cliffhanger etc.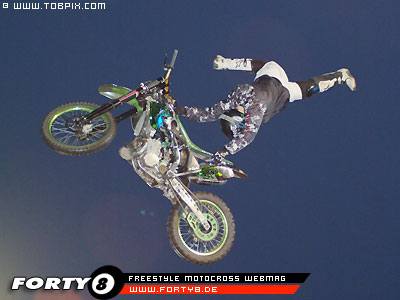 Alvaro doing a Helicopter

But Ailo was unbeatable riding high-leveled with different flip combos and hard tricks. So Ailo went into the next round.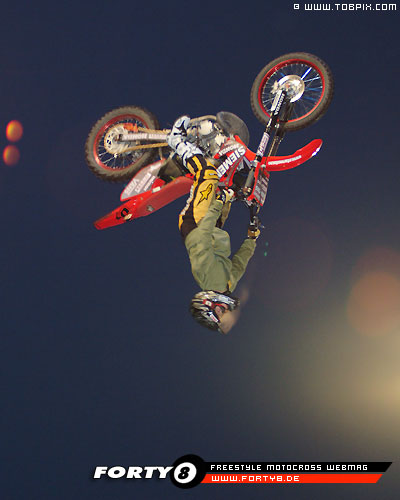 Ailo Gaup with a Backflip
The last battle in the 1st round was "flipper" Nate Adams against "nonflipper" Drake McElroy. Nate rocked the stadium and performed a clean run with FMX at its' best. Drake didn't look as smooth as usual and couldn't pass it into the next round.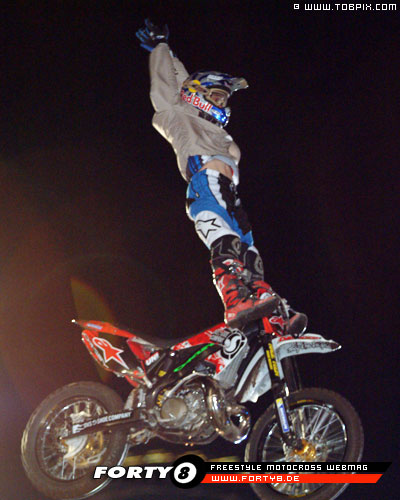 Drake Mc Elroy with his signature Cliffhanger
2nd round
The best 4 riders remained. Renner had to ride against Stenberg. It was really tight. Both showed a huge range of different tricks, but Twitch made it into the final.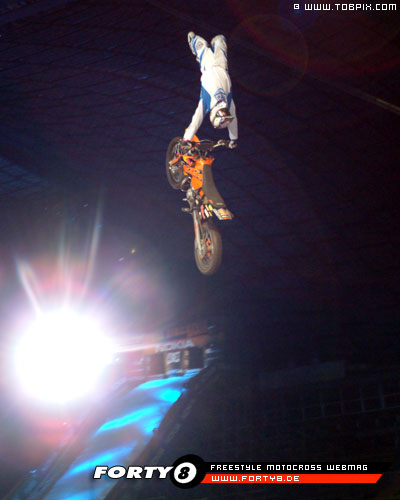 Ronnie Renner doing a sweet Ruler
Then Gaup vs. Adams. Both riders have complete different styles. Nate did a lot flip variations, different grabs and Cracknac.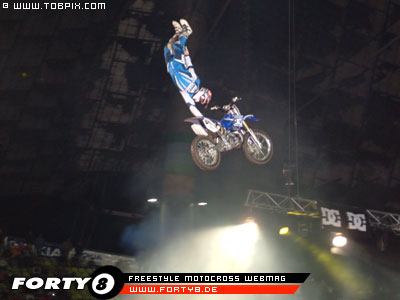 Nate Adams with a Onehanded Hart Attack

Ailo did also some nice Flips-combos, Bartricks and a sick flatliner. It was really close in the end. But Nate was the lucky one and qualified for the final.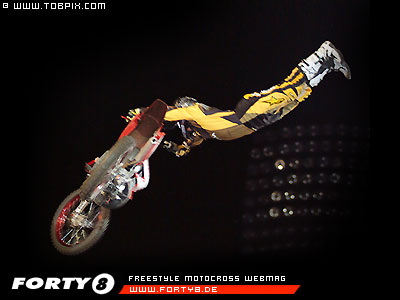 Ailo Gaup with a sick Flatliner
Battle for 3rd place
Renner vs. Gaup. Ailo rode good again and saved the european glory winning the small final against Ronnie. Ronnie also did a perfect run with an awesome Ruler and an Onehanded Flip.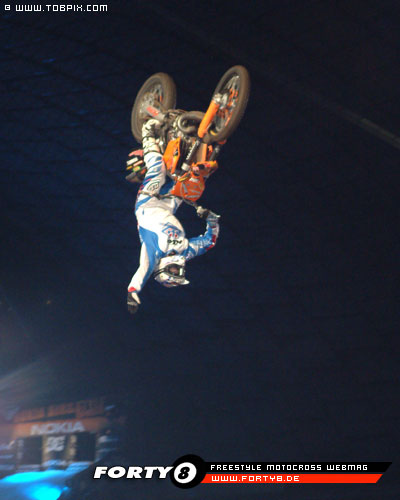 Ronnie Renner with a Onehand Backflip
The Final
An U.S. final with Adams and Stenberg. The 21.000 spectators were excited to watch the final battle between the 2 best riders of the day. It was a backflip mania.



Twitch with an Onehand Backflip to Onehand landing.

Both showed a lot backflip variations and the crowed was cheering. Nate rode a bit more clean than Twitch and took home the title Nokia Air & Style Games winner 2005.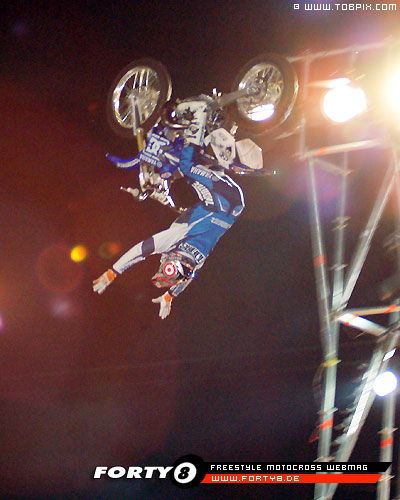 Nate Adams - Nohanded Backflip!

NOKIA AIR & STYLE Games | Dec. 3rd, 2005



Results FMX

1. Nate Adams, USA
2. Jeremy Stenberg, USA
3. Ailo Gaup, Norway
4. Ronnie Renner, USA