Goodwood Festival of Speed


German brothers on the GAS!
German brothers Hannes and Luc Ackermann joined fellow freestylers and action sports stars from around the globe to showcase the sport to a massive mainstream audience in the GAS Arena at this year's world-famous Goodwood Festival of Speed.
After last year's successful debut, GAS – that's Goodwood Action Sports – went even bigger for 2012 with five huge freestyle ramps, a reworked trials course, two super-technical BMX dirt jump runs, a raised BMX flatland platform and the pedal-powered might of the Animal Bike Tour team.
Luc Ackermann and Jamie Squibb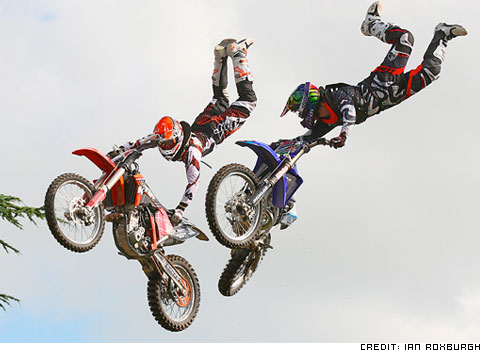 And the GAS athletes – hand-picked from the ranks of the biggest action sports stars on the planet – responded to their all-new beefed-up playground by putting on a series of shows that left festival visitors open-mouthed at their sublime skills, commitment, courage and cojones as sporadic strong winds and at times heavy rain combined to push them to the limit.
Each day saw two hour-long performances that showcased the separate sports before the athletes came together for a free-for-all jam session with a FMX best trick jump-off closing the show in the evening.
Hannes Ackermann with a nice Sideshow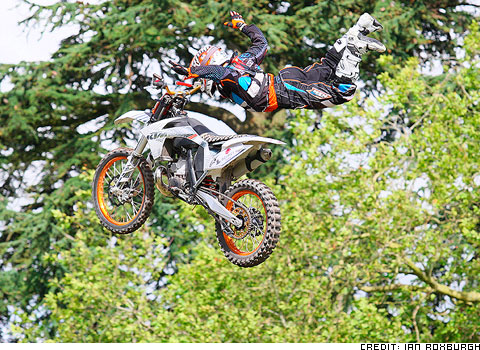 For the first time a serious competitive element was included in the show and in Sunday's finale 14-year-old Luc impressed the crowd and the judges to finish in a fighting third behind American Brody Wilson and Japanese X-Fighters regular Eigo Sato.
"We are having a lot of fun at GAS and it's a nice show," says Luc. "It's pretty nice to see different sports and we're all having a lot of fun together. I've never seen anything like it before with trials and BMX and mountain bikes. And there are so many people watching."
Libor Podmol and Luc Ackermann in the Tsunami Battle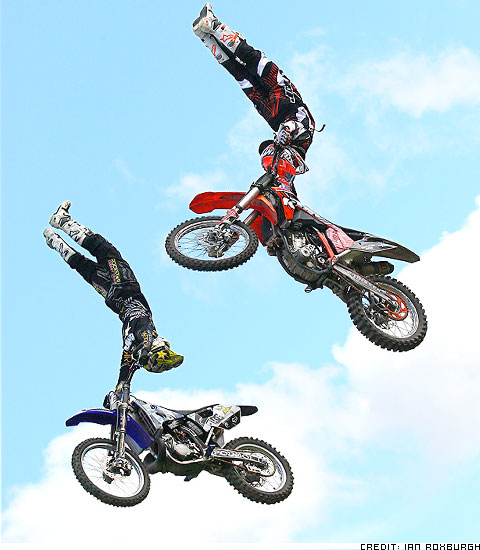 "It's been a bit windy but we've managed it and the show's been good," adds Hannes. "The crowd have been awesome. It's cool to be part of such a big show with so much going on."
Built around what was originally a classic hill climb event, the Goodwood Festival of Speed has grown to become the biggest event of its kind in the UK and possibly even the world where Formula 1 stars including Sebastian Vettel and Jenson Button rub shoulders with motor racing greats past and present, showbiz celebrities and the general public.
Hannes Ackermann doing a huge Crack Nac
All the major car manufacturers are represented with some spending millions of pounds building elaborate showrooms which are then torn down and packed away after the four-day event. Where else can you see chromed Ferraris, brand-new Rolls Royces and money-can't-buy one-off Aston Martins sharing space with '60s F1 cars, '70s factory rally cars and the latest budget machines from Fiat and Skoda?
The winners of the Best Trick Contest: Luc Ackermann, Brodie Wilson and Eigo Sato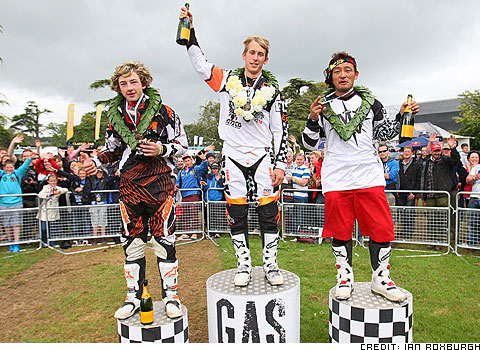 This year's Festival of Speed attracted a record 185,000 visitors over the four days giving Luc and Hannes - alongside fellow freestylers Sato, Wilson, Libor Podmol, Petr Pilat, Fredrik Berggren and Brits Jamie Squibb and Dave Wiggins – the chance to show off their sport to huge numbers every day.