Tom Pages wins Red Bull X-Fighters in Munich


The french non-flipper dazzles Munich with three magical tricks
Story by Tobias Hannig and Red Bull | Pictures: Tobias Hannig / tobpix.com

With a dazzling performance that had a frenzied crowd in Munich's Olympic Stadium on its feet, France's Thomas Pages beat defending Red Bull X-Fighters World Tour champion Dany Torres of Spain to turn the title fight into a four-way battle.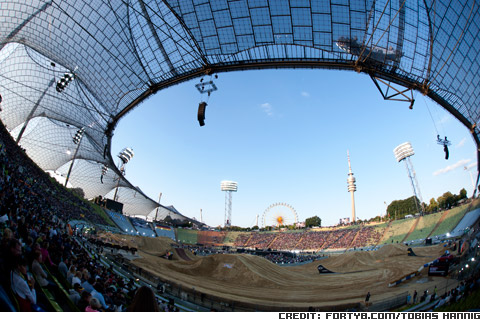 MUNICH, Germany – Reaching deep into his bag of tricks, Thomas Pages scored the first victory of his Red Bull X-Fighters career in front of 30,000 spectators in Munich on Saturday. The flying Frenchman nailed three of the most difficult tricks known to mankind and pulled off a sensational victory over Torres on the biggest European course ever built without doing a single back flip – a trick he has steadfastly avoided since 2009. Pages is now even with Levi Sherwood of New Zealand at the top of the standings going to the season finale in Sydney.


The rider presentation with a traditional Bavarian horse-drawn carriage was a lot of fun for the riders and the spectators: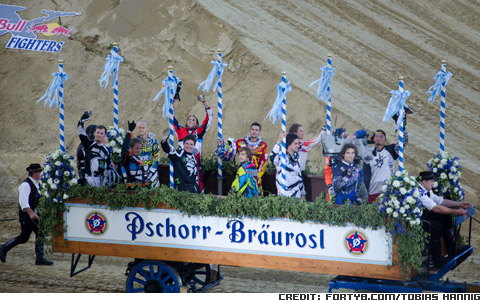 Japan's Eigo Sato took third in Munich with a stellar performance on a night of celebration of Bavarian traditions with an oom-pah-pah band, lederhosen trousers and women clad in snug-fitting dirndl dresses that warmed up the spacious arena on a cool summer evening.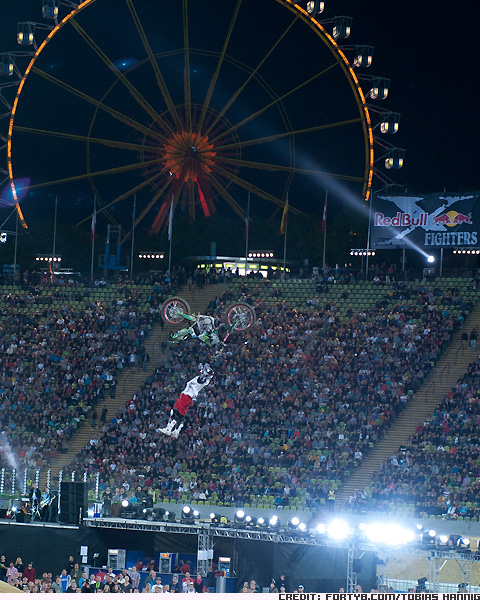 Dany Torres rode great and beat his friend Maikel Melero in the Semifinal. It was really close between him and Tom Pages in the final. Dany showed a lot of big Backflips combos, but it was not enough to win against the trick fireworks of Tom Pages.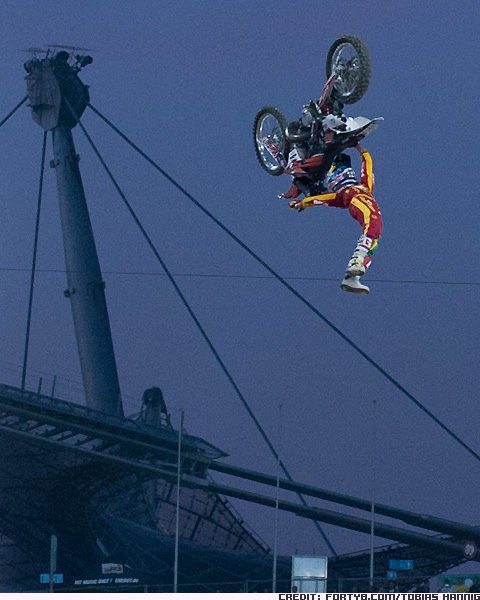 Great to see Dave Rinaldo in the X-Fighters tour. The NOTJ top 5 rider looked strong on the bike and it seemed he had a lot of fun on the track. He qualified for the main round- good job Dave! But he lost his Quarterfinal run against the more X-Fighters experienced japanese Eigo Sato.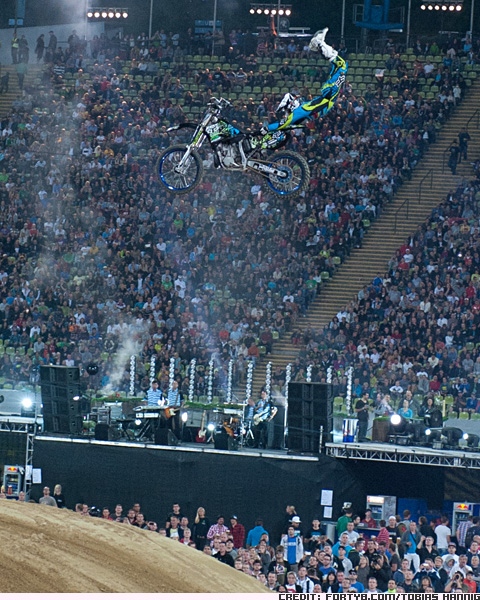 The only german rider Hannes Ackermann learned some new tricks before X-Fighters (Seatgrab Backflip) and showed the Munich crowd a great performance. Nevertheless he couldn't qualify for the Quarterfinals.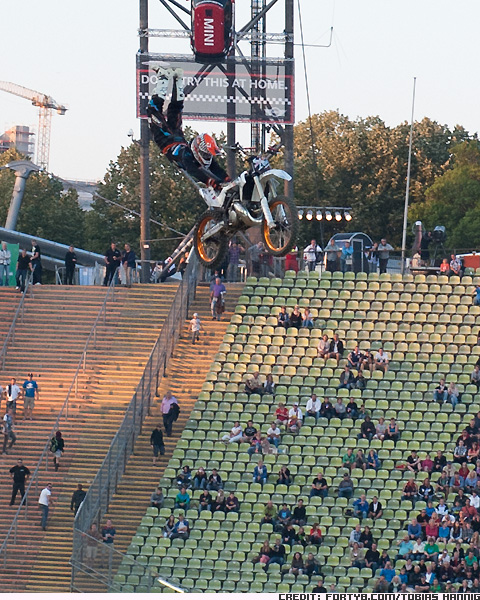 The current FIM FMX World Champion Javier Villegas looked really motivated and won his Quarterfinal run against Rob Adelberg. But he had bad luck in the Semifinal against Dany Torres during a Cordova-Superflip Combo and injured his foot missing the peg.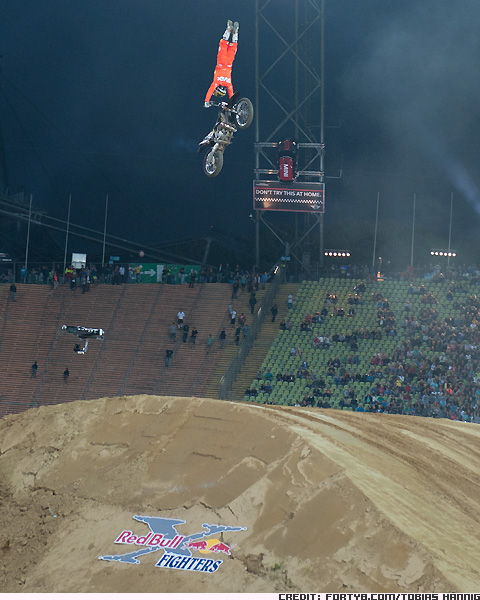 Levi Sherwood had a tough Quartalfinal run against Tom Pages. Levi rode great, but Tom had more creativity in his run and used the track better. The result: he was sent to the shower earlier this night...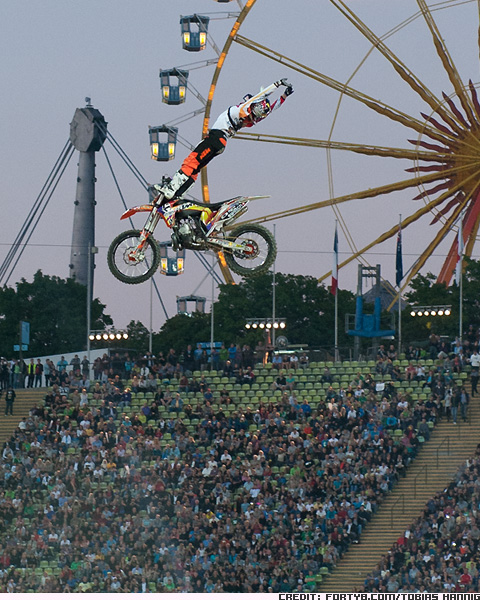 Maikel Melero from Spain is a style-machine. We know him from several NOTJ events where he finishes in the top 5. The friend of spaniard Dany Torres had a clean run with a variety of flip- and non-flip combos but nevertheless he lost against his friend. But we are looking forward to see more of this great riding soon...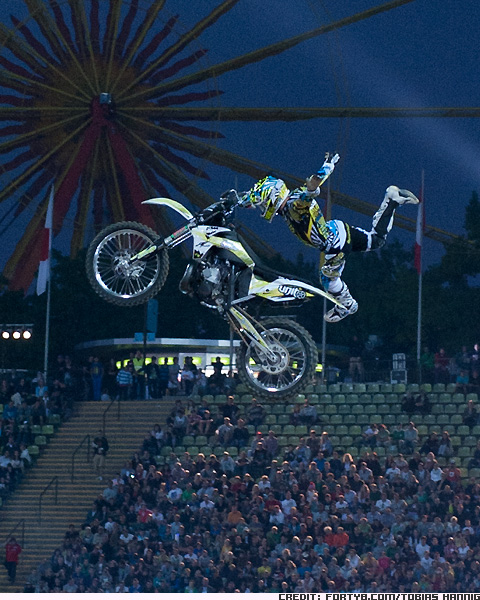 Remi Bizouard was really happy to get invited to the X-Fighters event. The former World Champion and current leader of the FIM FMX World Championship had bad luck in the Qualifying and crashed on friday. In the last chance on friday he came back but he couldn't countervail against Adelberg and Rinaldo...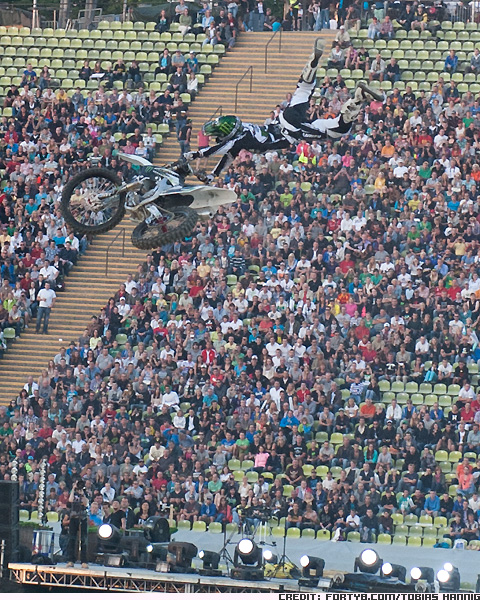 Rob Adelberg placed first in the Last Chance and qualified 1st for the Quarterfinals. But he had to ride against Javier Villegas which was really on fire. So he couldn't make it into the Semifinals.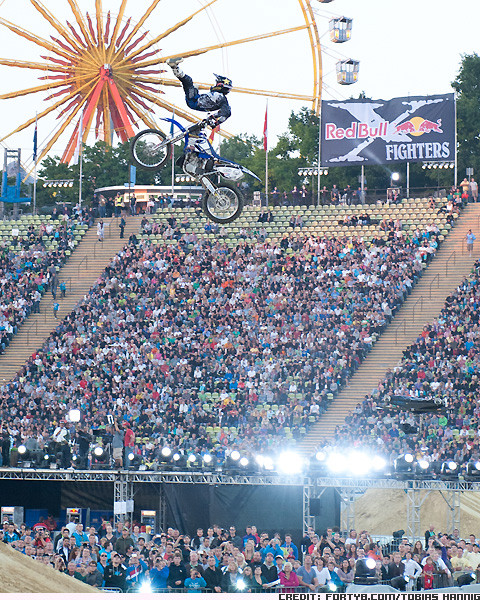 Tom Pages showed an awesome performance. He made tricks like the Special Flip, The Volt Onehander and the 540° Flair in his runs against Levi Sherwood (Quarter-), Eigo Sato (Semi-) and Dany Torres in the final. Big respect for winning a X-Fighters contest without doing backflips!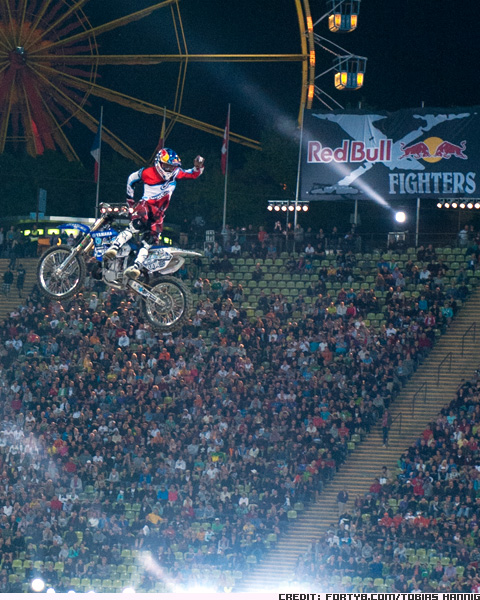 Sherwood had an 80-point lead in the championship coming to Munich but was a disappointing fifth after being ousted in the quarter-finals by the red-hot Pages, who became the crowd favorite for his electrifying jumps: the Special Flip off the seat of his bike, the Volt that left him spinning in mid-air above his bike and the Flair – turning a 540 degrees in mid-air. "I had so many hot tricks to do tonight and felt the crowd pushing me on," said Pages, who hinted he may try a back flip again soon. "This was the scariest event I've ever done."
 
Pages is now even on points at 235 with Sherwood, the winner of Dubai and Madrid, going to the season finale in Sydney on Oct. 6. Torres, who had back-to-back second places in Madrid and Munich, is now third with 185 points and Javier Villegas of Chile is in the hunt in fourth place.
 

 
Results Red Bull X-Fighters Munich

Results: 1. Thomas Pages (FRA), 2. Dany Torres (ESP), 3. Eigo Sato (JPN), 4. Javier Villegas (CHI), 5. Maikel Melero (ESP), 6. Levi Sherwood (NZL), 7. Rob Adelberg (AUS), 8. David Rinaldo (FRA), 9. Hannes Ackermann (GER), 10. Mat Rebeaud (SUI), 11. Blake Williams (AUS), 12. Remi Bizouard (FRA).
 
Overall standings: 1. Sherwood (235 points), Pages (235), 3. Torres (185), 4. Villegas (175), 5. Sato (145), 6. Todd Potter (USA) 145, 7. Adelberg 145, 8. Melero (130), 9. Wes Agee (USA) 80, 10. Josh Sheehan (AUS) 55.

Watch the Red Bull X-Fighters Action Clip: