Sherwood wins Red Bull X-Fighters Sydney
and the World Tour 2012
Story by Red Bull | Picture Credit: Watson and Marko
Levi Sherwood was the dominant force of the $1 million Red Bull X-Fighters 2012 World Tour with three victories on three continents but the New Zealander needed a brilliant performance in the final showdown in Sydney against France's Thomas Pages to prevail in the closest championship battle ever.
Levi Sherwood of New Zealand won the Red Bull X-Fighters World Tour on Saturday with a thrilling victory in the final round of the 2012 season in Australia over his hard-charging rival Thomas Pages of France. Australia's Josh Sheehan salvaged an injury-shortened season with a series of brilliant runs to take third place in the soggy conditions on Cockatoo Island in Sydney Harbour. Pages has turned the sport of freestyle motocross on its head in the second half of the season ever with a breathtaking array of new tricks and finished second overall in the World Tour standings after five competitions on four continents with 2011 champion Dany Torres of Spain taking third.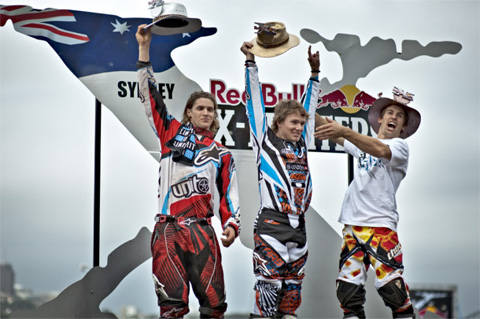 Sherwood was the dominant force during the entire seven-month 2012 season with three wins, getting clear victories in the season opener in Dubai and then in the mid-summer classic in Madrid. But he was beaten decisively in Glen Helen, California by American Todd Potter, who held the championship lead through the middle of the season. Sherwood then opened a big lead after his win in Madrid but was beaten in Munich by red-hot Pages. Sherwood was finally able to shake off his pesky French rival Pages, getting the clutch triumph he needed in the dramatic showdown battle to win the closest finish in the 12-year history of Red Bull X-Fighters.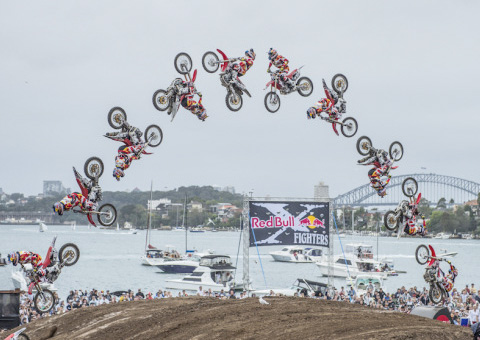 "There were a lot of ups and downs during the whole season," said Sherwood after being pushed to his limits by Pages. Pages dazzled the crowd in Sydney with breathtaking moves such as the flair or the volt. The flair is a mind-boggling 540-degree mid-air turn, the volt leaves him spinning in mid-air above his bike.


Sherwood had to first beat hometown hero Sheehan in the semi-final. Sheehan, who won on Cockatoo Island last year, had a great run with a double backflip but suffered two minor crashes, allowing Sherwood to squeak by into the final. It was the battle the world had been waiting for and the New Zealander prevailed with another flawless run under pressure to win his first Red Bull X-Fighters World Tour Title. The best FMX Athletes in the world brought an explosion of tricks like never seen before in a Freestyle-Motocross-Event.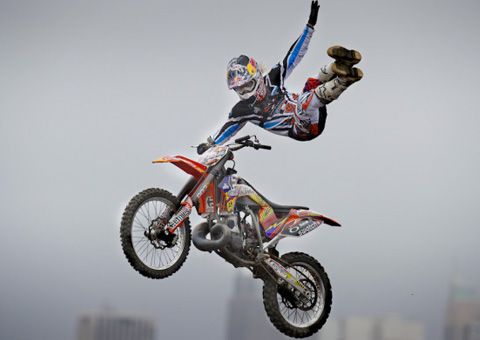 Final results Glen Sydney/Australia
Levi Sherwood (NZL)
Thomas Pagès (FRA)
Josh Sheehan (AUS)
Jackson Strong( AUS)
Eigo Sato (JAP)
Taka Higashino (JAP)
Dany Torres (ESP)
Cameron Sinclair (AUS)
Blake Williams (AUS)
Javier Villegas (CHL)
Todd Potter (USA)
Red Bull X-Fighters World Tour - Final Standing
1. Levi Sherwood 335 pts.
2. Thomas Pagès 315 pts.
3. Dany Torres 215 pts.
4. Javier Villegas 190 pts.
5. Eigo Sato 190 pts.
6.Todd Potter 155 pts.
7.Rob Adelberg 145 pts.
8. Maikel Melero 130 pts.
9. Josh Sheehan 120 pts.
10. Wes Agee 80 pts.
11. Takayuki Higashino 80 pts.
12. Blake Williams 55 pts.
13. Jackson Strong 55 pts.
14. Mat Rebeaud 50 pts.
15. Andrè Villa 45 pts.
16. Edgar Torronteras 30 pts.
17. David Rinaldo 25 pts.
17. Cameron Sinclair 25 pts.
20. Hannes Ackermann 20 pts.
19. Nick Dunne 15 pts.
20. Martin Koren 10 pts.