Pages dazzles Mexico in sky-high season opener
Story by Red Bull | Picture Credit: Jörg Mitter, Predrag Vuckovic
Frenchman Tom Pages had a capacity crowd gasping in disbelief with his electrifying freestyle motocross tricks en route to winning the Red Bull X-Fighters season opener in Mexico City's rarified atmosphere. Mexico's Erick Ruiz had an inspiring debut performance.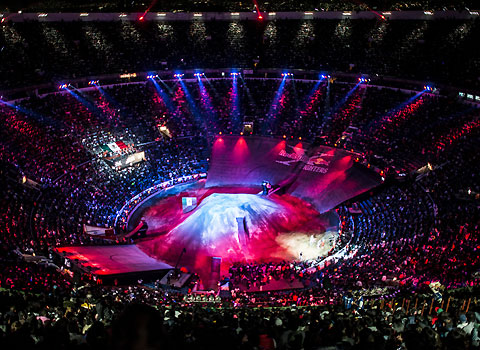 MEXICO CITY – Tom Pages of France won the opening round of the 2013 Red Bull X-Fighters World Tour on Friday with a thrilling FMX performance in the high altitude of Mexico City, beating Dany Torres of Spain in an action-packed final to the delight of 38,000 enthusiastic spectators.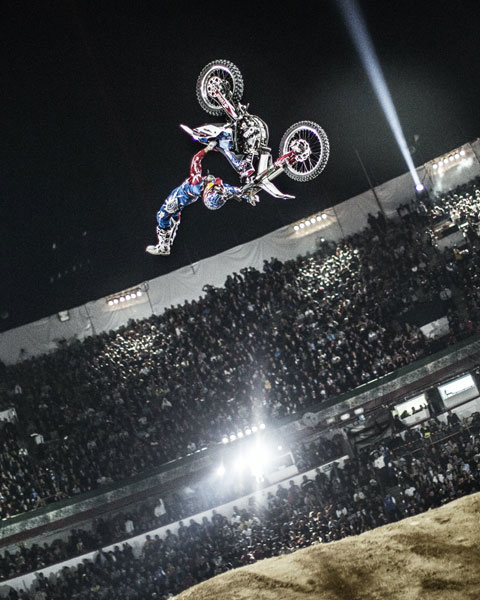 Defending tour champion Levi Sherwood of New Zealand took third place in the Monumental Plaza de Toros bullring in the first of six stops on four continents. Local hero Erick Ruiz of Mexico had a spectacular Red Bull X-Fighters debut with a superb run with polished tricks but was eliminated in the opening round.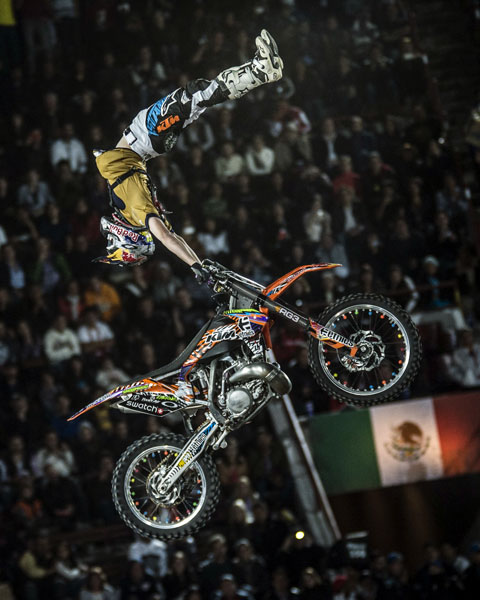 Returning to the FMX hotbed of Mexico City for the first time since 2010, 11 of the world's best riders completed breathtaking jumps of up to 15 meters high and 30 meters in distance over a mound of dirt piled 13 meters high in the center of the cavernous bullring.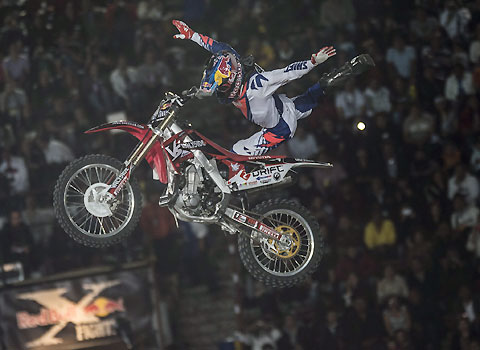 At an altitude of 2,240 meters/7,350 feet, Mexico City's thin air robbed the engines of horsepower and forced the riders in the world's most prestigious FMX tour to make adjustments.  Mexico's colorful bullfighting traditions were kept alive throughout the evening. Pages also won the Swatch Best Move award with his Special Flip.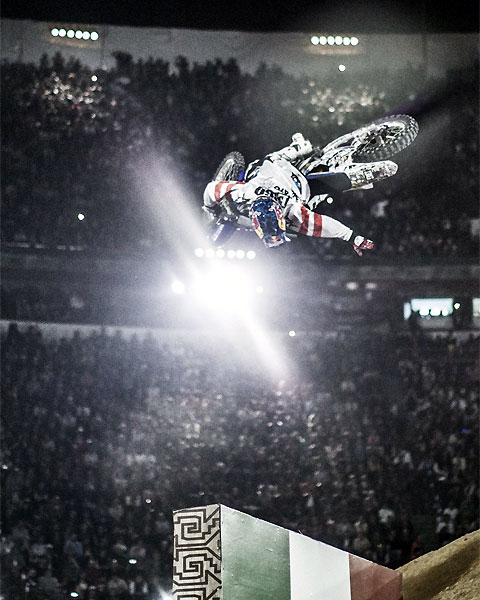 It was the second career victory for Pages and an emotional triumph for the effervescent Frenchman, who was wearing a jersey with the Eigo Sato's name on it as a tribute to the Japanese FMX athlete who sustained fatal injuries in a training accident last month in Japan.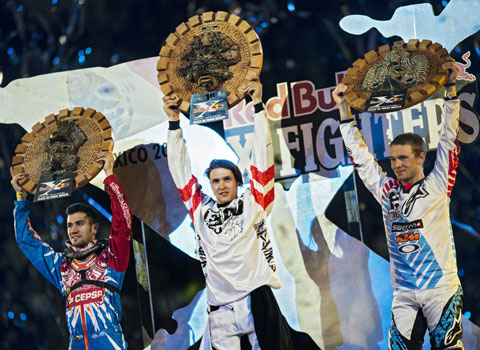 Pages nailed three difficult tricks – Special Flip off the seat of his bike, the Volt that left him spinning in mid-air and the Flair -- turning 540 degrees in mid-air "I don't know if this will be my year or not. I'll keep practicing and try to learn new tricks."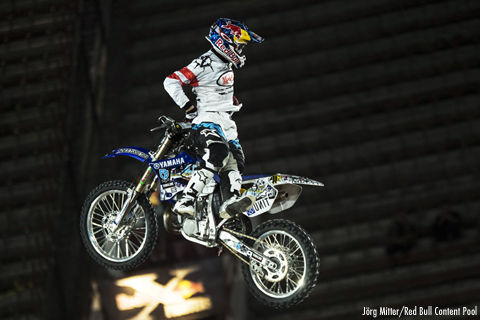 The next Red Bull X-Fighters stop is in Dubai (UAE) on April 12.
Final results Red Bull x Fighters Mexico
1. Thomas Pages (FRA)
2. Dany Torres (ESP)
3. Levi Sherwood (NZL)
4. Rob Adelberg (AUS)
5. Josh Sheehan (AUS)
6. Maikel Melero (ESP)
7. Todd Potter (USA)
8 . Truman Caroll (AUS)
9. Erick Ruiz (MEX)
10. Martin Koren (CZE)
Red Bull X Fighters Qualifying Results:

1º Tom Pagès
2º Dany Torres
3º Levi Sherwood
4º Josh Sheehan
5º Rob Adelberg
6º Maikel Melero
7º Todd Potter
8º Martin Koren
9º Truman Carrol
10º Erick Ruiz
11º Alex Cervantes