Torres' towering win next to world's tallest building
Story by Red Bull | Picture Credit: Jörg Mitter, Predrag Vuckovic
Spain's Dany Torres beat defending champion Levi Sherwood after first knocking out 2013 World Tour leader Thomas Pages in a thrill-filled Red Bull X-Fighters event in Dubai to move ahead of the flying Frenchman into first place after the second of six stops.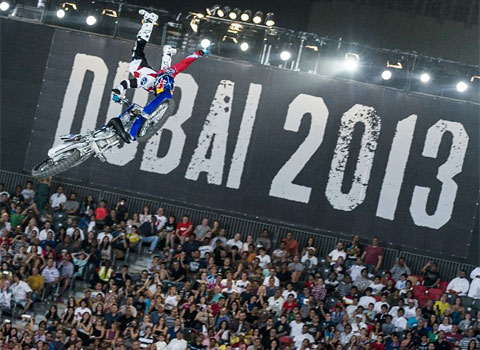 DUBAI (United Arab Emirates) – Dany Torres of Spain won a gripping battle of the champions at the Red Bull X-Fighters World Tour stop in Dubai on Friday, as the 2011 World Tour winner narrowly defeated defending champion Levi Sherwood of New Zealand by a score of 3-2 on a challenging dirt course in front of the world's tallest building – the spectacular 828-meter Burj Khalifa.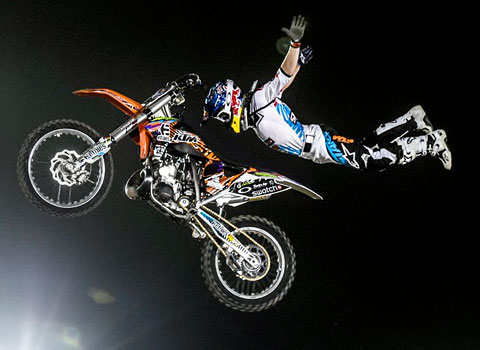 France's Thomas Pages won the Swatch Best Move award for his crowd-pleasing "volt" jump that had him spinning in mid-air off the seat of his bike to the cheers of 13,000 spectators. It was a thrilling event at the Mohammed bin Rashid Boulevard, in Downtown Dubai, under the patronage of H.H. Sheikh Hamdan bin Mohammed bin Rashid Al Maktoum, Crown Prince of Dubai and Chairman of the Dubai Sports Council.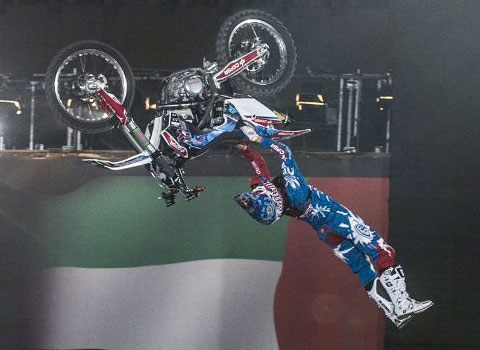 Torres put in a masterful performance of freestyle motocross through three rounds with his polished jumps of up to 15 meters high and 30 meters in distance. It was the first win for Torres in the world's most prestigious FMX series since Madrid in 2011 but he was reluctant to say it made him the new title favorite this year after Pages dominated the first stop. "The level of the top riders is so close this year," he said.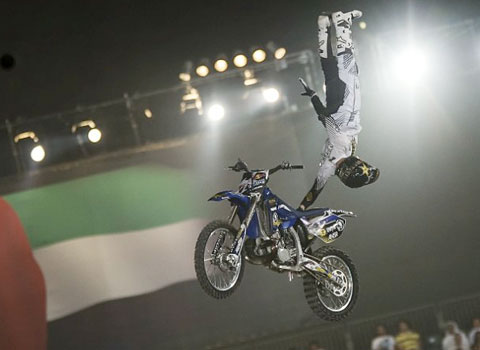 "If you make just one mistake, you're out. It's difficult to say who's going to win the championship," added Torres, who had a brilliant run in the final against Sherwood. The on-form Spaniard, who also won in Dubai in 2011, was beaten by Pages in the final at the 2013 season opener in Mexico City last month but was able to turn the tables this time on the flying Frenchman when they went head-to-head in a spine-tingling semi-final showdown.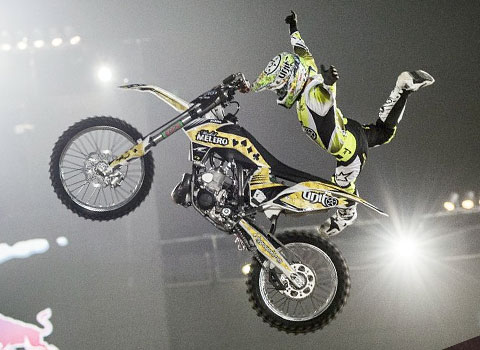 Pages, who had dominated Qualifying, put in his a riveting performance with the "Volt", the "Special Flip" that has him doing a back flip off his seat while the bike is in mid-air, and the 540-degree turn known as the "Flair." Pages had the crowd cheering as he nailed three of the most difficult tricks known to mankind but he crash-landed on his last jump, a flip, and was punished hard by the judges.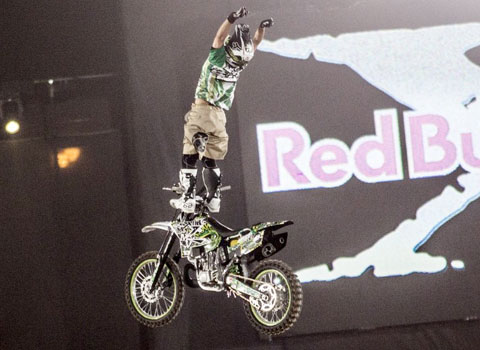 "I just went for it," said Pages. "I pushed it but maybe pushed it too much and crashed. I'm disappointed." Among the enchanted spectators was Fabio Cannavaro, who was the captain of Italy's soccer team that won the 2006 World Cup.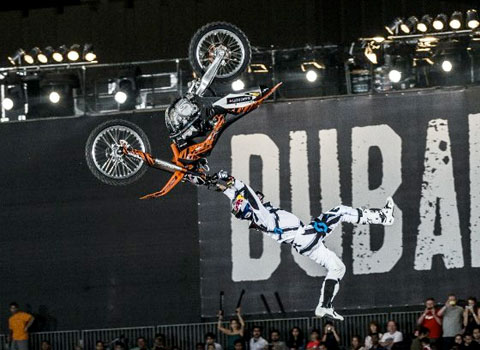 Mat Rebeaud made an awesome comeback doing the Flair in perfect extension. It's great to see Mat back in business!
Levi Sherwood (2nd) - Dany Torres (1st) and Tom Pagés (3rd)
The next stop is in Glen Helen (USA) on May 11.
Final results Red Bull x Fighters Dubai

1. Dany Torres (ESP)
2. Levi Sherwood (NZL)
3. Thomas Pages (FRA)
4. Rob Adelberg (AUS)
5. David Rinaldo (FRA)
6. Libor Podmol (CZE)
7. Mat Rebeaud (SUI)
8. Maikel Melero (ESP)
9. Josh Sheehan (AUS)
10. Daisuke Suzuki (JPN)

Red Bull X Fighters Tour Standings:

1. Torres 180 points
2. Pages 165
3. Sherwood 145
4. Adelberg 110
5. Josh Sheehan 65
6. Melero 60
7. Rinaldo 45
8. Todd Potter 40
9. Podmol 35
10. Rebeaud 30


Support us: Like and Share it!

Video of the month

Facebook /FORTY8Mag

Partner