#EVENT REVIEW
NITRO CIRCUS EUROPEAN LIVE TOUR
written by Barbara Kamphuis |  Images by Gerd Rose and Laszlo Steinebach
The Nitro Circus caravan has been travelling around Europe in the past few weeks now, awing the crowds with their boundary breaking tricks. I was lucky enough the attend the show in Cologne and watch these passionate athletes. And athletes these men and woman are. You won't succeed in these type of extreme sports without dedicaction and perseverance.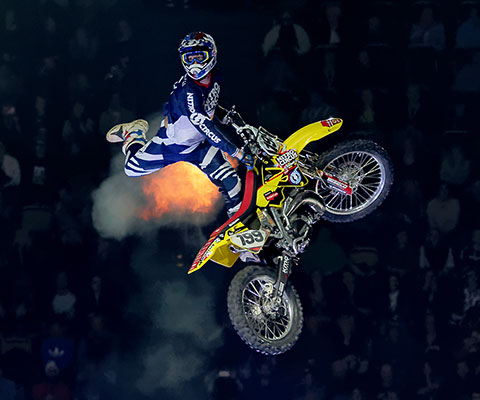 Travis Pastrana |  Oldschool Nac Nac [click image to enlarge]

One of the best examples is Bruce Cook. He crashed during his attempt doing a double front flip at a Nitro Circus show in Hamilton Canada. He broke one of his vertebrae and ended up wheelchair bound.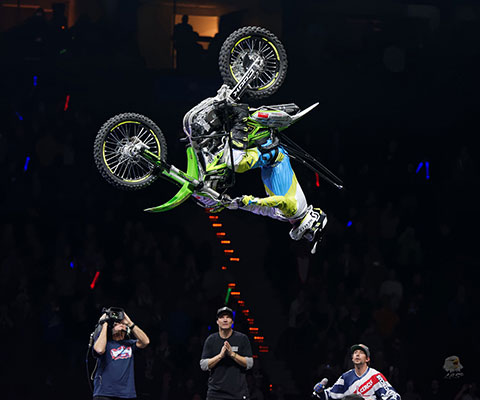 Bruce Cook |  Backflip [click image to enlarge]
He says that he was thinking about getting back on his bike only 4 hours after his surgery. He is now the world's first paraplegic to backflip a dirtbike. I had the privilege to interview him at the Nitro Circus show in Cologne, Germany. He told me that the atmosphere of constant challenge, support and encouragement in the Nitro family has been a major factor on him getting back on his bike.
He started practicing riding, and eventually flipping his motorbike again in Travis Pastrana's backyard aka Pastranaland. Billy van Vugt helped him making the necessary modifications to his bike and has been his rock while touring. I asked him if touring in Europe is any different from touring in North America. The main difference in Bruce's case is the wheelchair inaccessabilty of many European cities. Cobblestones, crack, steps, its hard for him to get around.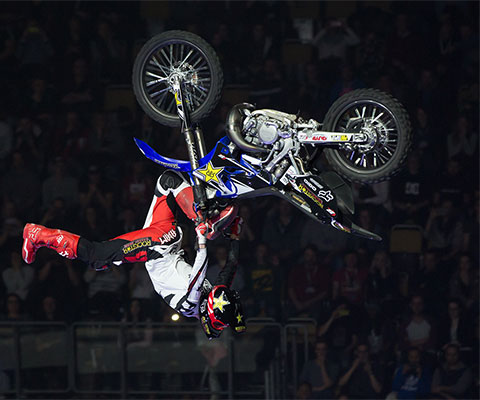 Adam Jones |  Stripper Backflip [click image to enlarge]
The crowds however, have been awesome and loud. He is now looking forward to go home to his family and friends. But he barely has time to relax. He will be doing promotion for the upcoming North-American Nitro Circus tour and he plans on accepting invitations to act as a motivational speaker.
A job he is well equipped for. He also wants to keep being in the Nitro Circus shows, but feels that a back flip (maybe one handed) is the maximum for him. He did find another outlet for his need of competition by getting into racing on 4 wheels.
One of the stars of the shows is Clinton Moore. The 2015 X-Fighters champion has been throwing down his big banger tricks (Bundy, Volt etc.) almost nightly during his European tour. While this is extremely difficult both physically and mentally, the screaming crowds keep them going and motivated to show them their best tricks.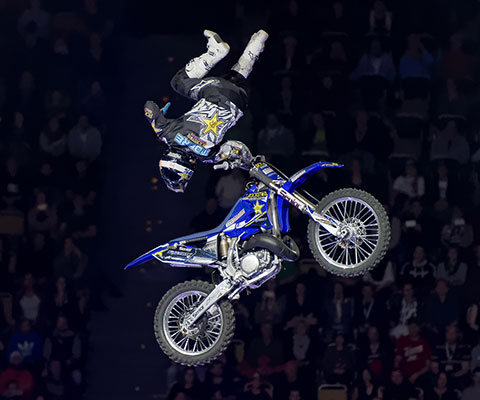 Clinton Moore | Bundy [click image to enlarge]
The gruelling schedule of the tour also leaves no room for practicing new tricks though. A lot of Nitro Circus athletes compete on the highest level when their not touring. For Clinton the months of June and July are competition months with him fighting for the top spot with Tom Pagès, Josh Sheehan, Levi Sherwood and others at X-Fighters (June 24th Madrid), X-Games ( June 2-5 Austin) and Nitro World Games (July 16th Salt Lake City).
After coming home he has long days in the foampit planned to step up his trick level once again. He told me he has some ideas for new tricks. What they are.. We'll have to wait and see.
Nitro Circus will be back to Europe this summer with stops in the UK and France. More information: www.nitrocircus.com
Click on thumbs to open the NITRO CIRCUS gallery :


Support us: Like and Share it!

Video of the month

Facebook /FORTY8Mag

Partner