WinterX Games 10 @ Aspen/USA
text by espn and Tobias Hannig | pix by espn images
TWITCH RULES. Jeremy Stenberg Flies to Gold in Winter X Games 10 Moto Best Trick Aspen, Colo. – Three times Jeremy Stenberg has come to the Winter X Games Moto X Best Trick competition, and three times he's come away empty handed. Until now.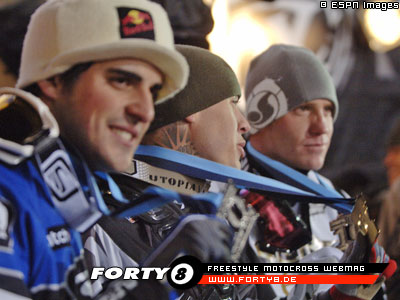 Mat Rebeaud, Jeremy Stenberg and Ronnie Faisst

In the first of two rounds Stenberg (Winchester, Calif.) sent a message to the field, landing a no handed backflip with a side saddle lander for a score of 93.00. It was good enough to lead the field of five riders after the first round, and it held up to the end. "I'm dedicated to winning and have been practicing my butt off," Stenberg said. "I've been working on that trick for a month or two, and it all just came together."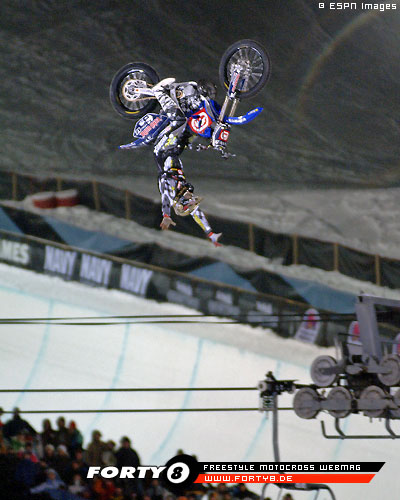 Jeremy Stenberg doing a Nohanded Backflip

Following Stenberg in the first round of jumps, top qualifier Mat Rebeaud (Payerne, Switzerland) kicked off his first Winter X Games with a Saran Wrap backflip to a one handed lander, but his score of 92.40 was only good enough for second. On his last attempt, Rebeaud scored a 91.40, but had to settle for silver. Still, it was a successful Winter X Games debut. "After you ride for a while, you get warm so it's all good. I'm from Switzerland, so it's nice coming to the snow," Rebeaud said.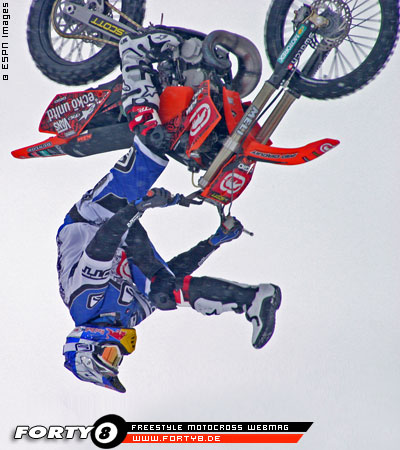 Mat Rebeaud won Silver @ his first Winter X Games


Ronnie Faisst (Mays Landing, N.J.) won his first Winter X Games medal in his second appearance, continuing the backflip party with a one handed backflip to a side saddle lander, good enough for a 90.60 and a score that would hold up for bronze.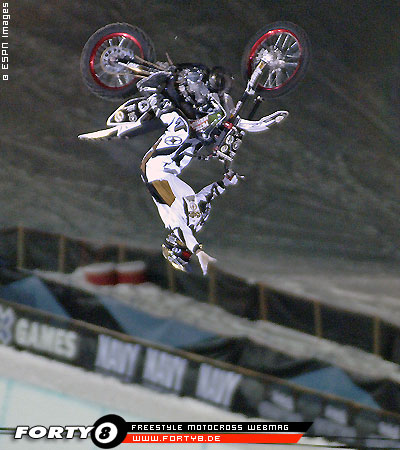 The Metal Mulisha General Brian Deegan was in brillant shape and qualified for the Final. He ended up 5th.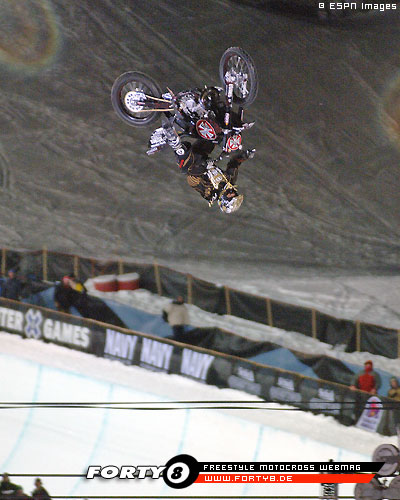 Brian Deegan doing a whipped out Nofoot Backflip

Mike Metzger showed a tweaked out Nofooted Backflip to Onehand Landing. He was really close to qualify for the Final, but missed the qualifying by two tenths of a point. He was pissed about the judging - and justifiably so!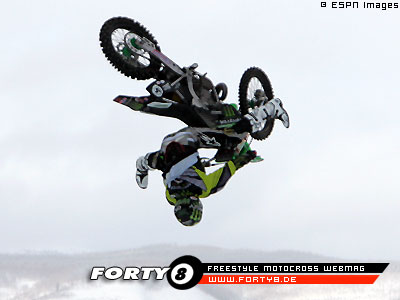 Metzger showed a good performance, but didn't qualify for the Final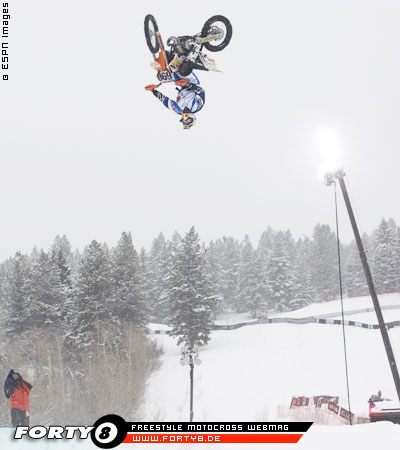 Kenny Bartram with a Whipped Backflip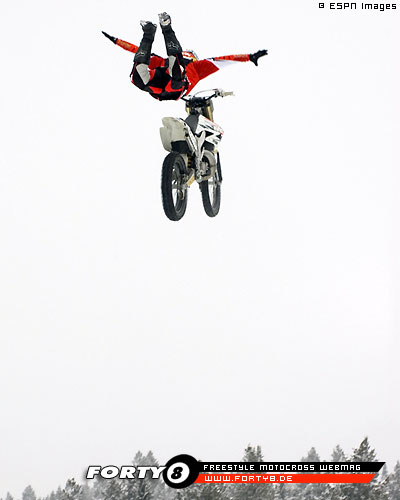 Mike Mason doing an excellent Holygrab
WINTER X GAMES 10 | Aspen/Colorado


BEST TRICK RESULTS QUALIFYING

1. Mat Rebeaud SUI 92.00
2. Jeremy Stenberg USA 91.60
3. Nate Adams USA 90.80
4. Brian Deegan USA 89.60
5. Ronnie Faisst USA 89.60
6. Mike Metzger USA 89.40
7. Mike Mason USA 88.80
8. Kenny Bartram USA 86.60
9. Jeff Kargola USA 86.00
10. Jim McNeil USA 82.20



BEST TRICK RESULTS FINAL

1. Jeremy Stenberg 93.00
2. Mat Rebeaud 92.40
3. Ronnie Faisst 90.60
4. Nate Adams 90.40
5. Brian Deegan 88.00


Support us: Like and Share it!

Video of the month

Facebook /FORTY8Mag

Partner