SUZUKI NIGHT of the JUMPs | Mannheim

2006 "Night of the Jumps" kicks off with a bang in Mannheim
The brand new high-tech SAP arena was a fitting host to a new level of IFMXF events. The first of the new-age of FIM / IFMXF contests delivered a whole bunch of drama to the Mannheim public. Two young riders claimed the 2 pre-qualification spots earlier in the day. Alastair Sayer, from the little known African country of Botswana, unleashed his wild bushman style on the Euros and along with French Lazy Troop rider Fabien Fenouil, claimed the last remaining spots in the main event.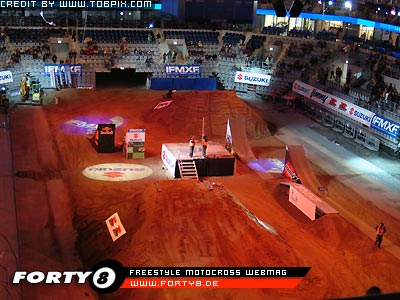 The setup in Mannheim

German favourite Busty Wolter and top contender Oystein Kjorstad (Nor) were shock eliminations in the qualification round.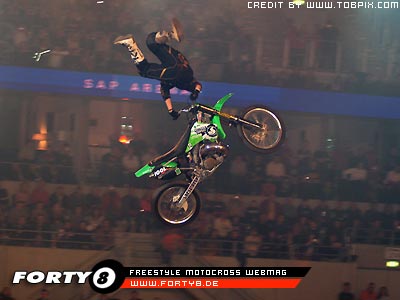 Fabien Fenouil / Lazy Troup qualified through the Pre-Qualification

The Whip team-contest saw the young gun pairing of Alastair Sayer and Remi Bizouard (Fra) edging in front of Jimbo Verburgh (Bel) and Mike Mason (US). Third was the German team of Busty Wolter and Freddy Peters.

In the Highest-air event, another youngster took the win. Libor Podmol (Cze) came first with a height of 7,8m, second was Mike Mason, third was Jimbo Verburgh and 4th was Sayer.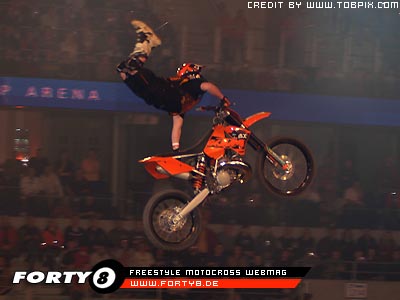 Hannes Ackermann doing a Scorpion

The final was a tense affair. Nick de Wit (SA) rode with his usual technically high standard, but made mistakes near the end of his run. Libor Podmol pulled some gutsy stuff out of the bag and finished 5th. Fabian Bauersachs (Ger) gave the home crowd something to cheer about and finished 4th in a highly competitive field, despite not having a backflip.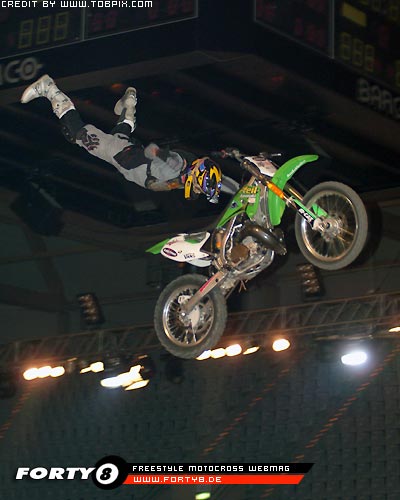 Fab Bauersachs with a sweet Rock Solid


In third was the new man to watch - Remi Bizouard (Fra) arrived with some of the biggest single tricks ever seen. He crashed in the final on a Whipped out Heel-clicker backflip and after jumping to his feet, got the crowd to perform a series of Mexican waves.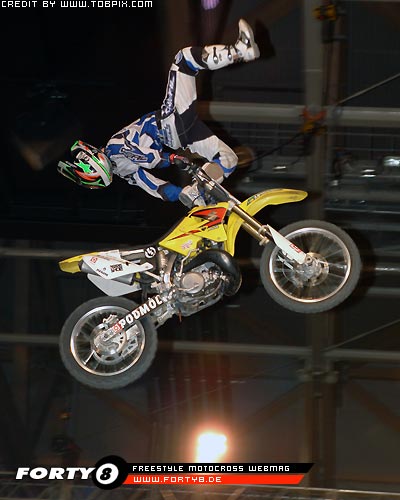 Libor Podmol with problems in the training but consistant in the contest

His skill and showmanship are mind blowing. Second, in one of the closest finishes in a long time, was Mike Mason. His run in isolation was probably the best ever seen at an IFMXF event.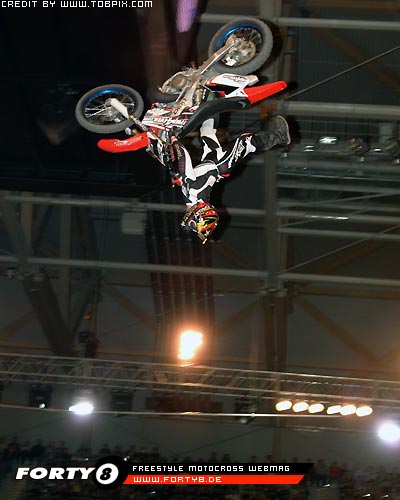 Mike Mason with a lot style - Nac Nac Backflip

That is of course aside from Andre Villa (Nor) who was on fire and charged the course with an aggression and determination that might have been all that separated him from Mason.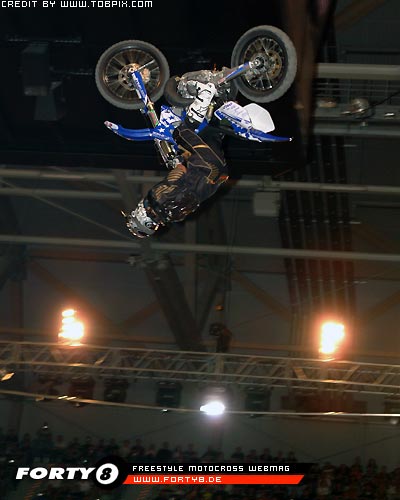 André Villa was definetely Mr. Style in Mannheim. Whipped Backflip

In 3 days time the same riders will square-up against current IFMXF number 1, Matt Rebeaud (Switz), 2006 IFMA series leader Adam Jones (US), 2005 Red Bull X-Fighters Champ Ronnie Renner (US) and British bad boy Kris Brock, for what promises to be an explosive event, at round 2 and 3 of the Night of the Jumps in the Vienna Stadthalle this weekend.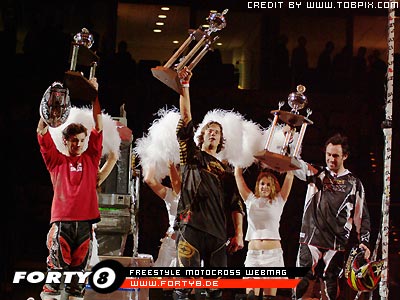 The winners | Remi Bizouard, André Villa and Mike Mason

FACTS Suzuki NIGHT of the JUMPs -
Mannheim 15.02.2006
Results Qualifikation
1. Mike Mason USA 264 Points
2. Andre Villa NOR 262 Points
3. Remi Bizouard FRA 226 Points
4. Nick de Wit RZA 209 Points
5. Libor Podmol CZE 195 Points
6. Fabian Bauersachs GER 194 Points
7. Busty Wolter GER 192 Points
8. Freddy Peters GER 170 Points
9. Fabien Fenouil FRA 162 Points
10. Jimmy Verburgh BEL 161 Points
11. Alastair Sayer BOT 144 Points
12. Oystein Kjorstad NOR 136 Points
13. Hannes Ackermann GER 124 Points

Results Whip Contest
1. Team 1 (Sayer & Bizouard)
2. Team 2 (Mason & Verburgh)
3. Team 3 (Peters & Wolter)


Results Highest-Air-Contest
1. Libor Podmol 7,30 Meter (2nd)
2. Mike Mason 7,20 Meter (1st)
3. Jimmy Verburgh 7,00 Meter (1st
4. Alastair Sayer x

Results Final
1. Andre Villa NOR 315 Points
2. Mike Mason USA 313 Points
3. Remi Bizouard FRA 262 Points
4. Fabian Bauersachs GER 242 Points
5. Libor Podmol CZE 236 Points
6. Nick de Wit RZA 225 Point