IFMXF FIM World Championships | Innsbruck/AUT
Innsbruck round 1 | 24.02.2006
First round of inaugural IFMXF FIM World FMX Championship a close affair!
After a tense round of qualifying on a very technical and demanding course, 6 riders fought a fierce battle for their share of the first portion of FMX World Championship points.
Leader after qualifying was 2005 IFMXF number 1, Mat Rebeaud (Switz), ahead of Mike Mason (USA), Ronnie Renner (USA), Adam Jones (USA), Remi Bizouard (FRA) and Andre Villa (NOR). German Fabian Bauersachs had a strong run, but this time he could not make it to the final and ended up at #8.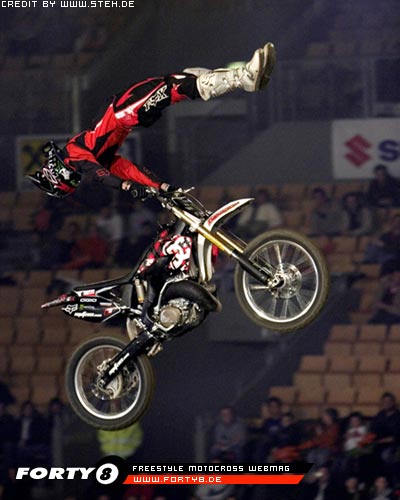 Adam Jones won the 1st night with a really good performance

As half time entertainment the crowd was entertained by the Whip contest, which was won by Ronnie Renner, ahead of Remi Bizouard. Next was the Highest Air contest (high jump), which was won by Mason, ahead of Libor Podmol (Cze) and Renner.
The main event was unbelievably close, nail biting stuff. It kicked off with Remi Bizouard delivering an exhibition of huge extensions. The French teenager lost out due to a bit of youthful enthusiasm, but is sure to step onto the podium in the near future.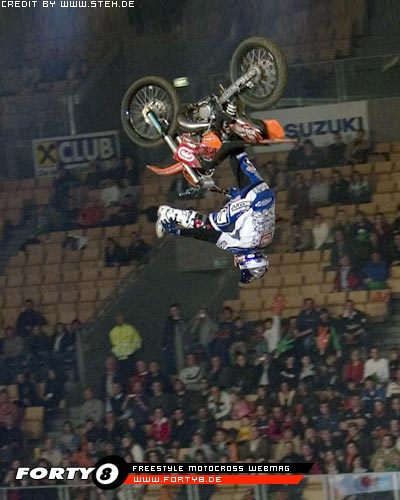 Mr. Backflip Mat Rebeaud had to do a hard job against the US boys

Fifth in the final was Ronnie Renner, who pulled a technically varied run out the bag and was only a hair behind the 4th, 3rd and second placed riders.

Fourth placed after a few small mistakes was Norwegian wunderkind Andre Villa. Third, again, by the narrowest of margins was Mason. Second with a bag of massive backflip combinations was Rebeaud, possibly only losing out to Adam Jones because of his excessive number of backflip combinations in his run. Adam Jones now leads the IFMXF FIM World Championship and with his well rounded run and big tricks like his Cordova backflip, has set a really high standard for the rest of the series.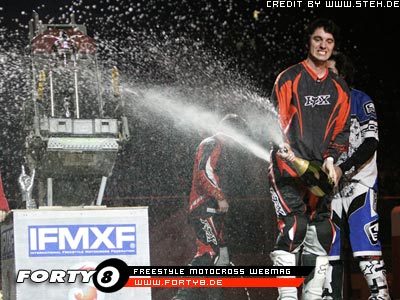 The winners of the 1st night | Adam Jones, Mat Rebeaud & Mike Mason

Innsbruck round 2 | 25.02.2006

Renner & Rebeaud the last men standing on tricky course!
The second round of World Championship competition saw several riders falling prey to the treacherous conditions in the Olympiahalle. The stony course and loose dirt meant that riders would have to muster every ounce of concentration to avoid disaster.
Before the contest had even started, Mike Mason (US) - 3rd at the first round of the World Championship on Friday, took a heavy crash in practice and injured his shoulder.

In the contest Nick de Wit (SA), Adam Jones (US) and Andre Villa (Nor) were all caught out by the unforgiving course and obviously disappointed by their final placings.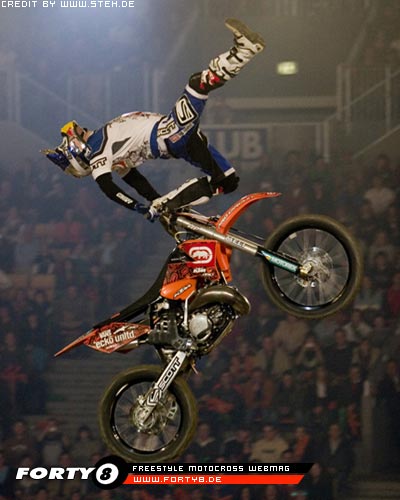 He stripped on top - Mat Rebeaud won the 2nd night in Innsbruck

First in the final was Mat Rebeaud (Switz) who beat Ronnie Renner (US) by a slim margin. Third was Norwegian style king Andre Villa who threw away a chance at victory with some unforced errors. Fourth was the French teen sensation Remi Bizouard, who had the biggest extensions and most aggressive ride of the weekend. It is clearly just a matter of time before he wins one of these events with his unique style.
Fifth was Adam Jones (US) who could not repeat his form that earned him the first round victory. Sixth was Czech charger Libor Podmol.

The whip contest was won by Renner ahead of Rebeaud and Bizouard. The Highest air was won by Renner ahead of Podmol and Derek Burlew (US).
Round 3 and 4 of the FIM World Championship take place in Milan, Italy next weekend on the 4th & 5th of March.
Innsbruck 24.02.2006

Results Qualifikation
1. Mathieu Rebeaud SUI FMS KTM 272 Points
2. Adam Jones USA DMSB Honda 262 Points
3. Mike Mason USA DMSB Honda 258 Points
4. Ronnie Renner USA DMSB KTM 247 Points
5. Andre Villa NOR NMF Yamaha 241 Points
6. Remi Bizouard FRA FFM Yamaha 230 Points
7. Libor Podmol CZE ACCR KTM 210 Points
8. Fabian Bauersachs GER DMSB Kawasaki 186 Points
9. Derek Burlew USA DMSB Yamaha 183 Points
10. Nick de Wit RSA DMSB Suzuki 182 Points

Results Whip Contest
1. Ronnie Renner USA DMSB KTM
2. Remi Bizouard FRA FFM Yamaha
3. Derek Burlew USA DMSB Yamaha
3. Mike Mason USA DMSB Honda
Results Highest-Air-Contest
1. Mike Mason USA DMSB Honda 6,60 Meter (1st)
2. Libor Podmol CZE ACCR KTM 6,30 Meter (1st)
3. Ronnie Renner USA DMSB KTM 5,50 Meter (1st)
Results Final
1. Adam Jones USA DMSB Honda 327 Points
2. Mathieu Rebeaud SUI FMS KTM 323 Points
3. Mike Mason USA DMSB Honda 321 Points
4. Andre Villa NOR NMF Yamaha 318 Points
5. Ronnie Renner USA DMSB KTM 313 Points
6. Remi Bizouard FRA FFM Yamaha 272 Points


....................................................................................


Innsbruck 25.02.2006

Results Qualifikation
1. Andre Villa NOR NMF Yamaha 276 Points
2. Ronnie Renner USA DMSB KTM 268 Points
3. Mathieu Rebeaud SUI FMS KTM 268 Points
4. Remi Bizouard FRA FFM Yamaha 249 Points
5. Adam Jones USA DMSB Honda 232 Points
6. Libor Podmol CZE ACCR KTM 231 Points
7. Derek Burlew USA DMSB Yamaha 210 Points
8. Fabian Bauersachs GER DMSB Kawasaki 192 Points
9. Nick de Wit RSA DMSB Suzuki 142 Points

Results Whip Contest
1. Ronnie Renner USA DMSB KTM
2. Mathieu Rebeaud SUI FMS KTM
3. Remi Bizouard FRA FFM Yamaha
3. Derek Burlew USA DMSB Yamaha

Results Highest-Air-Contest
1. Ronnie Renner USA DMSB KTM 6,70 Meter (2nd)
2. Libor Podmol CZE ACCR KTM 6,50 Meter (1st)
3. Derek Burlew USA DMSB Yamaha 6,00 Meter (1st)
Results Final
1. Mathieu Rebeaud SUI FMS KTM 331 Points
2. Ronnie Renner USA DMSB KTM 314 Points
3. Andre Villa NOR NMF Yamaha 296 Points
4. Remi Bizouard FRA FFM Yamaha 289 Points
5. Libor Podmol CZE ACCR KTM 241 Points
6. Adam Jones USA DMSB Honda 116 Points