IFMXF FIM World Championships | Milan/ITA
Milan, 04.03.2006 | Round 1
Adam Jones gets sweet revenge at Round 3 of FMX World Championship. A super talented field of riders descended upon the Fila Forum to continue the battle for the first ever IFMXF FIM World Championship title.
Local heroes Massimo Bianconcini and Stefano Minguzzi put in solid performances in front of their home crowd, but sadly missed out on the 6 man final. Also disappointed at missing the cut after impressive rides, were Derek Burlew (US), Nick de Wit (SA) and Oystein Kjorstad (Nor).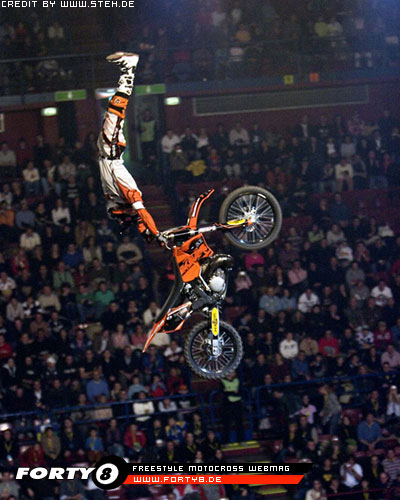 Oystein Kjorstad doing a Tsunami
The stiff competition meant that every rider would need a flawless ride with the biggest, most daring tricks, just to make it into the final.
And what an impressive affair it was. Impressive and close, with 3 riders tussling for victory. Current World Championship leader Mat Rebeaud (Switz) rode, as always, with aggression and determination. Maybe he is related to Houdini, as he had two close shaves on backflip combos, that most mortals would never have escaped from.

Despite these small bobbles, he was just 5 points behind second placed Norwegian Andre Villa (317 versus 322 points). Villa pulled his typically technical run out the bag and added some difficult landing combinations, but was just no match for the mastery that Adam Jones (US) displayed tonight. Jones had a perfect mix of extended tricks, combinations and insane backflip variations, most notably his trademark Cordova Backflip.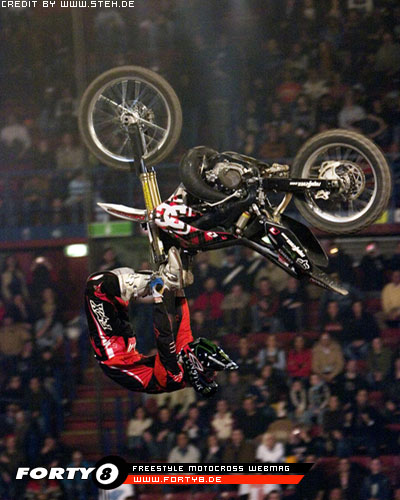 Adam Jones doing his signature trick Cordova Backflip
Fourth in the final was style king Fred Johansson (Swe) who once again ended his run with a 360 over the super kicker. Fifth was Kris Brock (Eng), who seems to be returning to his old form and may yet have a few podium visits up his sleeve. Sixth in the final was Libor Podmol (Cze), who is still in his first full year of Pro competition having come throught the IFMXF Qualifying system in 2005.
The Whip contest was won by the team of Mat Rebeaud and Andre Villa ahead of Brock and Bianconcini. Third was the Scandinavian duo of Johansson and Oystein Kjorstad (Nor).
The Highest Air was once again won by Podmol ahead of Rebeaud. Brock was third.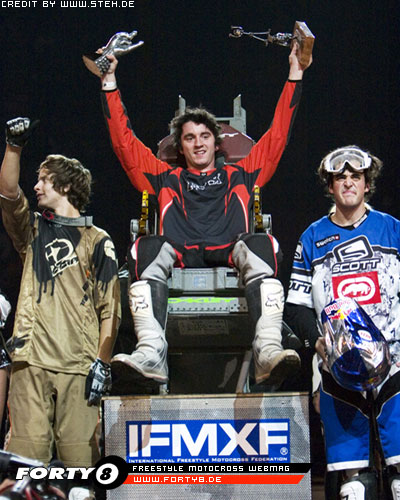 The Winners | Andre Villa, Adam Jones and Mat Rebeaud
Milan, 05.03.2006 | Round 2

Andre Villa rules round 4 of IFMXF FMX World Championship
Satruday's winner, Adam Jones (US) crashed out in training earlier today and after attempting to start the qualifying, had to settle for a DNF due to damage to his bike. Also losing out in the qualifying was British madman Kris Brock, who looked to be in contention before making vital errors late in his run. Also missing out on the final were local heroes Alvaro dal Farra and Massimo Bianconcini, as well as American Derek Burlew.
Sixth in the final tonight was Nick de Wit (SA), who had an inspired qualifying round to get to the final. Fifth was Oystein Kjorstad (Nor), who overcame yesterday's disappointing outing to redeem himself today. Fourth was Libor Podmol (Cze) whose consistency at every round has moved him right up in the points race. Third place belonged to Frederik Johansson (Swe), who overcame some personal demons earlier on the weekend and unleashed a creative run on the Italian masses.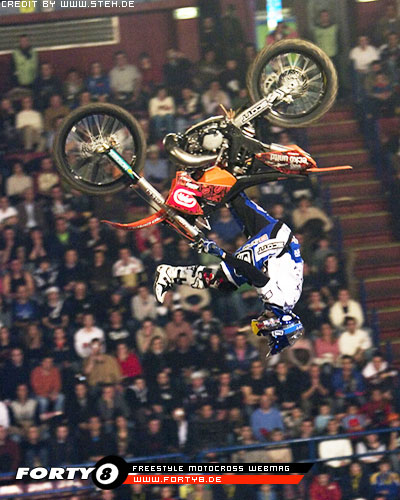 Mr. Backflip Mat Rebeaud with a Candy Bar Backflip

Second was current points leader Mat Rebeaud (Switz), once again giving an exhibition of his backflip mastery and control, but it was not enough to top the sheer brilliance and innovation of Andre Villa (Nor). In Villa's mind blowing run, he strung together technically difficult tricks, backflip combinations, whip tricks, landing tricks and used the course to it's full potential.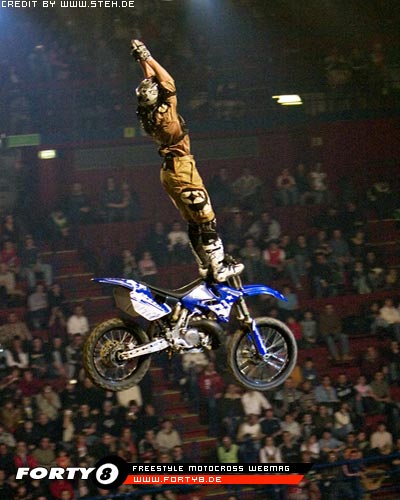 Andre Villa took home the 1st place in Milan on Sunday
The Whip Team contest was won by Brock and Burlew, second was Rebeaud and Villa, followed by the teams of Bianconcini and Dal Farra and then Johansson and Kjorstad.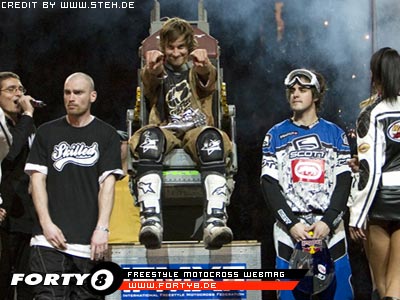 Fred Johansson 3rd, Andre Villa 1st and Mat Rebeaud 2nd
The Highest Air was once again won by the short little Czech flyer Podmol. Second was Brock, with Burlew 3rd.
FACTS IFMXF FIM World Championships

NIGHT of the JUMPs Milan, 04.03.2006

Results Qualifikation
1. Adam Jones USA DMSB Honda 280 Points
2. Andre Villa NOR NMF Yamaha 277 Points
3. Mathieu Rebeaud SUI FMS KTM 274 Points
4. Fredrik Johansson SWE SWEMO Suzuki 262 Points
5. Kris Brock GBR ACU Honda 250 Points
6. Libor Podmol CZE ACCR KTM 245 Points
7. Stefano Minguzzi ITA FMI Honda 241 Points
8. Oystein Kjorstad NOR NMF KTM 237 Points
9. Nick de Wit RSA DMSB Suzuki 227 Points
10. Massimo Bianconcini ITA DMSB 221 Points
11. Derek Burlew USA DMSB Yamaha 203 Points

Results Whip Contest
1. Mat Rebeaud (SUI) & Andre Villa (NOR)
2. Massimo Bianconcini (ITA) & Kris Brock (GBR)
3. Oystein Kjorstad (NOR) & Fredrik Johansson (SWE)
Results Highest-Air-Contest
1. Libor Podmol CZE ACCR Suzuki 7,40 Meter (2nd)
2 Mathieu Rebeaud SUI FMS KTM 7,20 Meter (1st)
3. Kris Brock GBR DMSB KTM 6,30 Meter (1st)

Results Final
1. Adam Jones USA DMSB Honda 347 Points
2. Andre Villa NOR NMF Yamaha 322 Points
3. Mathieu Rebeaud SUI FMS KTM 317 Points
4. Fredrik Johansson SWE SWEMO Suzuki 286 Points
5. Kris Brock GBR ACU Honda 279 Points
6. Libor Podmol CZE ACCR KTM 261 Points

..........................................................................................


NIGHT of the JUMPs Milan, 05.03.2006

Results Qualifikation
1. Andre Villa NOR NMF Yamaha 274 Points
2. Fredrik Johansson SWE SWEMO Suzuki 255 Points
3. Mathieu Rebeaud SUI FMS KTM 255 Points
4. Libor Podmol CZE ACCR KTM 245 Points
5. Nick de Wit RSA DMSB Suzuki 238 Points
6. Oystein Kjorstad NOR NMF KTM 236 Points
7. Derek Burlew USA DMSB Yamaha 226 Points
8. Massimo Bianconcini ITA DMSB 221 Points
9. Kris Brock GBR ACU Honda 220 Points
7. Alvaro dal Farra ITA DMSB Honda 205 Points
11. Adam Jones USA DMSB Honda 27 Points
Results Whip Contest
1. Derek Burlew (USA) & Kris Brock (GBR)
2. Mat Rebeaud (SUI) & Andre Villa (NOR)
3. Oystein Kjorstad (NOR) & Fredrik Johansson (SWE)
3. Alvaro dal Farra (ITA) & Massimo Bianconcini (ITA)
Results Highest-Air-Contest
1. Libor Podmol CZE ACCR Suzuki 7,20 Meter (1st)
2. Kris Brock GBR DMSB KTM 7,00 Meter (1st)
3. Derek Burlew USA DMSB Yamaha 6,00 Meter (1st)

Results Final
1. Andre Villa NOR NMF Yamaha 328 Points
2. Mathieu Rebeaud SUI FMS KTM 300 Points
3. Fredrik Johansson SWE SWEMO Suzuki 294 Points
4. Libor Podmol CZE ACCR KTM 273 Points
5. Oystein Kjorstad NOR NMF KTM 257 Points
6. Nick de Wit RSA DMSB Suzuki 255 Points