SUZUKI NIGHT of the JUMPs | Nürnberg
Story by Oliver Franke and Tobias Hannig
Pics by Tobias Hannig (www.tobpix.com)
Nürnberg, 11. March 06
Mat Rebeaud gives a backflip exhibition en route to another victory

A sold out Arena witnessed some more tight competition in Nürnberg this Saturday which ended to the pounding strains of Song 2 from Blur as Mat Rebeaud gave an extended encore repertoire of every backflip combo in the book.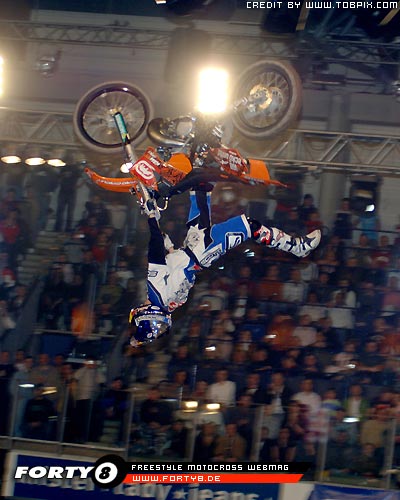 Mat Rebeaud did it again - there is nothing more to say ...
Rebeaud's (Switzerland) backflip mastery was just enough to edge out the ever improving Remi Bizouard (Fra) tonight. Bizouard may only have had 3 backflips in his routine, but it was his other tricks which really blew minds. Undoubtedly the biggest extensions ever seen in an IFMXF event, coupled with an aggressive determination meant that Bizouard was a mere handful of points behind Rebeaud in the end.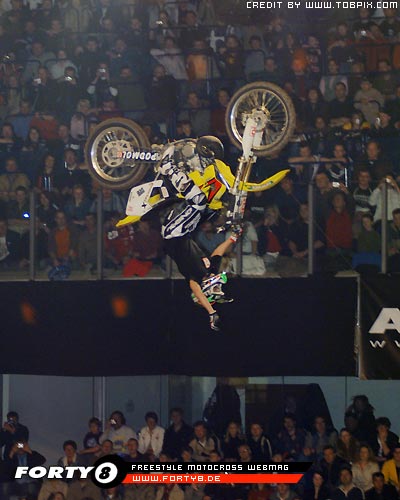 Congrats Libor Podmol - 1st podium result with a 3rd place in the final
3rd in the final was Libor Podmol (Cze), who also won the Highest Air ahead of Rebeaud. Podmol showed an impressive final run with sick tricks like double hardattacks, onehanded backflip, doublegrab indian and cracknac.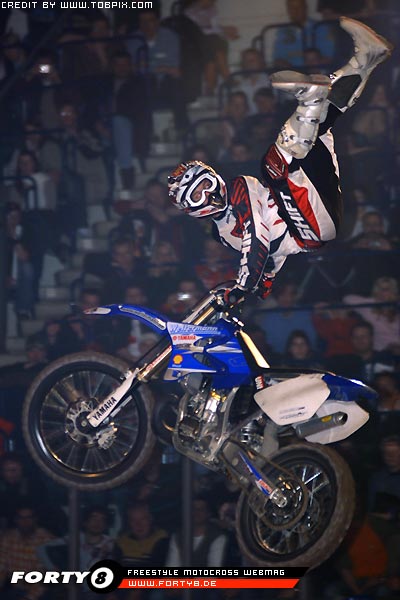 Derek Burlew was the best non-flipper with a good 4th place in the final

Let's talk about the American Derek Burlew. Derek rode consistant in his runs. He was the best non-backflipper placing 4th. Fifth was the Italian General, Massimo Bianconcini who also looked pretty good in the bike qualifying for the main event.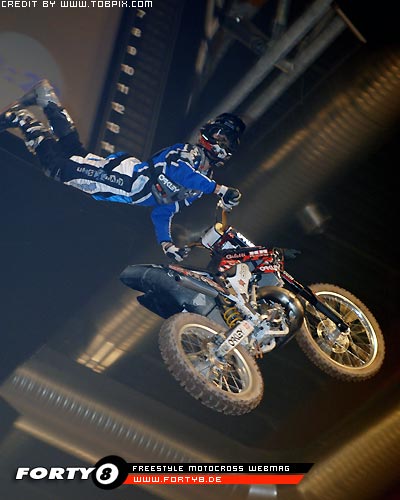 Massimo Bianconcini doing a CatNac

Nick de Wit from South Africa showed really good tricks, but didn't use his whole potential. Finally Nick took home the 6th place.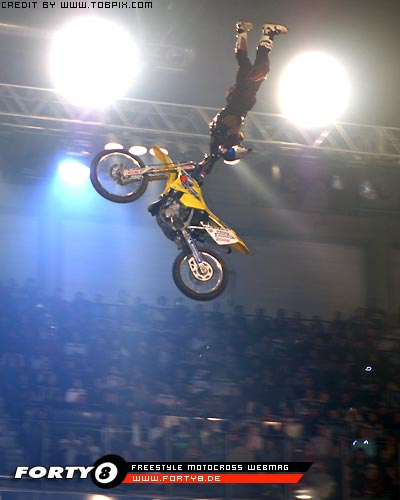 Nick de Wit with a Tsanami - 6th place in the final
The Team Whip contest was won by Rebeaud and Bizouard from the pairing of Busty Wolter (Ger) and Derek Burlew. Third were the Italians, Biancocini and Alvaro dal Farra.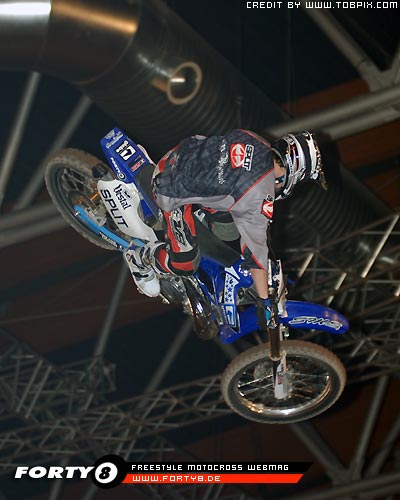 Remi Bizouard and Mat Rebeaud won the Whip Team Contest
The next round of the Night of the Jumps takes place in Graz Austria next weekend (18 & 19 March).
FACTS NIGHT of the JUMPs, Nürnberg, 11. March 2006

Results Qualification
1. Mathieu Rebeaud SUI FMS KTM 260 Points
2. Remi Bizouard FRA FFM Yamaha 241 Points
3. Libor Podmol CZE ACCR Suzuki 221 Points
4. Derek Burlew USA DMSB Yamaha 207 Points
5. Nick de Wit RSA DMSB Suzuki 206 Points
6. Massimo Bianconcini ITA DMSB Honda 205 Points
7. Fabian Bauersachs GER DMSB Kawasaki 201 Points
8. Alvaro dal Farra ITA DMSB Honda 195 Points
9. Nick Franklin NZL DMSB KTM 192 Points
10. Jimmy Verburgh BEL DMSB Honda 152 Points
11. Freddy Peters GER DMSB Yamaha 95 Points
12. Busty Wolter GER DMSB Suzuki 70 Points
Results Whip Contest
1. Mat Rebeaud (SUI) & Remi Bizouard (FRA)
2. Busty Wolter (GER) & Derek Burlew (USA)
2. Massimo Bianconcini (ITA) & Alvaro dal Farra (ITA)
Results Highest-Air-Contest
1. Libor Podmol CZE ACCR Suzuki 6,50 Meter (1st)
2 Mathieu Rebeaud SUI FMS KTM 6,30 Meter (2nd)
3. Jimmy Verburgh BEL DMSB KTM 5,50 Meter (1st)
3. Nick Franklin NZL 5,50 Meter (1st)

Results Final
1. Mathieu Rebeaud SUI FMS KTM 292 Points
2. Remi Bizouard FRA FFM Yamaha 286 Points
3. Libor Podmol CZE ACCR Suzuki 246 Points
4. Derek Burlew USA DMSB Yamaha 237 Points
5. Massimo Bianconcini ITA DMSB Honda 235 Points
6. Nick de Wit RSA DMSB Suzuki 228 Point