IFMXF NIGHT of the JUMPs | Graz/AUT
Graz, 18.03.2006
Fredrik Johansson - Can you say 1 hand 360!?!
A night of action and mixed fortunes as the Night of the Jumps makes its debut in Graz.
A sold out arena saw Fredrik Johansson (Swe) edge ahead of IFMXF number 1 Mat Rebeaud (Switz) by the skin of his teeth as he pulled a 1-handed 360 as his Double-up trick as a finale to his run in the final tonight. Until then it seemed Rebeaud was sure to secure the victory as he rode flawlessly with huge tricks, unbelievable backflip combinations, innovative use of the course and controlled aggression. Third, making a return to his old form was Derek Burlew, who despite not having a backflip in his run, schooled the other riders on execution and extension of his technically difficult tricks.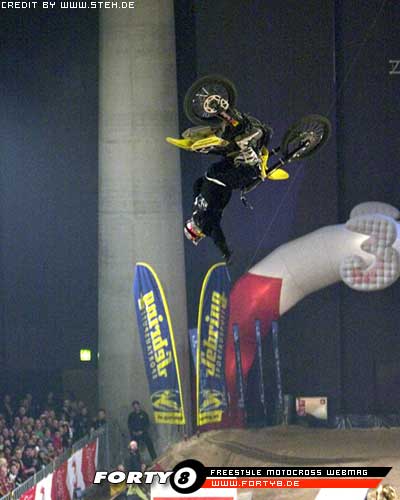 Fred Johansson rocked Graz doing a Onehanded 360 an won the final!
Fourth was Oystein Kjorstad (Nor). Fifth in the final and tied second in the whip contest was Czech youngster Libor Podmol. Sixth was Nick Franklin (NZ),
The Whip contest was won by Rebeaud, ahead of Burlew.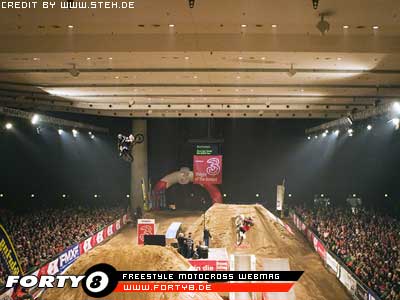 The Setup in Graz
Taking a sensational victory in the Highest-Air contest tonight was the young bushman from the little known country of Botswana, Alastair Sayer. South African based Sayer who is new to International competition through the IFMXF Pre-qualification system, also managed a respectable 8th overall in the FMX and tied for third in the whip contest.

The German Fabian Bauersachs had a bad day and could only reach a 9th place overall.
Graz, 19.03.2006

Fredrik Johansson doubles it up in Graz.
After winning the first day of competition here in Graz yesterday, Fred Johansson (Swe) had to deal with a fired up Mat Rebeaud (Switz) today in the second day of competition here in Graz.
Johansson stunned everyone by landing a 1-hand 360 in Saturday's final and the field was set for a huge duel on Sunday. Out the gate, Rebeaud beat him fair and square in the qualification round, both riders putting on amazing displays of riding. But somehow, luck was on Johansson's side though and the epic showdown everyone was expecting for the final never materialised. Rebeaud decided to forfeit a possible shot at winning and intentionally produced a run consisting of only backflip combinations for the crowd, which did not sit well with the judges.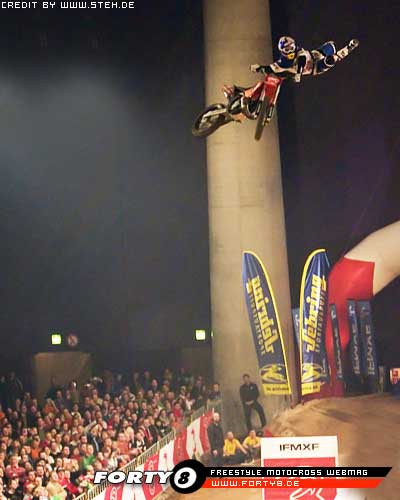 Mat Rebeaud doing a Cat Nac Indian
Second in the final was Oystein Kjorstad (Nor), 3rd was Libor Podmol (Cze), who also won the Highest Air contest ahead of Alastair Sayer (Botswana). Rebeaud placed 4th in the final, Derek Burlew (US) got 5th and Massimo Bianconcini (Ita) was sixth. The whip contest was won by Rebeaud ahead of Burlew.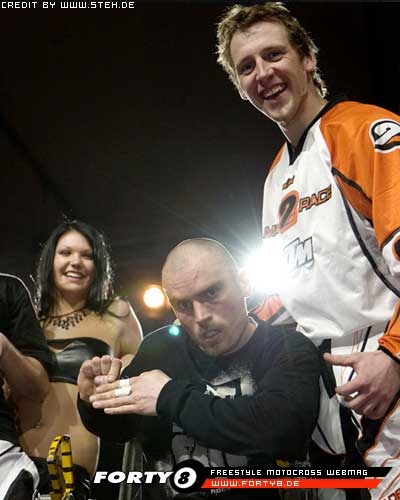 Fred Johansson (1st) and Oystein Kjorstad (2nd)
The series moves to the Max Schmelling Halle in Berlin next weekend for the next two rounds of the Night of the Jumps.
FACTS IFMXF NOTJ

Graz, 18.03.2006
Results Qualification
1. Fredrik Johansson SWE SVEMO Suzuki 263 Points
2. Mathieu Rebeaud SUI FMS KTM 251 Points
3. Nick Franklin NZL DMSB KTM 227 Points
4. Derek Burlew USA DMSB Yamaha 213 Points
5. Libor Podmol CZE ACCR Suzuki 213 Points
6. Massimo Bianconcini ITA DMSB Honda 211 Points
7. Oystein Kjorstadt NOR NMF KTM 211 Points
8. Alastair Sayer BOT DMSB Honda 153 Points
9. Fabian Bauersachs GER DMSB Kawasaki 143 Points
10. Hannes Ackermann GER DMSB KTM 118 Points
11. Nick de Wit RSA DMSB Suzuki 82 Points
Results Whip Contest
1. Mat Rebeaud SUI FMS KTM
2. Derek Burlew USA DMSB Yamaha
3. Massimo Bianconcini ITA DMSB Honda
4. Alastair Sayer BOT DMSB Honda
Results Highest-Air-Contest
1. Alastair Sayer BOT DMSB Honda 7,70 Meter (1st)
2. Libor Podmol CZE ACCR Suzuki 7,50 Meter (1st)
2. Fredrik Johansson SWE SVEMO Suzuki 7,50 Meter (1st)
2. Jason Moriarty RSA DMSB Suzuki 7,50 Meter (1st)
5. Nick Franklin NZL DMSB KTM 0 Meter
Results Final
1. Fredrik Johansson SWE SVEMO Suzuki 313 Points
2. Mathieu Rebeaud SUI FMS KTM 307 Points
3. Derek Burlew USA DMSB Yamaha 266 Points
4. Oystein Kjorstadt NOR NMF KTM 265 Points
5. Libor Podmol CZE ACCR Suzuki 263 Points
6. Nick Franklin NZL DMSB KTM 258 Points
7. Massimo Bianconcini ITA DMSB Honda 236 Points

................................................................................

Graz, 19.03.2006

Results Qualifikation
1. Mathieu Rebeaud SUI FMS KTM 267 Points
2. Fredrik Johansson SWE SVEMO Suzuki 258 Points
3. Libor Podmol CZE ACCR Suzuki 213 Points
4. Derek Burlew USA DMSB Yamaha 224 Points
5. Oystein Kjorstadt NOR NMF KTM 219 Points
6. Massimo Bianconcini ITA DMSB Honda 211 Points
7. Fabian Bauersachs GER DMSB Kawasaki 186 Points
8. Alastair Sayer BOT DMSB Honda 165 Points
9. Nick Franklin NZL DMSB KTM 149 Points
10. Hannes Ackermann GER DMSB KTM 104 Points
Results Whip Contest
1. Mat Rebeaud SUI FMS KTM
2. Derek Burlew USA DMSB Yamaha
3. Massimo Bianconcini ITA DMSB Honda
4. Alastair Sayer BOT DMSB Honda
Results Highest-Air-Contest
1. Libor Podmol CZE ACCR Suzuki 8,00 Meter (1st)
2. Alastair Sayer BOT DMSB Honda 7,70 Meter (1st)
3. Fredrik Johansson SWE SVEMO Suzuki 6,80 Meter (1st)
Results Final
1. Fredrik Johansson SWE SVEMO Suzuki 316 Points
2. Oystein Kjorstadt NOR NMF KTM 280 Points
3. Libor Podmol CZE ACCR Suzuki 268 Points
4. Mathieu Rebeaud SUI FMS KTM 251 Points
5. Derek Burlew USA DMSB Yamaha 251 Points
6. Massimo Bianconcini ITA DMSB Honda 241 Point