SUZUKI NIGHT of the JUMPs | Berlin
Story by Oliver Franke
Pics by Sandra Steh (www.steh.de)
Berlin, 25.03.2006
Rebeaud sneaks in ahead of Villa and Bizouard in Berlin thriller. And Jim McNeil did not reach the Top 3 with a Superman Seatgrab Backflip!

Mat Rebeaud (Switz) stepped up to the mark tonight and showed exactly why he is the IFMXF number 1 ranked rider. Over the last few weeks, several critics had said that Mat was being over scored because he had too many backflip combinations and not enough regular tricks in his repertoire. Last week he sacrificed a possible win by doing only backflips to show that if he needed to, he could do a run completely with backflips. This week however, he showed only three backflip combinations in the regular time and several really impressive regular tricks, in the process doing what seemed un likely, by beating the impressive duo of Bizouard (Fra) and Villa (Nor).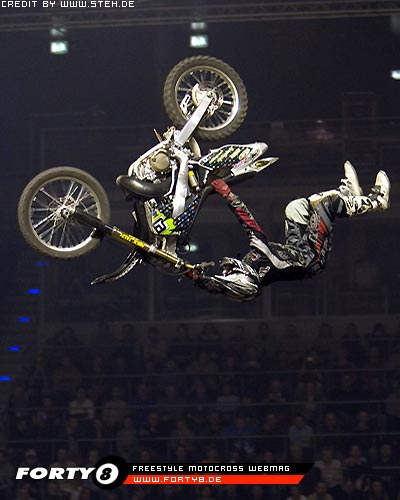 Jim McNeil with a Backflip Seatgrab-definetely one of the hardest tricks
Second, and only by the narrowest of margins was the super creative Andre Villa, who has some of the biggest regular tricks known to man. Teenage phenomenon, Remi Bizouard was third.



Remi Bizouard with a Kiss of Death Indian
Fourth after a last minute error on his Double-up jump was American Jim McNeill, who eventually placed fourth. He had intended to do a Seat-grab backflip as his final jump, but needed a second attempt, out of the time, but if nothing else proved to the judges and fans that he has it in him. If he had stuck his last trick, he would also have been in contention for the victory.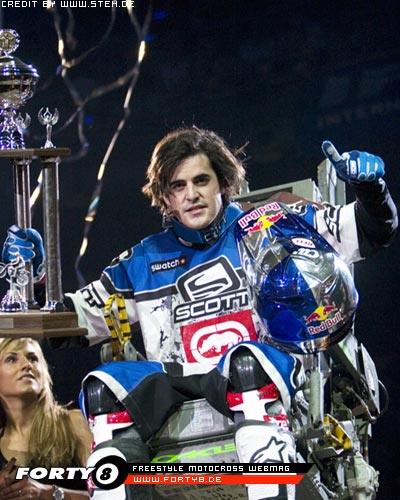 Mat Rebeaud took home the win on saturday night
The Whip contest was won by Andre Villa ahead of Mat Rebeaud and Remi Bizoaurd.
The Highest Air victory was shared by Kris Brock (Eng) and Libor Podmol (Cze), who also finished in 5th and 6th in the final.
The second round of competition kicks off in the Max Schmelling Arena in Berlin at 4pm today. Villa, Bizouard and McNeill are all determined to get the win back from Rebeaud, so expect some fireworks!


..................................................................................................


Berlin, 26.03.2006
Andre Villa gets revenge at round 2 in Berlin.
The top 4 riders in tonight's final were so close to each other that it would take the smallest details to separate them, or an error under pressure.
Yesterday's winner, Mat Rebeaud (Switz) was the first to flounder, making a fatal mistake, with a dead sailor mid-run in the final. This moved him from a possible first to 4th in the final placings. In a way, it's a pity Rebeaud didn't get his whole run in, because Andre Villa (Nor) pulled a perfect run out of the bag tonight and it would've been interesting to see them duelling it out on an even basis.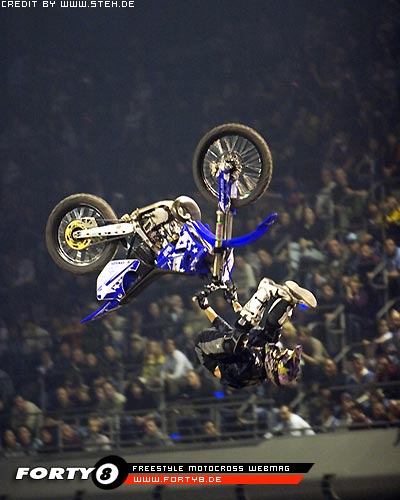 Andre Villa pulling a McNasty
Second after a some unbelievable riding, was French wonderkid, Remi Bizoaurd. Remi's single trick extension is freakishly big and with a bit more experience, he will be atop the podium for a long time to come.
Third was American Jim McNeill, who pulled his famous Backflip seatgrab as his Double-up trick. Fifth in the final was Kris Brock (Eng), sixth was Oystein Kjorstad (Nor).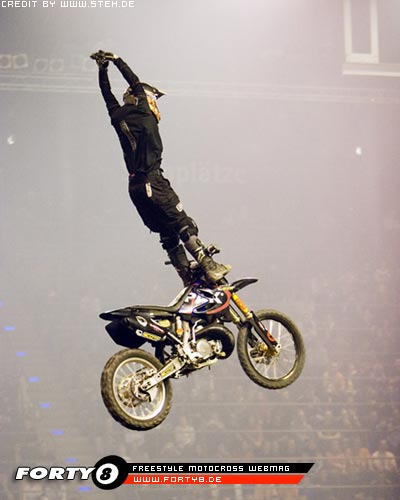 Local Freddy Peters placed 10th on both days
The Whip contest was won by Rebeaud from Brock and Bizouard. The Highest-Air offered the locals something to cheer about, as German Florian Menge out-gunned regular IFMXF Highest-Air winner Libor Podmol (Cze) for the win.
The action moves to Bremen next weekend for the 5th & 6th rounds of the IFMXF / FIM World Championship.
FACTS Suzuki NIGHT of the JUMPs - Berlin 25.03.2006

Results Qualifikation
1. Mathieu Rebeaud SUI FMS KTM 241 Points
2. Jim McNeil USA DMSB Honda 221 Points
3. Remi Bizouard FRA DMSB Yamaha 217 Points
4. Andre Villa NOR DMSB Yamaha 211 Points
5. Libor Podmol CZE ACCR Suzuki 200 Points
6. Chris Brock GBR ACU Honda 192 Points
7. Oystein Kjorstadt NOR NMF KTM 187 Points
8. Fabian Bauersachs GER DMSB Kawasaki 165 Points
9. Brian Foster USA DMSB Honda 162 Points
10. Freddy Peters GER DMSB Yamaha 149 Points
11. Florian Menge GER DMSB Honda 128 Points
12. Bart Oglaza POL PZM Suzuki 125 Points

Results Whip Contest
1. Andre Villa NOR DMSB Yamaha
2. Mathieu Rebeaud SUI FMS KTM
3. Remi Bizouard FRA DMSB Yamaha
4. Chris Brock GBR ACU Honda
4. Brian Foster USA DMSB Honda
4. Jim McNeil USA DMSB Honda
Results Highest-Air-Contest
1. Libor Podmol CZE 7,00 Meter (1st)
1. Chris Brock GBR 7,00 Meter (1st)
3. Brian Foster USA 6,60 Meter (1st)
Results Final
1. Mathieu Rebeaud SUI FMS KTM 306 Points
2. Andre Villa NOR NMF Yamaha 302 Points
3. Remi Bizouard FRA FFM Yamaha 279 Points
4. Jim McNeil USA DMSB Honda 259 Points
5. Kris Brock GBR ACU Honda 238 Points
6. Libor Podmol CZE ACCR Suzuki 179 Points

...................................................................................


FACTS Suzuki NIGHT of the JUMPs - Berlin 26.03.2006

Results Qualifikation
1. Andre Villa NOR DMSB Yamaha 259 Points
2. Mathieu Rebeaud SUI FMS KTM 257 Points
3. Remi Bizouard FRA DMSB Yamaha 244 Points
4. Jim McNeil USA DMSB Honda 221 Points
5. Oystein Kjorstadt NOR NMF KTM 222 Points
6. Chris Brock GBR ACU Honda 218 Points
7. Libor Podmol CZE ACCR Suzuki 214 Points
8. Brian Foster USA DMSB Honda 180 Points
9. Fabian Bauersachs GER DMSB Kawasaki 173 Points
10. Freddy Peters GER DMSB Yamaha 159 Points
11. Florian Menge GER DMSB Honda 135 Points
12. Bart Oglaza POL PZM Suzuki 120 Points

Results Whip Contest
1. Mathieu Rebeaud SUI FMS KTM
2. Chris Brock GBR ACU Honda
3. Remi Bizouard FRA DMSB Yamaha
4. Andre Villa NOR DMSB Yamaha
4. Brian Foster USA DMSB Honda
4. Jim McNeil USA DMSB Honda
Results Highest-Air-Contest
1. Florian Menge GER 8,40 Meter (1st)
2. Libor Podmol CZE 8,30 Meter (1st)
3. Chris Brock GBR 8,00 Meter (1st)
3. Brian Foster USA 8,00 Meter (1st)

Results Final
1. Andre Villa NOR DMSB Yamaha 293 Points
2. Remi Bizouard FRA DMSB Yamaha 277 Points
3. Jim McNeil USA DMSB Honda 264 Points
4. Mathieu Rebeaud SUI FMS KTM 257 Points
5. Chris Brock GBR ACU Honda 242 Points
6. Oystein Kjorstadt NOR NMF KTM 224 Points