Suzuki NIGHT of the JUMPs
IFMXF FIM World Championships | Bremen
Story by Oliver Franke
Pics by Sandra Steh (www.steh.de)
Bremen, 01.04.2006
Mike Mason victorious ahead of Johansson in Bremen. Round 5 of the Suzuki NIGHT of the JUMPs / IFMXF FIM World Championship blasted through the AWD Dome in Bremen Germany.

The slightly muddy conditions meant that riders would need 100% concentration to stay in the hunt. Early favourite Remi Bizouard (Fra) looked on his way to winning the qualification round when he crashed heavily on his final jump, injuring his shoulder and opting to sit out the final. Also crashing out early on was Libor Podmol (Cze), who returned later in the nite with a bent bike to take victory in the Highest-Air. Second in the Highest-Air was local boy Florian Menge.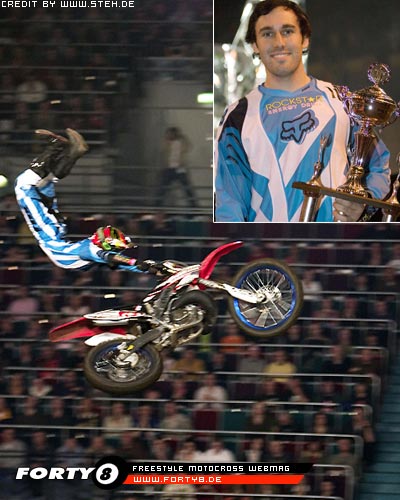 The course was made even more technical by the addition of a 20m dirt double, a wall-ride and a grind box leading straight onto the super kicker – all elements which use the element of technical skill to further separate the field of riders.
Second with an impressive ride was Fredrik Jonsson (Swe), who robbed himself of a potential victory by inexplicably only doing 9 jumps in the final instead of the required 10. Also robbing himself of a potential win and handing victory to Mike Mason (US) was Jim McNeil (US), who had a fatal "dead sailor" near the end of his run, bumping him down the order. Fourth with a solid ride was Kris Brock (Eng) and fifth in the final was Nick Franklin (NZ). Bizouard was awarded 6th in the final placings despite not riding the final, due to his earlier qualification position.
The Whip contest was won by the team of Mason and Derek Burlew (US), ahead of another American pairing, Brian Foster and McNeil.

Bremen, 02.04.2006
McNeil wins it on final day in Bremen Germany! The second day of World Championship action in Bremen Germany, continued where it left off yesterday with more fierce action today.
The qualification round was a close affair and today Nick Franklin (NZ) and Derek Burlew (US) made it into the final six with much improved performances. Franklin was 4th, Burlew 5th. Sixth in the final was Kris Brock (Eng), who also managed a win in the Whip contest followed by Mike Mason (US) and Brian Foster (US).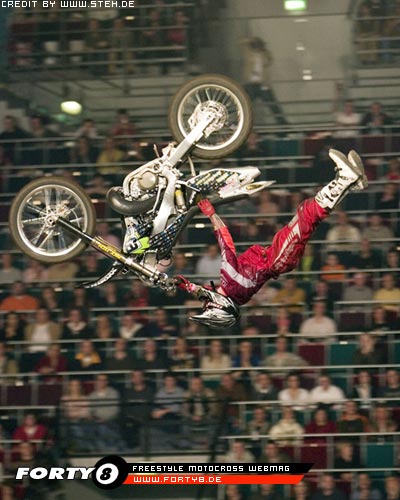 Jim McNeil took home the win on the 2nd day
The Highest-Air was won by Libor Podmol (Cze) from Florian Menge (Ger). Tied for third were Foster and Brock.
The top three in the final yesterday would once again battle it out, but today the positions all swapped around. In the end it was McNeil (US) just ahead of Johansson (Swe) in second and Mason in third. All pulled some huge tricks out the bag and stepped up a level from yesterday.
After six Contest of the IFMXF FIM World Championships Mat Rebeaud (SUI) still is on top with 72 points. Second Andre Villa (NOR) with 68 points, followed by Fredrik Johansson with 66 points.
(complete ranking under http://ranking.ifmxf.com)

FACTS IFMXF FIM WC / NIGHT of the JUMPs

Bremen 01.04.2006

Results Qualification
1. Jim McNeil USA DMSB Honda 247 Points
2. Mike Mason USA DMSB Honda 243 Points
4. Kris Brock GBR ACU Honda 230 Points
4. Fredrik Johansson SWE SVEMO Suzuki 230 Points
5. Remi Bizouard FRA FFM Yamaha 227 Points
6. Nick Franklin NZL MNZ KTM 212 Points
7. Brian Foster USA DMSB Yamaha 208 Points
8. Nick de Wit RSA DMSB Suzuki 206 Points
9. Derek Burlew USA DMSB Yamaha 197 Points
10. Oystein Kjorstad NOR NMF KTM 179 Points
11. Fabian Bauersachs GER DMSB Kawasaki 178 Points
12. Freddy Peters GER DMSB Yamaha 132 Points
13. Libor Podmol CZE ACCR Suzuki 59 Points

Results Whip Contest
1. Team Mike Mason & Derek Burlew (USA)
2. Team Brian Foster & Jim McNeil (USA)
3. Team Chris Brock & Fredrik Johansson (GBR / SWE)

Results Highest-Air-Contest
1. Libor Podmol CZE 8,50 Meter (1st)
2. Florian Menge GER 8,30 Meter (2nd)
3. Kris Brock GBR 7,70 Meter (1st)
3. Brian Foster USA 7,70 Meter (1st)

Results Final
1. Mike Mason USA DMSB Honda 298 Points
2. Fredrik Johansson SWE SVEMO Suzuki 292 Points
3. Jim McNeil USA DMSB Honda 279 Points
4. Kris Brock GBR ACU Honda 268 Points
5. Nick Franklin NZL MNZ KTM 212 Points
6. Remi Bizouard FRA FFM Yamaha 0 Points

...................................................................................


Bremen 02.04.2006
Results Qualification
1. Fredrik Johansson SWE SVEMO Suzuki 253 Points
2. Jim McNeil USA DMSB Honda 251 Points
3. Mike Mason USA DMSB Honda 243 Points
4. Kris Brock GBR ACU Honda 238 Points
5. Nick Franklin NZL MNZ KTM 233 Points
6. Derek Burlew USA DMSB Yamaha 222 Points
7. Brian Foster USA DMSB Yamaha 212 Points
8. Libor Podmol CZE ACCR Suzuki 211 Points
9. Oystein Kjorstad NOR NMF KTM 207 Points
10. Nick de Wit RSA DMSB Suzuki 199 Points
11. Freddy Peters GER DMSB Yamaha 175 Points
12. Fabian Bauersachs GER DMSB Kawasaki 161 Points
13. Remi Bizouard FRA FFM Yamaha 0 Points

Results Whip Contest
1. Kris Brock (GBR)
2. Mike Mason (USA)
3. Brian Foster (USA)
4. Jim McNeil (USA)
4. Derek Burlew (USA)

Results Highest-Air-Contest
1. Libor Podmol CZE 8,70 Meter (1st)
2. Florian Menge GER 8,50 Meter (1st)
3. Kris Brock GBR 6,80 Meter (1st)
3. Brian Foster USA 6,80 Meter (1st)

Results Final
1. Jim McNeil USA DMSB Honda 300 Points
2. Fredrik Johansson SWE SVEMO Suzuki 296 Points
3. Mike Mason USA DMSB Honda 286 Points
4. Nick Franklin NZL MNZ KTM 270 Points
5. Derek Burlew USA DMSB Yamaha 255 Points
6. Kris Brock GBR ACU Honda 225 Points