RED BULL X-FIGHTERS | MEXICO CITY
Mat Rebeaud from Switzerland won!

The Swiss rider stood there in the radiance of the TV spotlights, sporting a rather unpatriotic headdress in the form of a sombrero, appeared even a little surprised and gave many, many interviews: "I risked it and won. This is an unbelievable victory. It is probably the most beautiful day in my life."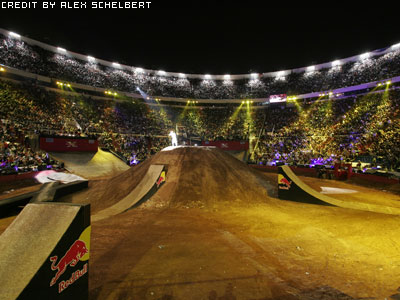 The opening show
The most successful evening in the FMX life of the 23-year-old KTM pilot also started with a little luck, because in the first round he nearly missed by a hair: His 70 points brought him into fifth place and thus guaranteed his ascent into the semi-final round, whereas the Australian Robbie Maddison got sixth-place with 69 points and was eliminated.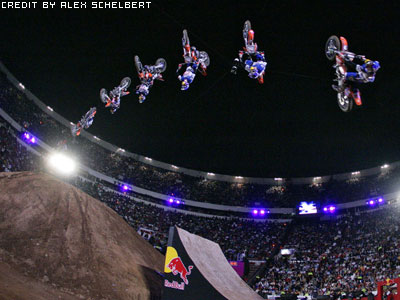 Mat Rebeaud doing an Underflip
Rebeaud however later proved himself to be the most precise and most brilliant rider of the evening: Second place in the semi-finals ... and then an unbelievable run in the final round, which forced Travis Pastrana, the great dominator of the first two rounds, to risk a lot – in fact, too much. The 22-year-old American experienced a severe crash in his run; the fact that he was able to leave the arena on his own two feet seemed like a miracle for the 42,000 fans.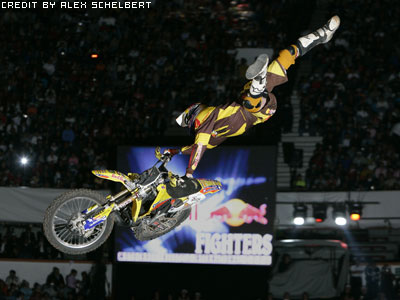 Travis had bad luck and crashed
Not only Travis Pastrana risked too much in this evening at the world's largest bull fighting arena: The Norwegian, Andre Villa, who was phenomenal in training and who got second in the first round of the contest, missed a certain final entry due to a fall during his last semi-final jump.



Last years winner Ronnie Renner with a constant 2nd place
Other quotations:
Travis Pastrana (after round 1): "An unbelievable event. I am in love with the fans!"
Andre Villa: "Even if I am very disappointed after my fall, that was a great experience: I love you, Mexico!"
Robbie Maddison: "Very cool event, very cool ... now I am looking forward to the After Party!"
Ronnie Renner: "It is always like this in Mexico: simply perfect. An unbelievable competition. I showed the largest whip of my life."
Sebastian Mejia: "Excellent, perfect, I love the people in the arena!"
Johan Nungaray: "That was the best thing I have ever experienced, the most exciting two minutes of my life. I still need time to be able to learn more tricks, I learned a lot today, but someday I want to be able to challenge the best riders!"
Facts RED BULL X-FIGHTERS MEXICO CITY 2006

Qualifiers for the semi-final round:
1. Travis Pastrana (USA) – 78,5 points
2. Andre Villa (NOR) – 75,5 points
3. Ronnie Renner (USA) – 72 points
4. Dani Torres (ESP) – 71 points
5. Mathieu Rebeaud (CH) – 70 points

Out in the first round:
6. Robbie Maddison (AUS) – 69 points
7. Nate Adams (USA) – 62,5 points
8. Eigo Sato (JPN) – 58,5 points
9. Sebastian Mejia (COL) – 55 points
10. Johan Nungaray (MEX) – 52 points

..............................................................................

Final Results
1. Mat Rebeaud (CH)
2. Ronnie Renner (USA)
3. Travis Pastrana (USA)
4. Dani Torres (ESP)
5. Andre Villa (NOR)
6. Robbie Maddison (AUS)
7. Nate Adams (USA)
8. Eigo Sato (JPN)
9. Sebastian Mejia (COL)
10. Johan Nungaray (MEX)