Close Finish at Hardcore Freestyle Motocross in Zurich
Press release hardcorefmx.com
Team USA Wins Overall

AURORA, Ill. (May 22, 2006) – Before 13,800 fans at Hallenstadion AG in Zurich, Switzerland, Team USA took victories from Team Europe in each of 3 events and earned the inaugural Hardcore Freestyle Motocross championship.
Hardcore Freestyle Motocross has given European fans the opportunity to witness the American pioneers of the sport take on the new European rebels in a Team Europe vs. Team USA format. Fans can follow the complete Hardcore Freestyle Motocross championship through exclusive television coverage on Eurosport, Europe's leading sports media platform, in one-hour programs of the energy-packed events.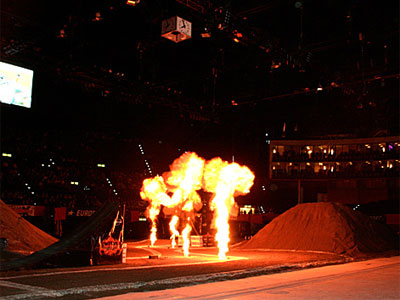 The opening show including pyro show
After winning the single event in Helsinki, Team USA tied the team standings heading into Zurich at two wins apiece. Team Europe had taken 2 of 3 in the first round of the series in Belgium. With points awarded to both individuals and teams, victory for Team US looked dim before the final round in Zurich, as Team Europe's Nick Franklin left Helsinki with the individual points lead.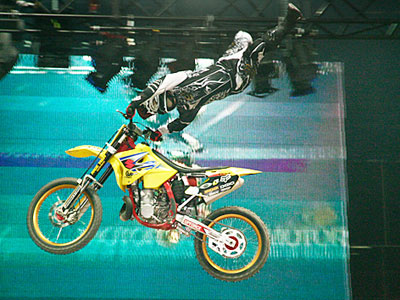 Dustin Miller with some style - superman indian
Team USA's luck turned, however, when American riders Mike Mason and Dustin Miller returned to action in Zurich after missing the Helsinki stop. Mason swept all three individual competitions at the opening round in Antwerp, Belgium, and led the points standings before Franklin removed him from the throne in Helsinki.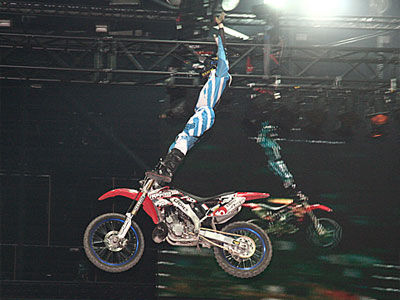 Mike Mason with a big cliffhanger
During the weekend at the Hallenstadion, Mason again took victory, performing a heel-clicker back flip, which he had never tried before this weekend's events. Mason won the individual titles at all three events in Zurich, but it wasn't enough to displace Franklin, who rode away with overall individual crown for the series. Both riders put on a great show and performed new tricks, including Franklin's one-handed take off from the ramp ending in a stunning "rock-solid" trick.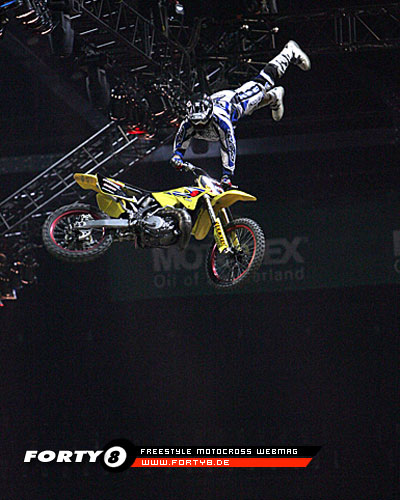 Jake Windham doing Cracknac
"The show Saturday night was spectacular," said Troy Kuszmaul, senior FMX operations manager, Live Nation. "The riders were doing tricks they'd never done before this event. We saw some of the best freestyle action. They gave a top-notch performance to the fans."
Despite his lead coming into the Zurich round, Franklin's chances of maintaining the individual lead were in doubt due to an injury sustained at the previous weekend's event in Helsinki. Fortunately for Team USA, Mason and Jeff Fehr returned to compete, each taking his turn in the lead in Zurich, and eventually helping push the enough points to secure victory for Team USA in the team competition.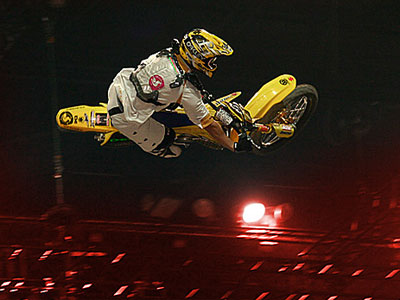 Busty Wolter whippin' it for Europe
"It was a heart-stopping final round and it came down to the last minutes. In the end, Team USA edged out Team Europe for the series championship. It was a very close series. I think both teams were surprised how close it was. Team Europe has already started organizing their strategy for next year. It was so close," said Magnus Danielsson, senior director of European events, Live Nation. "The fans here in Switzerland were great all weekend. The atmosphere was amazing. They got the best FMX show ever witnessed in Europe.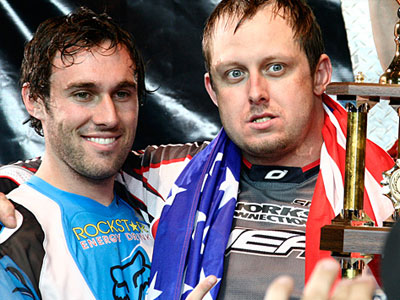 Team USA won the hardcore fmx series 2006
"The Hardcore tour has made a great impact on the FMX scene in Europe in a short time. The fans, riders, promoters, media, sponsor and partners love the Hardcore tour," he added.

Friday results
1 Mike Mason
2 Nick Franklin
3 Dustin Miller
4 Nick Dewit
5 Derek Burlew
6 Jake Windham
7 Busty Wolter
8 Jeff Fehr
9 Jimmy Verburgh
10 Chris Birch

.................................................................................

Saturday Results
1 Mike Mason
2 Nick Franklin
3 Jeff Fehr
4 Dustin Miller
5 Nick De Wit
6 Busty Wolter
7 Derek Burlew
8 Jake Windham
9 Jimmy Verburgh
10 Chris Birch

.................................................................................

Individual Standings
1. Nick Franklin 323 pts
2. Mike Mason 300 pts
3. Nick de Wit 282 pts
4. Jake Windham 275 pts
5. Derek Burlew 273 pts
6. Jeff Fehr 271 pts
7. Dustin Miller 270 pts
8. Busty Wolter 265 pts
9. Jeremy Verburgh 250 pts
10. Chris Burch 231 pts
11. Beau Bamburg 50pts
12. Jeff Banks 32pts

......................................................... ........................

Season Team Standings
Team Europe: 2 Wins
Team USA: 5 Wins


Support us: Like and Share it!

Video of the month

Facebook /FORTY8Mag

Partner