DEW ACTIONSPORTS TOUR 2006
Tourstop 2 | Denver
FMX Finals was a continuous race for first and finished with a magnitude of raditude for the Mile High crowd.

With Nate Adam's uncommon finish in FMX Prelims, he was seated early in the run order but stepped-up and redefined the term "Raising the Bar" in the Finals. Drake, Mason and McNeil put down solid runs with some good backflip and tech combos, but Nate "The Destroyer" Adams leveled the course.

Highlights from Nate's run included a flip no-hander, a never-before-seen in competition backflip lazyboy, a holy man to double grab landing no-handed, and of course, a massive flip Cordova. Nate went both ways on the wall ride and even added in a hip transfer that no one else hit all weekend; He finished up with a backflip nac-nac to heel-clicker and everyone knew he'd be the guy to beat.

But his hot spot on the top of the leader board only lasted through one rider, Ailo Gaup, whose flip to no-hander lander and flip sidesaddle lander weren't able to best Adams' score of 94.33. Ailo went into a temporary second place, but Bartram would come out of the blue and beat them both.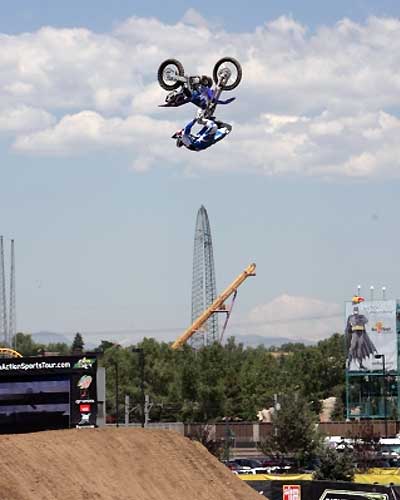 Nate Adams finished 2nd doing a Cordova Flip

Kenny had been flying low under the radar all week. The windy conditions muted lots of good riding during Prelims, including Kenny's. He quickly put all notions that he was falling off the back of the pack to rest and stole the lead from Adams with a fast and innovative run. The Cowboy started out with a one-handed take-off backflip and set the crowd ablaze. He continued to race around the course like he was in a supercross main event and pumped out a flip nac-nac to one-hander lander, wallrides both ways, a classic McMetz, his signature no-handed whip and then ended with a side saddle take-off backflip on the 45-foot super kicker.

Madison, Miller, Faisst and Rebeaud all took a shot at besting Cowboy Kenny, but the only run that came close was from Mat Rebeaud - a 93.33 that took flip saran wraps and flip nac-nacs to achieve. When the dust settled, it was Rebeaud in 3rd, Adams in 2nd and Bartram in the hot seat; Travis Pastrana however was waiting on the drop-in with a crazy run churning in his mind, about to make the dust go wild again.

The #199 dropped in and went straight into attack mode with a backflip to side saddle lander, a big Kiss of Death, a flip nac-nac, a backflip superman, a backflip no-footed can-can, and then launched a side saddle take-off flip showing everyone that he's got Bartram's moves dialed too. The scores came back and Pastrana's fresh 96.83 shot to the top of the charts.

With one more round to go, Nate Adams had a second chance and ran with the same tricks list but concentrated on extension and perfection. It paid off for him as he shifted one place from 3rd to 2nd, swapping places with Bartram. Two runs later Bartram was planning on continuing the musical chairs routine on the podium spots but didn't manage to best his first run score of a 95.67.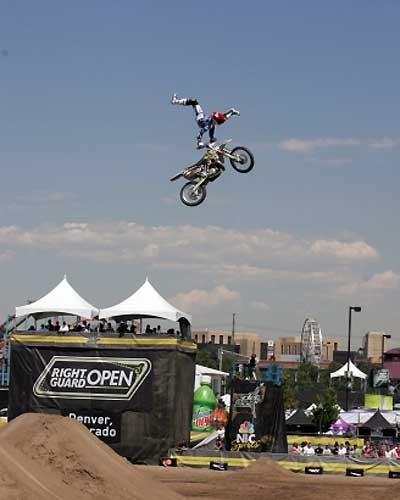 Kenny Bartram doing a Crack Nac Indian

Neither Ailo, Rebeaud, McNeil or Faisst could challenge the top three and when Pastrana's last run came around he pulled Bartram out on the course with him and the two riders gave the crowd a once in a lifetime doubles routine. Ramping up the course side by side and backflipping mere feet in front of each other, TP and KB raced around the track for a minute solid bringing the crowd to their feet as the 1st and 3rd place finishers dished out a magnitude of raditude for the Mile High crowd.

After this event, Pastrana and Adams share the top spot in the Dew Action Sports Tour Standings with 175 points followed by another tie between Kenny Bartram and Ailo Gaup with 112 points each.
FACTS DEW ACTIONSPORTS TOUR

FMX Finals, Right Guard Open

1. Travis Pastrana 96.83
2. Nate Adams 96.17
3. Kenny Bartram 95.67
4. Jim McNeil 93.73
5. Ailo Gaup 93.67
6. Mat Rebeaud 93.33
7. Ronnie Faisst 92.90
8. Robbie Maddison 91.83
9. Mike Mason 91.33
10. Dustin Miller 89.83
11. Drake McElroy 87.67


FMX Dew Tour Standings

1. Travis Pastrana
2. Nate Adams
3. Kenny Bartram
4. Ailo Gaup
5. Jim McNeil
6. Robbie Maddison
7. Ronnie Faisst
8. Mike Mason
9. Jeremy Lusk
10. Ronnie Renner